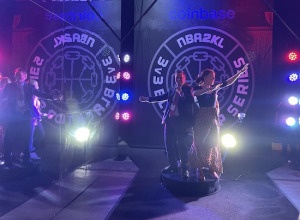 With electronic dance music pulsing against a neon-on-black backdrop, a "Young Professionals Coffee Rave" on Thursday kicked off Indiana's inaugural Global Economic Summit for hundreds of visitors from across the United States and 30 other nations.
By the end of this Indianapolis 500 weekend, state officials hope their guests will leave the state raving about its thought leadership and its potential as a hub for up-and-coming industries such as computer chips, electric vehicles, renewable energy and more.
Indiana is "always at the top of our investment list," said Yi Zhang of Illinois-based auto parts manufacturer Wanxiang America Corp., one of the rave attendees at the The Pavilion at Pan Am Plaza. 
"It's the mixture of the great institutions here, like Purdue [University] and Indiana [University], providing great availability of workforce, and the tax structure," said Zhang, who's an IU Kelley School of Business alum but is originally from China.
Berthan Ugeh, who works in finance in New York City but is originally from Nigeria, said he was in town for the day to connect with more potential clients. On his must-attend list, he said, was a speech by Gov. Eric Holcomb and an event on doing business in China that featured Cummins CEO Tom Linebarger.
"I think it's good in terms of making Indiana more known," Ugeh said of the summit. He had visited Indiana one to two times prior. "Coming from the East Coast, a lot of people always say, 'Well, you're going to Indiana? Where?"
Some attendees came from closer to home.
Ramona Tin of the Burmese American Community Institute said the Indianapolis-based not-for-profit hoped to connect with other business partners through the coffee event and the summit. The group's Employment and MicroEnterprise team, Tin said, wants to further help its job-seeking clients.
Summit events throughout the weekend include breakout sessions on topics such as technological solutions for food insecurity, the impact of artificial intelligence, the transition to electric vehicles and the influence of motorsports on sustainability.
Networking events and an opportunity to attend the Indy 500 will offer fun breaks. At the coffee rave, even Indiana Commerce Secretary Brad Chambers took a spin on a 360-degree camera rig with some team members.
State officials were hopeful about the event's impact.
"We're going to be able to form some partnerships that are going to last long into the future … We're counting on the real firepower that's in this room to help us forge that future," Gov. Holcomb told attendees.
"We have never seen the economic vitality and momentum that we're experiencing right now," Holcomb added. "… There's going to be a lot of opportunity and what we need are events like this, the NBA2K [basketball video gaming tournament], to be reaching out to groups and people far away and [who] maybe haven't heard of Indianapolis, Indiana, and help us get them here—so we can continue to grow and diversify not just our economic portfolio, but who we are as a state."
In the lead-up to the summit, the state this week  announced three new projects totaling at least $4.6 billion in investment and more than 2,000 jobs, with another economic deal expected as part of Thursday's activities.
On Tuesday, Netherlands-based Stellantis NV—which owns Fiat Chrysler Automobiles—announced plans for a $2.5 billion electric vehicle battery manufacturing facility in Kokomo, which will create up to 1,400 full-time jobs when it opens. That project is in line for a state-record $188 million in incentives.
The next day, Indianapolis drugmaker Eli Lilly and Co. said it would invest $2.1 billion in Boone County to build a pair of manufacturing facilities, which will serve as an anchor for a new innovation district near Lebanon. Incentives for that project have not been made public.
And on Thursday, McLaren Racing announced it would spend $25 million to build an IndyCar team office, workshop and training center in Whitestown, creating up to 175 new jobs by the end of 2025.
Those announcements came just weeks after Lilly CEO David Ricks delivered a speech to the Economic Club of Indiana, laying out the state's shortcomings for economic development. He cited the state's low marks for K-12 education, the high cost of health care, and the lack of skilled workers.
Please enable JavaScript to view this content.