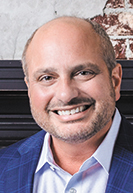 Age: 52
Hometown: Brooklyn, New York
Residence: Fishers
Family: wife, Kim; six adult children
Education: bachelor's in political science from Indiana University and law degree from Valparaiso University
Political experience: two terms as Marion County prosecutor, 2003-2011
Career: private attorney
Why he's running: I started to get really concerned about certain liberties starting to be taken away, like the ability for someone to speak what they believe, and now I'm really worried about the
national debt.
Top priority: holding China accountable for its role in the COVID-19 pandemic and the debt the U.S. is incurring from responding to the crisis
What he's streaming: "Tiger King" on Netflix
Q&A
What do you think needs to be done to improve access to and the affordability of  health care?
I'm against a single-payer system, but I also don't understand why health care in America is tied to your job. There ought to be some basic access to health care for everyone, and I don't think that's socialism. It's common sense. But we have to take responsibility for our own well-being also. We need to do a better job of educating people about how important prevention is.
What should be done to address the massive amount of student debt in this country and make college more affordable?
I think we should cut off 25% of public funding to universities until they [shape up]. … They are not preparing these kids for work, to earn money. It's absolute highway robbery. These kids need to be challenged with difficult ideas. They need to be challenged to think for themselves. The world is messy. These kids coming out of school, they're just not prepared for it.
What is your position on trade and tariffs?
I'm generally not for tariffs, with one exception, and that's China. They are bad actors, and they need to be punished.
What should be done to address climate change?
We obviously need to take care of the planet. I don't know enough about the information I see about climate change to come down real strongly on that. I'm interested in it, but I've read so many things that cause me to be skeptical of the warnings that, if we don't change in the next nine years, then we're doomed.
'Terrible' time in life causes Brizzi to change
For years, Carl Brizzi made headlines, but not in a good way.
In 2009, while Brizzi was Marion County prosecutor, he came under fire for investing in public companies connected to embattled businessman Tim Durham, who happened to be a friend and big donor. Durham was later convicted of fraud in connection with a Ponzi scheme.
In 2010, the Indianapolis Metropolitan Police Department opened an investigation into the circumstances surrounding an officer's injury at a 2008 fundraiser for Brizzi.
In 2012, he was sued by former Indiana Secretary of State Charlie White for legal malpractice.
In 2013, he escaped prosecution after a three-year federal investigation of an unusual real estate deal in Elkhart that unraveled.
And in 2017, he had his law license suspended for 30 days for representing a client in a case in which he had a personal interest.
Brizzi said life was "legitimately terrible back then," but he's glad all of that happened to him.
"That's how I frame that period of my life," he said. "If I wasn't called out for it, who knows what would have happened."
Before the fallout, the Brooklyn native had been named one of IBJ's Forty Under 40 recipients in 2004 for his work in the Marion County Prosecutor's Office. He was known as a political up-and-comer who had a high conviction rate, especially for narcotics and sex-crimes cases.
His entry into politics was actually through the prosecutor's office. In 1994, he volunteered for Republican Prosecutor Scott Newman's campaign. After Newman won, he started working in the office.
He then worked as a senior investigative counsel in Congress and opened a private practice before eventually seeking the office in 2002.
Brizzi said the prosecutor's office is the most powerful and effective office in Indiana, other than governor, and he's proud of the prevention and protection programs he oversaw to increase child support, mentor youth and educate school kids about gun violence.
"I wanted to make a difference," Brizzi said. "Policy mattered to me."
After he left the office in 2011, he said, he went through a phase of depression, during which getting out of bed and working each day was difficult. He said tough love from his wife, Kim, and other family and friends helped him through it.
"Real growth comes with real pain," Brizzi said.
He has continued to practice law, mostly business litigation, but has given most of his caseload to other lawyers so he can campaign.
Over the years, he's had his own podcast, radio show and blog to share his thoughts about the latest political issues.
And staying involved has led him to the 5th District race. He said he's worried about people losing the ability to share their opinions freely, and that, if people can't have thoughtful, honest discussions, everyone will end up in echo chambers.
"I have to talk through my stupid, offensive ideas with somebody who thinks differently so that natural evolution of that idea can occur," Brizzi said.•
Please enable JavaScript to view this content.