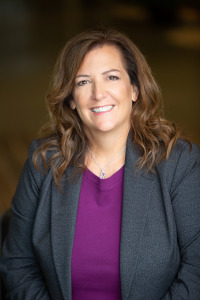 Carmel City Councilor Sue Finkam announced Tuesday morning that she will seek the Republican nomination for mayor in 2023, a move that sets up a May primary battle between colleagues.
Finkam, 55, is the second council member to announce a run to succeed Republican Jim Brainard, who has served seven terms as the city's top executive and said in September that he would not seek reelection.
City Council President Kevin "Woody" Rider said in September that he would run to lead Indiana's fifth-largest city.
"I am running to give Carmel residents a voice," Finkam said in written remarks. "My executive experience will allow me to ensure Carmel's city government is accessible, effective and efficient while maintaining our high quality of life."
Finkam is a three-term member of the Carmel City Council who served as president from 2017 to 2021.
She joined the council in 2012 and told IBJ last year that she ran for reelection in 2015 as part of a slate of candidates who supported Brainard and wanted to restore the council's image.
Those candidates included current councilors Rider, Jeff Worrell and Bruce Kimball; Ron Carter, who served on the council through 2019, when he lost his reelection bid in the primary; and Keith Griffin, who ran unsuccessfully in 2015.
She said the group wanted to ease the tensions between the council and the Mayor's Office.
Finkam is the principal of Carmel-based FireStarter LLC, a marketing and public relations firm, that she founded in 2010. She also serves as president of the Hamilton County Solid Waste Management board.
Last month, IBJ named Finkam a Woman of Influence.
Rider, a Republican, is a 35-year Carmel resident who is in his fourth term as an at-large Carmel city councilor. He is also a member of the Carmel Plan Commission.
Please enable JavaScript to view this content.