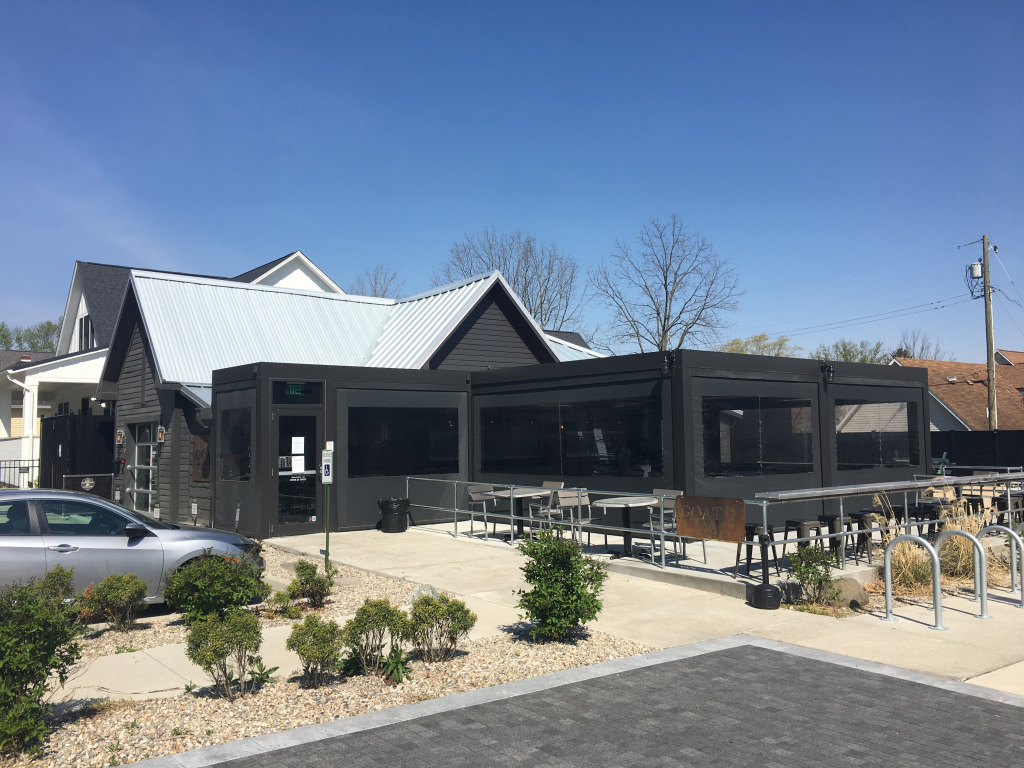 The Carmel Board of Zoning Appeals effectively forced The GOAT restaurant and bar to close Monday, following a months-long controversy over the bar operating in a primarily residential area.
The Greatest of All Taverns, also known as The GOAT, opened in the former Bub's Café space at 220 2nd St. SW in August. Soon after, neighbors started complaining about the business' unruly patrons.
City officials discovered that the tavern's nighttime bar activities were not covered by the special zoning that had allowed Bub's Cafe, a breakfast and brunch spot, to operate in a residential neighborhood. On Monday, the zoning board denied owner Kevin Paul an updated use ordinance that would've allowed for the continued operation of his bar. The board's vote was 4-1, with member Leo Dierckman dissenting.
"This is a whole mess. This should've never been allowed to happen. They never should have been allowed to open, and we're being asked to legitimize a bad situation," Alan Potasnik, the board's president, said. "This is an area that is residential, and a use that is not. I don't see a single criteria which has been met, so I can't approve this."
IBJ could not reach Paul for comment Tuesday.
The city and Paul have taken actions to remedy neighbors' complaints about noise, public intoxication, littering, vomiting, trespassing and other nuisance activities in that area.
The city council approved new public urination and defecation fines and considered changes to make its noise ordinance easier to enforce. In December, the city briefly permitted The GOAT to operate under Bub's Cafe's special zoning. Two days later, it established a set of commitments wherein The GOAT could operate in the evening by adding security, reducing its operating hours, increasing cleanliness measures and more.
Paul, who co-owns The GOAT, Brockway Pub and Danny Boy Beer Works in Carmel with his wife, Megan, also made physical improvements to deter wandering patrons and put forth plans for a building addition that would bring more restroom facilities to the premises.
Monday's petition did not include plans for additional restrooms to be built, but it did establish a dozen commitments under what would essentially be a six-month trial run. The new commitments included a limited capacity of 80 patrons, activities being forced indoors after 10 p.m., and more.
Paul said he didn't have the legal authority or the ability to influence patrons' behavior other than putting certain mechanisms in place, like security lights, fencing, cones and security.
"We've tried to deploy anything that's been recommended to us over the last six months, from hedges to fences to lighting to barriers, motion sensors, cameras and whatnot," Paul said. "And we'll continue to do that. If we think there's something that will help, we'll certainly invest the time, money and energy in accomplishing it without question."
Dierckman said those commitments were significant, challenging and necessary. He was the lone board member to support allowing The GOAT to continue its operations.
"I certainly appreciate the degree to which the team has gone to accommodate the needs of the city, to keep free market capitalism and community service and being a good business and member of our community in Carmel," he said.
Paul further defended the business' relationship to surrounding properties by noting its changing dynamics.
"It is an urban, mixed environment," Paul said. "Those who live there and take advantage of everything it has to offer need to understand that those things are going on. We all have to manage this thing, and it's not just The GOAT."
A majority of the board was not convinced, however. Paul's remaining petitions for development standard variances were indefinitely tabled, now that the property has reverted to its previous residential zoning.
Please enable JavaScript to view this content.