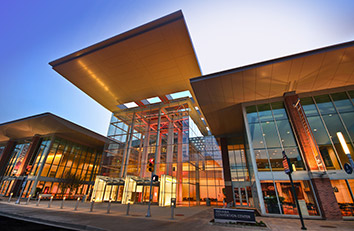 The United States Conference of Catholic Bishops approved plans Wednesday for Indianapolis to host a National Eucharistic Congress in 2024.
The five-day event, scheduled July 17-21, is expected to attract between 50,000 to 80,000 attendees and focus on the importance of communion in the Catholic religion.
Greg Otolski, executive director of communications at the Archdiocese of Indianapolis, said a large contingent of U.S. Catholic bishops will attend the National Eucharist Congress. Otolski said it's too early to predict if international church leadership will be present. 
Chris Gahl, vice president of Visit Indy, said Lucas Oil Stadium will host faith-based gatherings during the National Eucharistic Congress. The conference will utilize five of 11 exhibit halls at the Indiana Convention Center, as well as local Catholic churches for special events.
One church, Saint John the Evangelist, 126 W. Georgia St., stands in close proximity to the convention center.
"Literally outside the front door of the Indiana Convention Center, St. John's probably will be the most iconic and most visited Catholic church in Indianapolis in July 2024," Gahl said.
The selection of Indianapolis for the conference was finalized during the ongoing gathering of bishops in Baltimore. The National Eucharistic Congress is planned as the highlight of a three-year Eucharist revival initiative that begins in 2022.
Otolski said National Eucharistic Congresses are not scheduled on a regular timetable. International Eucharistic Congresses have been held periodically since 1881, with Philadelphia being the last U.S. city to serve as host in 1976.
Please enable JavaScript to view this content.