It started when Erica Scott's 5-year-old daughter noticed there weren't many books at her school with girls who looked like her. That experience quickly turned into a movement to celebrate diversity in underrepresented youth through children's books.
Scott founded Fly Kids Read in Indianapolis in December 2020 as a not-for-profit to collect books with diverse characters and topics to donate to places such as schools, community centers and hospitals around Indianapolis and the state.
Fly Kids Read took off and has dispersed 1,000 books in its first year. Scott and her daughter, Amor, were even guests on the nationally syndicated TV show "The Kelly Clarkson Show" this year.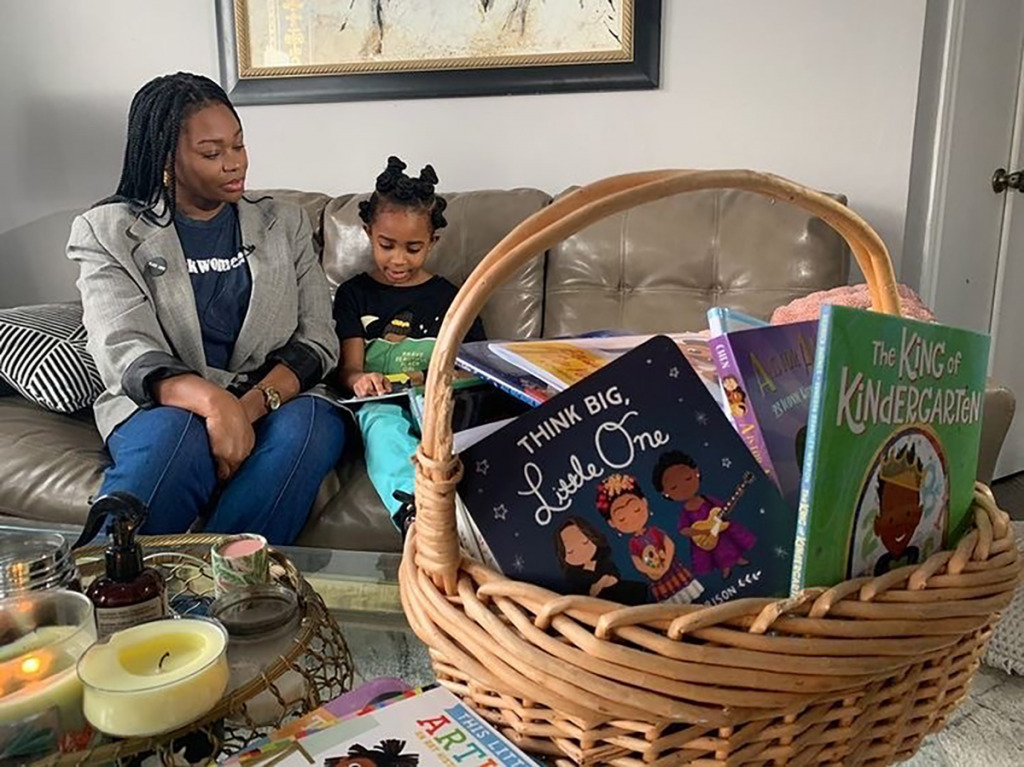 What is Fly Kids Read? How did you start it?
We started with the mission to get diverse children's books into the hands, homes and hearts of the youth. Last year, my daughter goes to a primarily white private school, and race was being talked about in class, and she had questions related to it. She kind of felt just isolated or singled out sometimes. I just wanted to start an initiative to not only empower her but also to show other kids about diversity. I thought this would be a good way to have her make an impact. We started the drive initially with the goal of just getting enough books donated to pass out to her class to her grade in kindergarten, and then it just kind of took off and snowballed from there.
How many books have you collected in the last year?
We started December of last year. We had a big outreach for collecting books until about February because we wanted to donate a lot to the community during Black History Month, so by that time, we had collected around 1,000 books.
We disperse to a lot of schools and community centers, educators, parents, Montessori schools, elementary schools. We delivered 75 books to Riley Children's Hospital, dentists' offices. Pretty much we want to give them to anybody that requests.
How do you find books to collect?
We select them based on recommendations that we get from people. My daughter and I—we are avid, like, library-goers—so anything we see or happen to know on some level that has diverse illustrations, primarily, we like to get those. Our main books we get are picture books, for early childhood books. We'll probably start branching out and getting ones for older kids.
How are you using Fly Kids Read to help celebrate diversity and inclusion?
I feel like it's an obligation for every race, to make sure their home is filled with things that represent differences in diversity, so that when their kids go out in the world, they're not shocked, like, "Oh, this is someone different," or, "Oh, this is new," like, or afraid or scared. I mean, we see things that happen nationwide, with race relations. And so I just think the small things about being conscious, as far as parents being conscious, and what they bring into their home, and how they celebrate others that are different … . Kids being immersed in differences will help as they get older, and as they see differences in the world.
What have you learned about operating a not-for-profit?
I had been told that it was tricky. There were a lot of hoops to jump through. But I learned to not give up. And that if the need is great enough, you'll be compelled to see things through. I did it all myself. … It just made me proud to have accomplished it. I learned that serving people is probably going to be the most important part of any business that I do.•
Please enable JavaScript to view this content.