Indianapolis this week welcomed the Sweets & Snacks Expo at the Indiana Convention Center—its first major trade show since March 2020.
The event attended by about 8,000 people working in the manufacturing and retail sectors of the confectionery industry is typically held in Chicago, but restrictions on gatherings and major events due to COVID-19 led the event to move to Indianapolis.
The trade show featured about 460 exhibitors and 3,000 retail buyers—both about half the levels from typical years for the expo. 
IBJ spoke with John Downs, president and CEO of the National Confectioners Association—the organization that organizes the event—about the expo and whether the group plans to return to the Circle City.
How did Indianapolis land this event in the first place?
We had a lot of cities coming to us about the possibility, because that's just the trade show business. But we also wanted to try to make sure that we stayed in the Midwest, because we've always had the show in Chicago; we get a significant amount of drive-in traffic from all across the trade.
We were really keen and strong on Indianapolis, but the question was trying to come up with with dates. And that was a challenge, because we had to take into consideration where each local jurisdiction, and each state, was in terms of how this pandemic was unfolding, and how they were handling it and managing it.
The other important factor was, when the NCAA made that decision to hold the entire tournament here in Indianapolis, it was a big deal. So, once we found out there were dates beyond May, that could be supplied to us by Visit Indy—June 23 to 25—we jumped at it and said 'OK, we're going to make  the right bet with the right city.'
The decision to move ahead with the event came in mid-April, after months of watching trends and seeing other events held in Indianapolis safely, including the NCAA men's basketball tournament you noted. How difficult of a decision was it to move ahead with the expo? What was the response from participants?
We were really going back and forth, and I was having [plenty of] conversations with members. It was a very challenging time. You know what they say, the old phrase: "It gets lonely at the top." In terms of making this decision, I had some lonely days because I had to live with the decision we ultimately made—the buck stops right here. I had many sleepless nights in March and April. But overall the response was very positive once we moved ahead.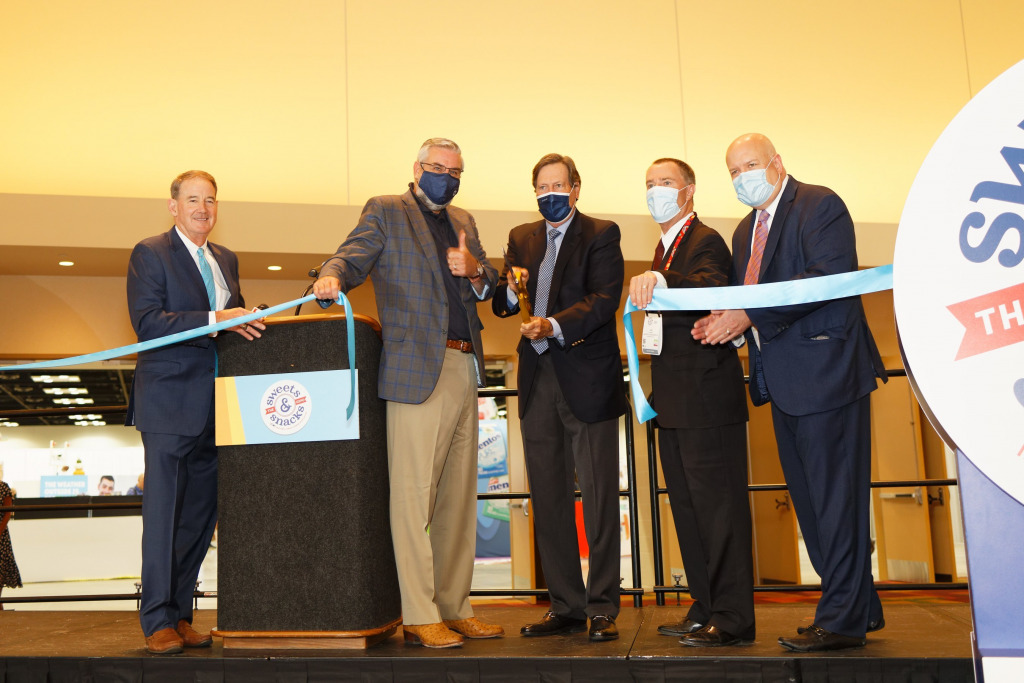 Chicago has been the home to Sweets & Snacks for a long time, but what's the future for this event?
I had great conversations with [Visit Indy CEO] Leonard [Hoops]and his team [this week], along with Gov. Eric Holcomb and Mayor Joe Hogsett, and they want us back. From what I've seen on the floor, there's a  groundswell of support to come back to Indianapolis. We're tied up in Chicago for 2022 and 2023. But there are creative solutions about how this all works, in terms of dealing with state and local government from an economic development standpoint. I'm not sure if there's a way for us to develop some sort of partnership to come back to Indianapolis sooner but … who knows. We're open for 2024, and Indianapolis is at the top of the list for that event—no question and, after this experience, no doubt about it.
Do you have regular communication with other convention and trade show leaders that are looking for a spot for their event? If so, what are you going to tell them about Indianapolis?
When people asked me about Indianapolis, the city lived up to its reputation. It is a terrific, positive convention city. It has all the tangible and all the intangible criteria to make a terrific experience for a convention or trade show. So that'll be my message to my colleagues in the trade show business. My expectations have all been exceeded in terms of this experience in Indiana. And I told the governor, the mayor and the Visit Indy team the same thing. We're off to a great start in terms of our relationship.
I hope we're able to work something out where we get back to Indianapolis. That's my objective. I've got a lot of other stakeholders that I've got to check in with, but that's at least one guy's opinion.
Please enable JavaScript to view this content.