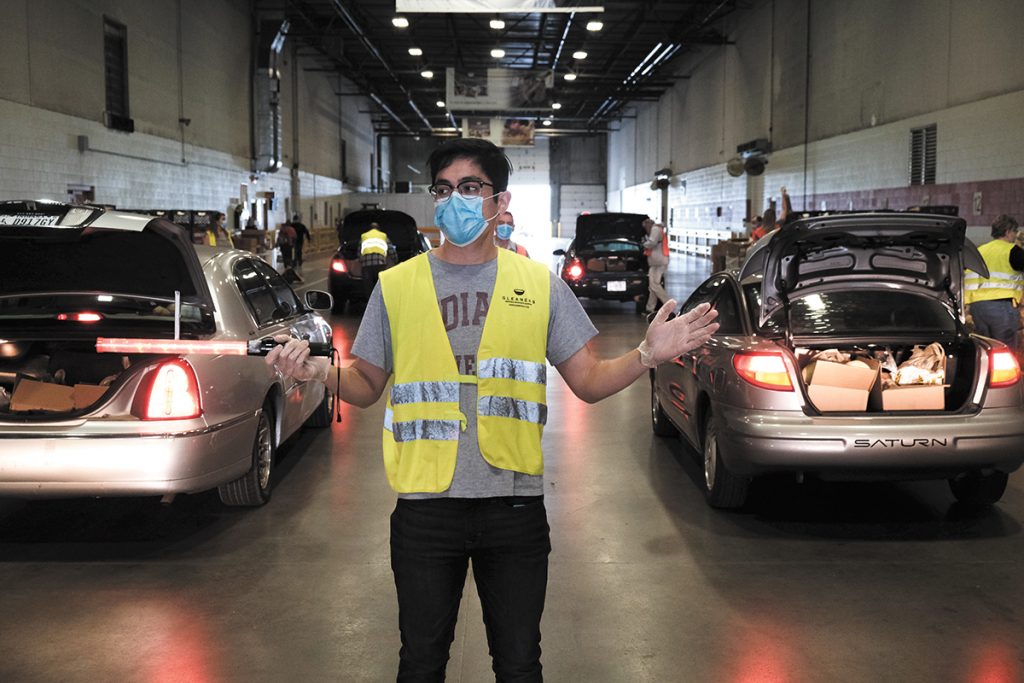 Providing long-term solutions for food-insecure families in Indianapolis has always been a multifaceted challenge, but the pandemic has exacerbated the problem by increasing the numbers of families with limited income and curtailing their access to food and other resources.
Members of the food resource and health care communities came together Friday morning to discuss those and other contributors to local hunger at IBJ's annual "Hunger & Health: Time for Creative Intervention" event. They also voiced pleas for more financial and volunteer help, as well as public policy solutions.
John Elliott, president and CEO of Gleaners Food bank of Indiana, said the organization has increased meal distribution by 107 percent so far this year, even with challenges to the nation's food distribution network.
When the pandemic took root early March, the number of people who went to Gleaners for food assistance tripled nearly overnight. In March, Gleaners distributed more than 5 million pounds of food in its 21-county service area in central Indiana. By comparison, it distributed just over 30 million pounds in all of 2019.
Many of today's food-insecure families likely face a multi-year recovery from their current circumstances, Elliott said.
"Our shared food security challenge is daunting in scope and complexity," Elliott said. "We need your financial support, your volunteer labor, and so do hundreds of our partner organizations. … Please meet us at the convergence of hunger and health."
(See text after video below)
Dr. Cynthia Meneghini, a primary care physician for Community Health Network, said the pandemic has created a snowball effect for challenges facing vulnerable families. For example, loss of jobs can lead to loss of health insurance. Closure of schools can limit children's access to regular meals.
"COVID has made everything so much harder for our families," Meneghini said.
Richard Gordon, SNAP outreach manager for Gleaners, said the organization has seen "profound" increases in Indiana families needing the help of the federal Supplemental Nutrition Assistance Program. SNAP assists needy families in purchasing healthy food.
But many families aren't aware of resources they could tap to help make ends meet, he said.
"We need to focus on awareness of resources," he said. "How do we connect resources to people on the grass-roots level?"
Meneghini said that in her practice about 20% of the health care provided is conducted in the office. Another 80% entails connecting patients with needed services, such as transportation, insurance, school programs and mental health care.
Dr. Thomas Whittaker, a retired physician and longtime Gleaners volunteer, said some needy residents can be reticent to seek help due to the stigma attached to requesting aid.
"It's all about dignity," he said. "No one wants to be hungry. No one wants to be poor. They don't want this. Anything we can do to take away the stigma is important."
The number of families struggling with food insecurity has exploded nationally since the pandemic began in March.
The Center on Budget and Policy Priorities said this week that, based on data collected through Oct. 12, nearly 23 million adults—or 10.3% of all adults in the country—reported that their household sometimes or often didn't have enough to eat in the last seven days.
That's significantly higher than the 3.7% of adults that reported their household hadn't had enough to eat sometime in 2019.
Before the pandemic hit, one in seven children in the United States lived with hunger, according to the not-for-profit organization No Hungry Kids. This year, as many as one in four children could face hunger, due to the effects of the pandemic.
There are ways to connect needy families with programs virtually, but we shouldn't assume everyone has the ability to make that connection, panelists said. Some Hoosiers have phone plans with limited minutes, or phones that aren't enabled for video heath calls, Meneghini said.
"Not everybody has access to a great iPhone or a car that starts," she said.
Meneghini suggested that Indiana could halve the public impact of health crises if Hoosiers could eat in a consistently healthy manner and stop smoking.
"Food is medicine," she said. "But if a patient lives in a neighborhood with no fresh food, I'm preaching into the sky."
Public officials could help by providing incentives for supermarket operators to locate stores in food deserts, she said. They also need more state and federal support for accessing health care and addressing chronic health problems.
While advocates for the poor always will seek more assistance, they also should use existing resources wisely, Whittaker said.
"It's not just the funding, it's how we use it, and how we get the word out and how we educate," he said. "… I think we have a lot of the pieces in place if we just use them correctly."
Former volunteers are beginning to trickle back to Gleaners, Gordon said.
"We're making sure to take the right precautions so they can be safe," he said.
Long-term solutions for food insecurity will require hungry leaders, strong collaboration, sharp metrics and solid execution, said Jeff Simmons, CEO of Greenfield-based Elanco Animal Health Inc., in the IBJ event's keynote address.
Please enable JavaScript to view this content.