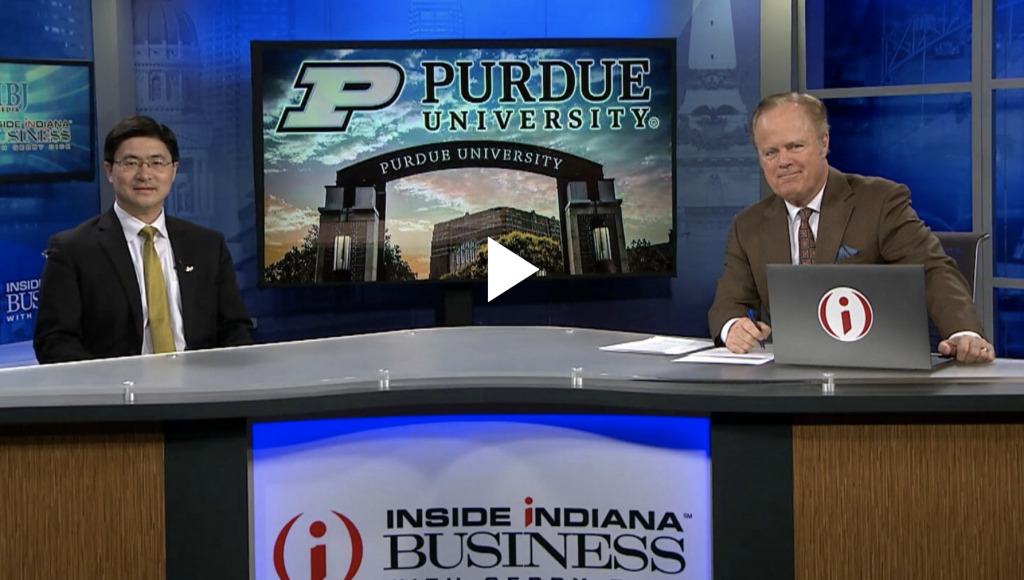 The new president of Purdue University says Indianapolis won't be a regional campus following a planned realignment of IUPUI. It will instead be an extension of its West Lafayette campus and serve as one "bookend" for a "63-mile-long hard tech corridor" stretching "all the way to Tippecanoe County."
Mung Chiang began his tenure as the university's 13th president one week ago, succeeding Mitch Daniels, and said the vision for Purdue's Indianapolis presence is clear.
"Our goal is very simple: That Purdue University will invest in partners … and help to together grow the tech scene in our capital city," he said.
Chiang discussed his plans for Indianapolis and the university as a whole in an extended interview with Inside INdiana Business Host Gerry Dick.
He said to achieve its goal in Indianapolis, the university aims to graduate thousands of science, technology, engineering and math students in the city to connect with urban-oriented opportunities, including health care, sports tech and entrepreneurship.
"Part of that is generating more jobs by creating an environment to attract additional companies to come here," said Chiang.
And that effort includes what Chiang called a "63-mile-long hard tech corridor from downtown Indianapolis through the Lebanon LEAP district … all the way to Tippecanoe County [and] Discovery Park District in West Lafayette."
The Indiana Economic Development Corp., the state's job-creation agency, is developing the LEAP Lebanon Innovation and Research District along Interstate 65 in Boone County, about halfway between downtown Indianapolis and Purdue's West Lafayette campus. The district, which could be as large as 11,000 acres, is meant to attract high-tech research and manufacturing. Already, Eli Lilly and Co. plans to spend $2.1 billion to construct two manufacturing sites.
Chiang said the focus on hard tech, such as the microelectronics, biopharmaceuticals, and aerospace industries, could be a transformational area for central Indiana.
"We are already, Purdue West Lafayette, the largest top research university graduating STEM talents in America today. And we're very confident that in Indianapolis as part of Purdue's core campus, we're gonna have Purdue in Indy contributing to the economic vibrancy and the future of job growth here in our capital."
Entrepreneurship is also a key focus for Chiang, who himself has started three companies and secured 25 patents during his career. He said creating more startups and entrepreneurs is an important part of what he wants to accomplish at Purdue.
"We've got to work for 'brain gain,' attracting students from out of state and persuading them with good jobs after they graduate to stay in our state," he said. "We've got to work to attract new jobs to come here through companies large and small. We've got to translate a research advances. There are so many great research breakthroughs by professors at Purdue University and translate some of that into economic growth through new companies through patents that others can license."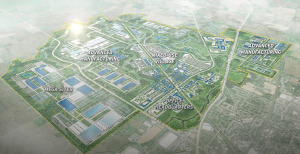 Many higher education institutions have been dealing with a so-called "enrollment cliff." Last June, the Indiana Commission for Higher Education reported the percentage of Indiana high school graduates pursuing college or other post-secondary training fell by six percentage points, to 53%, in 2020.
Chiang said Purdue has not felt the impact of any enrollment declines, which has been largely attributed to the university's tuition freeze that has been in place for more than a decade.
"I know it is a real issue nationally and for certain parts of our state, but Purdue University has seen the applicant numbers continue to rise and break new records; each of the past 10 years were historic all-time high. [We've had] many more applicants than we can afford to take them all in, and that takes us to Indianapolis, by the way, Purdue in Indy. As part of our core campus, we'll be able to admit more students to Indianapolis and graduate even more talents."
Chiang was announced as Purdue's next president last June, and credits his predecessor for helping him to prepare for the role.
"I've learned so much from him throughout the past five-and-a-half years of working at Purdue, but in particular, over the past six months of seamless transition, got the privilege and the chance to learn from Mitch every single day. And I assure you that 'Daniels Decade' momentum is going to continue."
You can watch the full extended interview with Mung Chiang here.
Please enable JavaScript to view this content.