Should the Legislature pass a law granting COVID-19 immunity to Indiana companies?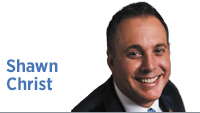 More than 550,000 Hoosiers have contracted COVID-19. Nearly 9,000 have died. And now, in the midst of this pandemic, Republicans in the Indiana Legislature are looking to pass a bill that would shield employers from accountability for unsafe working conditions.
As usual, they are putting corporations and potential profits ahead of worker safety.
Senate Bill 1 would deny a day in court to workers and consumers whose sickness or death from the virus was caused by the negligence of a corporation.
The bill eliminates the incentive for businesses and employers to do everything they can to protect the health and safety of working people and consumers, including those in nursing homes and other care facilities. It undermines worker safety and strips workers of legal protection.
Over the past year, we've seen many examples across the country of businesses failing to provide their workers with necessary protective equipment or continuing to operate even after workers have reported infection. Here in Indiana, we've seen a record number of people contacting the Indiana Occupational Safety and Health Administration to report unsafe working conditions. Eliminating an employer's legal liability would likely lead to even more irresponsible behavior.
SB 1 would motivate employers to cut costs on safety measures they might otherwise take if the threat of legal action remained. It would be disastrous for our legislators to encourage this kind of cost-cutting.
Workers and consumers already find it incredibly hard to hold corporations accountable for bad behavior, because legislation like SB 1 is nothing new. Republicans and corporate-interest groups have long pursued policies that make it more difficult for workers and consumers to sue corporations.
Hoosier legislators should be fighting to protect working people. They should be doing all they can to decrease the rate of infection and death, curb the spread of the virus, and provide support and resources to people suffering from the health and economic consequences of this pandemic.
Instead, they're focused on protecting corporations who jeopardize our health and safety.
As cases, hospitalizations and fatalities continue to grow out of control statewide, and as thousands of Hoosiers continue to face economic catastrophe, it would be shameful for legislators to provide protection to companies and corporations that fail to keep workers and consumers safe.•
__________
Christ is secretary-treasurer of the Indiana AFL-CIO.

Click here for more Forefront columns.
Please enable JavaScript to view this content.