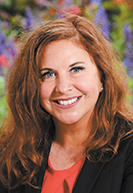 Age: 48
Hometown: Michigan City
Residence: Indianapolis
Family: husband, Chris; adult son
Education: bachelor's in liberal studies from Purdue University Northwest
Political experience: state lawmaker 2013-2017; ran as gubernatorial candidate John Gregg's lieutenant governor in 2016
Career: former chief communications officer and executive director of youth programs for Kiwanis International
Why she's running: I'm a problem solver, and clearly not enough is getting done in Washington.
Top priority: health care
What she's streaming: "Schitt's Creek" on Netflix
Q&A
What do you think needs to be done to improve access to and the affordability of health care?
I am for a public option. I always managed for [my son] to have health care, but I didn't always [have it myself], and it stressed me out knowing I was one illness away from missing a car payment or not being able to afford pre-K. Health care is a necessity for everyone. We need to reduce the prices of medicine and prescriptions. Government should be able to negotiate those rates.
But it's so important to remember that just changing the business of how we do health care will not solve our problems. There are so many systemic issues. We're not prepared to take care of people.
What should be done to address the massive amount of student debt in this country and make college more affordable?
I'm still paying my own student loans, so I've faced this issue myself. I have a real appreciation for that struggle. When students graduate and go to higher ed, they shouldn't have to spend freshman year in revision classes. These are credits that will never count toward their degree. These are probably skills they should have gotten before going to college.
I think there are a number of ways we must address this crisis in higher ed. I think everyone is going to have to put some skin in the game.
What is your position on trade and tariffs?
Tariffs can play a role in helping to better balance and protect American trade within different industries, but tariffs should not be used indiscriminately or without a clear strategy.
I support the revised U.S.-Mexico-Canada Agreement as it makes strides in protecting jobs here in the U.S., lifts labor standards for some of our trade allies and takes positive steps towards environmental standards. However, I strongly believe there is still more work to be done to protect against the outsourcing of jobs.
What should be done to address climate change?
I support a variety of options to fight climate change and lower our carbon emissions. We can do this simultaneously with creating new jobs in our district. For example, we can create jobs right here in Indiana by making much-needed updates to our aging energy infrastructure, as well as moving away from coal energy and other fossil fuels. We need to invest in new technologies and infrastructures and create green jobs at the same time.
Hale passionate about being problem solver for her community
When she was 19 years old and pregnant, Christina Hale's brothers told her she would "always be a loser."
"That had a profound effect on me," Hale said.
The pregnancy just wasn't what her family was expecting for her, so they were upset about it, but Hale was determined to prove she could still be successful.
As a single mom, she attended Purdue University Northwest and earned her degree in liberal studies.
She worked through college, writing articles for the La Porte County Herald-Argus, and enrolled her son, Owen, in a quality child care program that she credits with being part of the reason she is in the position she's in today.
After school, she spent time in Wales as a Rotary Foundation scholar studying global relations and the economics of the European Union, all with her son by her side. When she was young, her family had spent time living in London, and she said she wanted her son to also experience what it's like to attend school in another country.
In 1999, she moved to Indianapolis to work for state government, then taught public speaking at Indiana University and, in 2004, took a job at Kiwanis International.
During her time with Kiwanis, Hale said, she helped with a vaccination project that was aimed at making it safer to give birth in other countries.
"I got to learn a lot about public health issues," she said.
And it made her realize that Indiana had its own public health challenges.
"I knew I had to get to work in my own community," Hale said.
So, in 2012, with no political experience, she ran for state representative. She challenged Republican incumbent Rep. Cindy Noe in House District 87, which covers the northeast side of Indianapolis, and won by 51 votes.
Hale earned a reputation as a passionate advocate for women and girls and earned endorsements from both the Indiana Chamber of Commerce and the AFL-CIO when she ran for reelection in 2014.
She stayed in the seat until 2016, when, instead of seeking reelection, she joined Democratic gubernatorial candidate John Gregg's ticket as his pick for lieutenant governor.
Hale said she learned the importance of having good relationships with lawmakers in both political parties while at the Statehouse.
"It always takes a team to get good legislation passed," Hale said. "I'll work with anyone and everyone to get things done."
The Gregg-Hale ticket lost the 2016 election to Republican Eric Holcomb and his running mate, Suzanne Crouch, but Hale didn't lose her desire to serve in public office.
She returned to Kiwanis, serving as executive director of youth programs, for a couple of years, but left that job in January to run for Congress.
"I'm a problem solver," Hale said. "And clearly not enough is getting done in Washington."•
Please enable JavaScript to view this content.