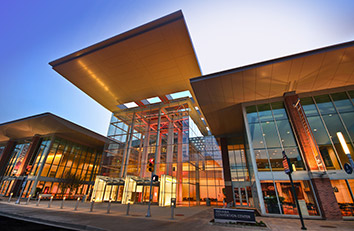 With no new business in April and downtown hotel occupancy stuck below 8% since late March, the agency overseeing the Indiana Convention Center and Lucas Oil Stadium has seen revenue crater.

The Capital Improvement Board of Marion County on Friday said its April revenue streams—operational funding from April and tax-based revenue from March—were each far below target figures, stemming from continued losses brought on by the coronavirus pandemic.
The board brought in $6.3 million in tax revenue, about 30% (or $2.6 million) below budget and more than 38% lower than prior year. Tax revenue accounts for about two-thirds of the CIB's annual budget. The board brought in just more than $170,000 in operational revenue—more than 96% below budget.
Combined, the CIB brought in less than $6.5 million of its anticipated $13.1 million in revenue, placing it 50.8% off budget for the month and 52% behind April 2019.
The CIB has slashed its expenses in recent months, including furloughing staff members, cutting executive pay and and minimizing non-essential purchases. The convention center has generally been closed to the public since late March.
Andy Mallon, executive director of the CIB, said he is hopeful April's county-wide hotel figures—around 24.5% occupancy—will mean the agency's bottom line in May won't take as big a hit as anticipated.
Convention and event cancellations and postponements from COVID-19 have already cost the city and local businesses tens of millions of dollars in revenue since March.
It's likely activity won't return to the Convention Center until at least August or September, even though the state's Back on Track plan is targeting early July for major events to resume.
And with announcements Thursday that the Indianapolis Motor Speedway plans to run the Brickyard 400 on Independence Day weekend without fans and that the August Indiana State Fair has been scrapped, it's possible a return to normalcy could be delayed even further. Gen Con, which typically draws about 70,000 people, was also canceled.
Leonard Hoops, president of Visit Indy and an ex-officio member of the CIB board, said the outlook for the convention center could come down to whether the Indianapolis 500 runs with fans on Aug. 23.
"A lot of folks are looking at the Indy 500 as a bit of the canary in the coal mine, if you will," he said. "If the Indy 500 goes with fans at the end of August, there could be a lot of groups that follow" through the end of the year.
If it doesn't, he added, "that could be a real challenge."
IMS has previously said it is looking at all its contingencies for the race, which was postponed from Memorial Day weekend, but has not yet made a final decision.
Hoops said there is some hope smaller groups might come back to the convention center by late July, and some sports leagues are considering summertime returns, although it is not clear whether those events might include fans.
"If you're talking about shows and events that are in the tens of thousands … there are significant questions by the organizers as to whether or not their attendees will show up, and if so, whether they will agree to the sorts of health recommendations that both the building and the organizer wants to make to make it viable," Hoops said.
Mallon said the CIB is planning for a variety of scenarios—both practically and financially—but said it's "just guesswork" at this point.
"That's the most unnerving part of all this—the uncertainty of it," he said.
Mallon also noted the CIB has already brought in enough tax revenue for the year—about $31 million—to make its $4.6 million in debt service payments through the end of the year. The board plans to pull from its $140 million reserve account to cover operating expenses, as needed.
He said the group is in conversations with at least one bond rating agency about maintaining the CIB's standing, with hopes of providing the unidentified institution with additional financial information in July, as the CIB and city move forward with plans for a debt-serviced expansion of the convention center and other projects.
"We are looking at … different ways to maintain as healthy of a fund balance, cash reserve balance, as we possibly can," he said, adding that one avenue is paying for some capital projects through debt service rather than straight cash.
For example, the CIB unanimously approved a resolution to shift its payment method for the Maryland Street garage adjacent to Bankers Life Fieldhouse—which is expected to be demolished to make way for a new public plaza—to debt service.
The Pacers paid about $29.9 million for the structure last year, but the CIB is buying the structure as part of its $275 million commitment to the massive Fieldhouse renovation.
The CIB had previously planned to make monthly payments on the parking structure over the next four years, with a payment next due in July, although an up-to-date appraisal for the structure has not yet been completed to indicate how much would have been owed.
"The goal [is] to save our cash balance," Mallon told the board.
Jim Dora, president of Indianapolis-based General Hotels Corp. and a board member, said he is "extremely concerned  with the ability of businesses to survive," and encouraged CIB leadership to consider solutions.
"I think we're going to lose restaurants, and there's certainly the potential we're going to lose hotels because we're not going to be able to survive to when people may come back to the city," he said. "I think extremely important to be thinking about it and looking at … some kind of a plan if we haven't already, because I think it is extremely bleak for business owners in this city to attempt to survive to a better day."
Dora's downtown Crowne Plaza had been operating with single-digit occupancy since mid-March until he opted to shut down the facility following the riots downtown last weekend—as did several other downtown hotels.
The Convention Center and the Virginia Avenue Garage, which is also owned by the CIB, sustained some damage from the rioting—mostly broken windows.
Mallon told Dora he agreed with the assessment, adding CIB staff is discussing what can be done.
"We are trying to make sure the CIB is able to put on shows through the rest of this year," he said. "Hope is not a strategy. … we need some shows under our belt to show proof of concept that we can bring shows and events back downtown and and begin to increase the consumer confidence and the ability to do that."
Please enable JavaScript to view this content.