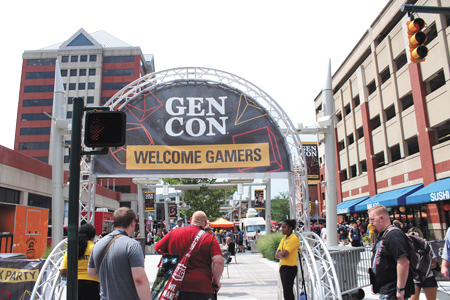 Gen Con LLC on Tuesday announced it has scrapped its massive tabletop gaming convention in Indianapolis this year due to concerns over COVID-19—the latest in a series of major losses for the city's tourism and hospitality industry.

But with the cancellation came some positive news: Indianapolis will now host the event through 2026 after organizers and city convention officials announced two-year contract extension.

Gen Con is the single-largest event the Indiana Convention Center hosts on an annual basis from an economic impact standpoint. And it's among the top five in overall crowd size, too. The event has been held in Indianapolis every summer since 2003—more than tripling in attendance since its arrival.
The annual event, scheduled for July 30 to Aug. 2, had been expected to draw up to 70,000 people to the convention center and Lucas Oil Stadium, generating an estimated economic impact of more than $70 million.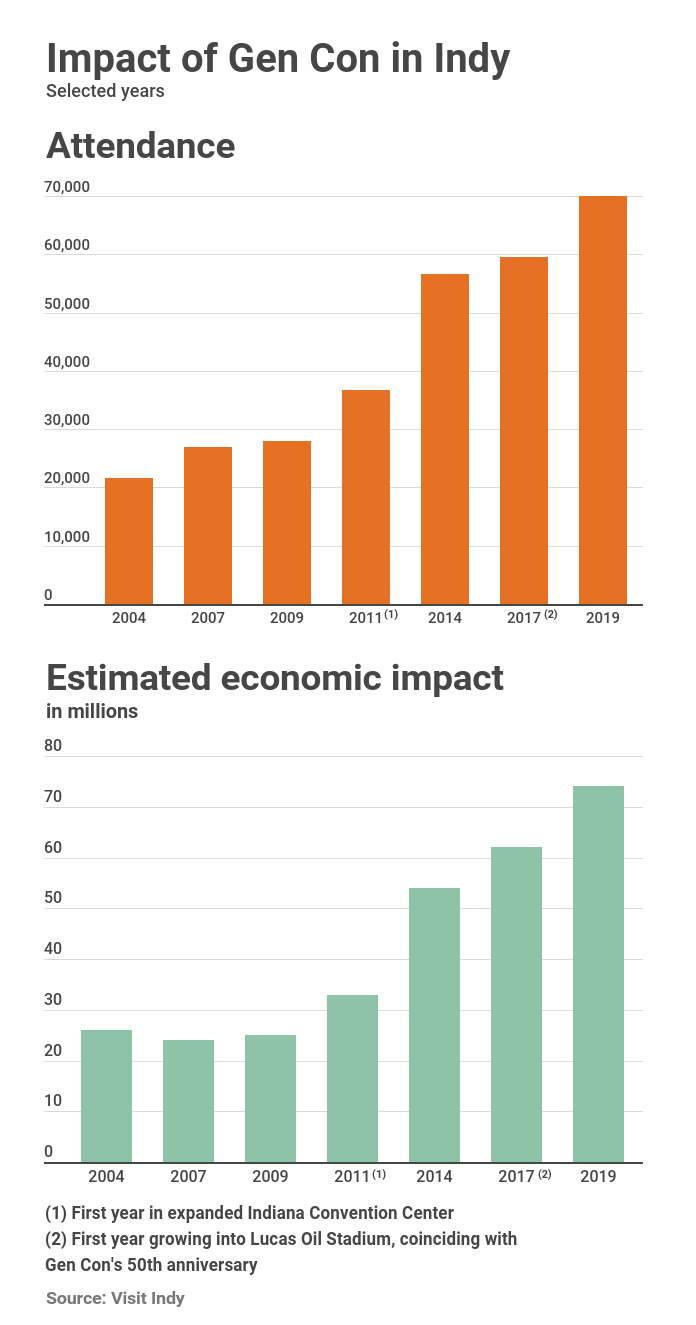 "Tabletop gaming is, by nature, a very social activity," Gen Con CEO David Hoppe told IBJ. "We thrive in physical locations with [large] numbers of people participating. There just wasn't really a way that we could see to do it like that this year."
Now the Seattle-based group is planning a free virtual event over the same four-day span, called Gen Con Online. The experience will feature remote gaming and live-streamed content, along with a variety of other activities that have yet to be finalized.
The convention's cancellation followed two months of discussions between Gen Con's leadership team and Visit Indy, the Indiana Convention Center and city officials, as well as hundreds of conversations with exhibitors and prospective attendees, Hoppe said.
Multiple options were considered to make event happen—including a socially-distanced convention complete with temperature checks, mask requirements, an abundance of hand sanitizer, and likely a much smaller crowd—but Gen Con officials decided late last week the best course was to cancel the trip and start fresh in 2021.
"This comes with a great deal of sadness. We've been really busy over the last several weeks navigating our way through this," Hoppe said. "We're working hard to keep things afloat, so that keeps your mind occupied. But then that's punctuated by moments of real sadness. It's a business but it's also a whole bunch of fun to be part of this."
Gen Con plans to contact 2020 badge holders in coming weeks about shifting their passes to next year's event or receiving a refund. Hotel reservations made through the convention's room block will be canceled automatically. Badge rates for 2021 have not yet been finalized, Hoppe said.
One meeting planner told IBJ in early May that if Gen Con proceeded, it could potentially utilize much more of downtown than it usually does by taking over restaurants and stores rather than limiting itself to convention facilities.
"I think there's a really great opportunity for restaurants to become gaming space, and some of the city's non-traditional venues to absorb a little bit of that traffic" to accommodate social distancing, said Kimberly Hoffman, president of the Indiana chapter of Meeting Professionals International.
Hoppe said while that was a consideration, "people want to mix and people want to be everywhere" during Gen Con. He said it would not have been practical to enforce social distancing to the extent that would have been required to be effective.
About 2.5 million square feet would be needed to practice proper social distancing for 70,000 people at six feet apart—not taking into account the possibility of transmission through the touching of game pieces and surfaces. The convention center and stadium combined have about 750,000 square feet of exhibit and meeting space.
"It's just really tough because the things that are required for good social distancing just fly in the face of a good gaming experience," Hoppe said.
The decision to cancel Gen Con follows similar moves by other major tabletop shows, including Essen Spiel in Germany, which draws nearly 200,000 annually. That convention—scheduled for October— was canceled Monday.
Not holding this year's event deals a harsh blow to Gen Con's business operations, which rely on the convention for about 95% of revenue.
Hoppe said the group has instituted extensive cost-cutting measures. Among them, he said, was not renewing its office lease—to make "one year worth of revenue get us through for two years." He said there are no plans to lay off any of Gen Con's 15 full-time employees.
"The Gen Con brand is strong, so we know we'll be back when it's safe to do so," he said. "We just need to get from here to there."
In addition to the convention, Gen Con has also canceled its pop-up companion programing, which provided in-store retail activations at participating Indianapolis game stores—a big loss for some local stores that often rely on the event to bridge revenue gaps through expanded foot traffic.
As part of its online and virtual event offerings, Gen Con plans to create a virtual exhibit hall allowing would-be vendors to showcase their merchandise and recoup some revenue, Hoppe said.
"We felt that given everything that's going on, right now we want to try to help some of our partners and some of our stakeholders try to make some money to try to get through to next year," he said.
Gen Con and its vendors aren't the only ones taking a financial hit from the cancellation. It's also a major blow to the 2020 Indianapolis convention landscape, as Gen Con joins dozens of other events that have either been canceled, postponed or shifted to online mediums. It's the largest event to be canceled so far.
Indianapolis Deputy Mayor Thomas Cook, an avid tabletop gaming enthusiast and consistent Gen Con attendee, described the event as "the pinnacle of efforts to build a top convention city."
He said Gen Con's decision to cancel, while disappointing, is "admirable," particularly given the uncertainty surrounding whether there will be future waves of the novel coronavirus in the months ahead. Health experts have said it's likely there will be a resurgence in new cases, although many have said that uptick will likely come in the fall, rather than mid-summer.
"Unfortunately, we found out this week that there won't be a Gen Con in 2020," Cook said. "And that's obviously incredibly disappointing, but I think it's also a testament to how Gen Con has always put the experience and the welfare of their convention attendees above all else."
Chris Gahl, vice president of Visit Indy, said his organization believes the cancellation was the right decision to ensure Gen Con returns later on.
"While losing the city's largest convention for 2020 stings, we are more concerned about the long-term health of Gen Con, and ensuring they stay healthy moving into the future," he said. "So we are ultimately supportive and understanding of their decision."
The disappointment of the cancellation was tempered by the contract extension, which keeps the event in Indianapolis until at least 2026.

"We're willing to say, you know, this was a tough year for all of us," said Hoppe. "But we want to continue to try to make it work going forward."
Gahl said it's not clear how Gen Con's cancellation this year will affect other major events still on the books for Indianapolis in mid- and late-summer, or beyond.
"We'll be curious to see how news of Gen Con canceling and moving a few pieces to the online space will impact other major conventions," he said. "Each group is so different in size, scale and setup—and even in hosting—that we don't we don't know how or if Gen Con's decision will impact or create ripples with other groups."
Gahl said Visit Indy and Indiana Convention Center staff contine to work closely with convention organizers, by "walking them through what we're seeing and hearing on the ground in Indianapolis to help inform their decision-making process."
Andy Mallon, executive director of the Capital Improvement Board of Marion County, which operates the convention center and Lucas Oil Stadium, acknowledged that "losing this convention and other conventions to cancellation is impactful." But he said he's confident the CIB will remain solvent despite ongoing losses of hotel, restaurant and travel-related taxes on which the CIB relies for two-thirds of its revenue.
Mallon said he's been "trying to figure out how to manage and restructure our spending and our capital expenditures so that we'll have as much cash on hand as we possibly can when we move into 2021."
Earlier this month, the CIB got its first look at financial data for March, when the coronavirus began. The board brought in about $2 million from operating revenue—about 59% below budget—and about $8.9 million below February's tax revenue. The CIB will get a better look at its finances in June, when receipts from March tax revenue arrive.
Please enable JavaScript to view this content.