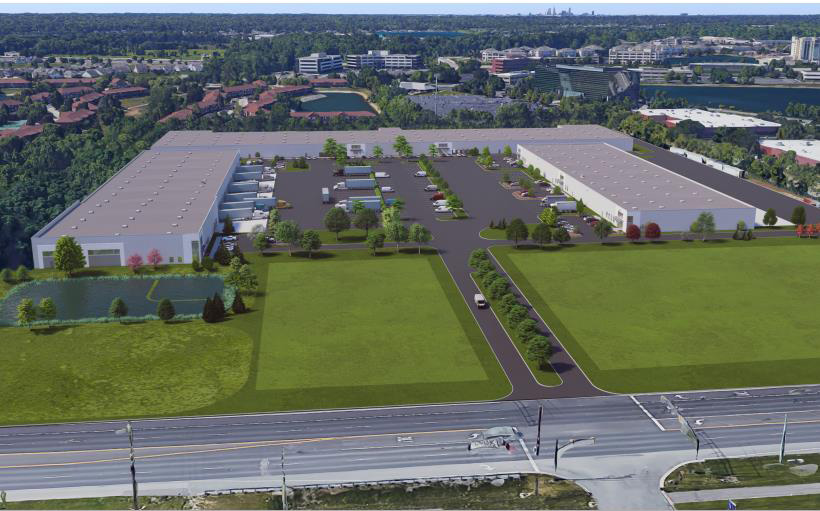 Local developer Citimark Inc. plans to spend $17.9 million to revamp the former HHGregg corporate headquarters on East 96th Street as a speculative light industrial project.
Under the firm's plans, the sprawling property at 4151 E. 96th St. will feature three buildings totaling 313,000 square feet. Two will run north-to-south and another will run east-to-west on the south end of the 27-acre property, with the structures roughly forming a U-shape.
The project is targeting infill logistics users that could use the site as a last-mile facility, according to the Citimark website. It will feature several docking areas and abundant parking. And since the property fronts the busy 96th Street commercial corridor, Citimark is also exploring options for retail outlots on the north end of the site.
Citimark, which started clearing a portion of the site for redevelopment in mid-2021, acquired the campus last January for $14 million.
The firm is asking the city of Indianapolis for a five-year vacant building abatement, which would save the company about $1.1 million over the term, according to a slide presentation obtained by IBJ that will be presented to the Metropolitan Development Commission's tax abatement committee on Wednesday.
Because Citimark retained part of the original structure, the firm qualifies for a vacant building abatement classification, which applies to structures that are viewed as challenging for redevelopment and have been unused for an extended period.
Scarlett Andrews, director of the Department of Metropolitan Development, said the effort to repurpose the long-vacant headquarters site is an important move—and was cited as an area need in the city's strategic revitalization plan for the Castleton corridor released in 2019.
City planning staffers are generally supportive of Citimark's request, but the firm would also be required to invest at least 5% of the abatement—about $52,000—for workforce support programming. The firm is expected to put that funding toward Indy Achieves programming, which focuses on increasing the number of adults in Indianapolis with post-secondary credentials. The program also strives to eliminate attainment gaps for minority residents.
Founded in 1982, Citimark has acquired, developed, managed and leased more than 20 million square feet of industrial, office and mixed-use properties. The firm also owns several other properties in Indianapolis—including the Gold Building downtown, through a partnership with Gershman Partners.
A Citimark official did not return an email requesting comment.
Please enable JavaScript to view this content.