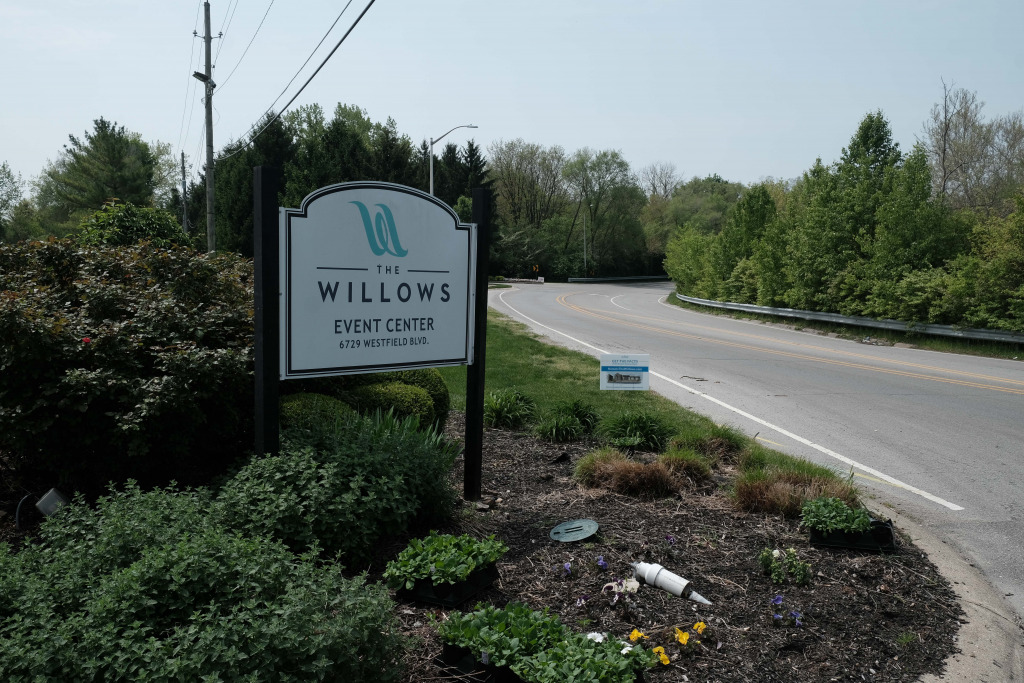 A city commission on Wednesday delayed a hearing for a property rezoning request tied to a controversial residential real estate project near Broad Ripple.
The Metropolitan Development Commission continued a public hearing on the Willows redevelopment project at 6729 Westfield Blvd. to June 15, following requests for a postponement from both the developers and remonstrators.
The development team of Willows Event Center owner Evergreen LLC, Carmel developer J.C. Hart Co. and Indianapolis-based Chase Development hopes to rezone about 21 acres to allow for the $61 million project. 
The development would include about 250 apartments and townhouses on the western and southern banks of Spirit Lake, a 13-acre body of water in the oxbow—or U-shape—of the White River.
The developers sought to delay the project's hearing by about one month to allow for more time to discuss the project with neighbors, who have generally opposed the project. It is also preparing responses to city staff comments in a recommendation for approval by the Department of Metropolitan Development, issued last week.
Misha Rabinowitch, an attorney with Dinsmore & Shohl LLP who represents the development team, said he believes meeting with neighbors will be conducive to the process and there are hopes the project will move forward as part of the June MDC meeting.
"We always try to be sensitive to the neighbors and their concerns and to do whatever is possible to respond to them, understanding that there are always differences of opinion," he said.
The DMD's decision to recommend approval follows abundant negative reaction from neighboring property owners, who have claimed the project is too large and isn't in line with the Marion County Comprehensive Plan, which determines best uses for property depending on proximity to amenities, major roadways and existing neighborhoods.
In its report, the DMD noted the project is larger than the comprehensive plan generally calls for, but that it is a more appropriate use than the existing event center. The classification has an upper threshold of about five units per acre for single-family dwellings, but it also allows for apartment and town house developments, which tend to have much higher densities.
Remonstrators had hoped to delay the rezoning meeting to July 6. About 40 neighborhood residents opposed to the project attended the meeting.
Melina Kennedy, a resident of Oxbow Estates and vice president of the neighborhood association, said residents have generally not been updated on the project since it was first unveiled 10 months ago, with the developer making small concessions, such as slightly reduced density and changes to the composition of the project.
"We were hoping today that the Metropolitan Development Commission would allow enough time for us to really understand what [the developers] are proposing," Kennedy said. "We think after 10 months, a few more weeks would be granted, so we're disappointed."
She said residents would like to know more about how Spirit Lake will be cared for during and after the development, as well as how much the developers plan to request in tax-increment financing dollars. Lead remonstrators are set to meet with the development team next week, Kennedy said.
The project's $53 million apartment component from J.C. Hart would consist of three buildings totaling 238 units and 303 parking spaces along Westfield Boulevard. Apartments would range from $1,200 to $2,100 per month.
Chase Development would spend at least $8 million to build the town houses, which would range from three to four stories, have two-car garages and cost $700,000 to $1 million. Those homes would front North Dawson Lake Drive, along the southern edge of Spirit Lake. 
Evergreen plans to contribute the land to the development, as well as some cash, with plans to remain a long-term partner and take care of Spirit Lake and additional green space.
Please enable JavaScript to view this content.