Since its launch last July, Indianapolis' $96.1 million program to provide emergency rental assistance has helped thousands of residents stay housed in the midst of the pandemic's economic fallout.
As program administrators at 13 local not-for-profits continue to whittle down a long waiting list, the program, dubbed IndyRent, is only weeks from opening to a fresh wave of applicants in early July—just in time to get help to renters before a federal eviction moratorium ends at the close of that month.
Since July 2020, IndyRent has distributed nearly $46 million in federal COVID-19 relief funding as rent payments to nearly 21,000 households. There's at least $50 million more to distribute.
The massive program started to come together in May 2020, when the city approached the John Boner Neighborhood Centers, a near-east side not-for-profit that leads administration for the Marion County Energy Assistance Program.
"I got a text from Deputy Mayor [Jeff] Bennett," said James Taylor, the organization's CEO. "He approached me and he approached Tony Mason at the Indianapolis Urban League, so we began a dialogue. I immediately had our outside IT team begin working on this idea, as to how we would set up something that could handle a large volume of documents, a large volume of people working on the system, all the ins and outs necessary to be able to do a rental-assistance program."
The bulk of the system behind IndyRent was put together in two months, with the program opening to applications July 13. That was four months after Indiana shut down under Gov. Eric Holcomb's original stay-at-home order.
"Fundamentally, the guts and the mechanics of the system was developed during that 60-day rush," Taylor said. "And if you remember back in May of last year, everybody's head was still spinning, because we didn't know what we were in the middle of and how catastrophic it could become."
Marion County unemployment insurance claims topped 10,000 by mid-March 2020, then 15,000 by mid-April, according to the Indiana Department of Workforce Development—3,000% and 4,000% increases from the same weeks in 2019.
"The pandemic has really brought to light how vulnerable communities are disproportionately, disparately impacted by the pandemic, and renters have been particularly vulnerable," Bennett said.
Meeting demand
IndyRent received more than 10,000 applications in its first three days. Thousands of them went to a waiting list that took the Boner Center and a network of a dozen other not-for-profits months to work through.
When administrators caught up in autumn, the program reopened to new applications. It ran until the original federal CARES Act spending deadline of December. The program's waiting list racked up another 10,000 applicants through this April, when the program relaunched, this time with federal CARES Act II funding.
This year's edition of the program had processed nearly 5,800 applications as of June 15, totaling $12 million in aid, according to Bennett. Around $500,000 gets approved every day, he added.
It's taken program administrators weeks to get the most recent waiting list down to 2,000 sign-ups, according to Taylor, with about 1,000 more to get through before IndyRent opens to more applications.
The Boner Center alone has about 26 people dedicated to running the program, many of them temporary staff brought on for the occasion. Another dozen local not-for-profits also process applications and issue checks, including Christamore House, Community Alliance of the Far Eastside, Concord Neighborhood Center, Edna Martin Christian Center, Flanner House, Fay Biccard Glick Neighborhood Center, Hawthorne Community Center, Indianapolis Urban League, La Plaza, Mary Rigg Neighborhood Center, Martin Luther King Community Center and Southeast Community Services.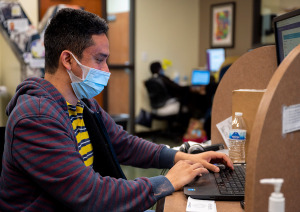 IndyRent is highly localized, and that's by design, according to Taylor. When a resident submits an application, it gets routed to the organization that covers that person's area, if applicable, to connect the resident with other resources the organization offers. If someone lives in an area not served by one of 11 organizations, the application goes to the Boner Center (people east of Meridian Street) or to the Indianapolis Urban League (people west of Meridian Street).
Despite the complicated coordination and time it takes to keep IndyRent running, all of the federal money is going straight to rental assistance. A $5 million Lilly Endowment grant is taking care of the administrative and technology costs, with "a considerable amount" left to spend, according to Taylor. Each of the not-for-profits administering the program gets reimbursed $83 in agency time for every completed application.
Groups like the Immigrant Welcome Center are also doing specialized outreach, helping some residents with technology access or completion of the online application itself, while other organizations are promoting the service and connecting their own clients to rental assistance, Taylor said.
Just in time?
Holcomb instituted a statewide eviction moratorium on March 19, 2020. From April to July, eviction filings in Indianapolis dropped to 0% to 4% of the city's three-year historical average, according to Princeton University's Eviction Lab. As soon as the moratorium ended on Aug. 14, filings jumped to 66% of the average.
Now, a national eviction moratorium that began in September is set to end July 31, worrying housing advocates. The moratorium was set to expire June 30, but on Thursday, the Centers for Disease Control pushed it back a month, in what the agency said "is intended to be the final extension of the moratorium."
"Some of [our clients] have had eviction hearings or have had an eviction filed against them in the city pushed [back] for over a year, so we have a lot of cases that are just ready to go after June 30," said Brandon Beeler, Housing Law Center director at Indiana Legal Services, who spoke before the CDC announced its monthlong extension.
"And some people [landlords] haven't filed, so there will possibly be an increase in filings on top of the hundreds of cases that have been pending," Beeler said.
IndyRent's reopening to new applications in July could help fill the gap in Indianapolis when the moratorium ends.
The program could help more residents than ever, as this year's federal funding allows governments to pay tenants directly when their landlords don't respond to a program application or decline to participate.
Program administrators couldn't process 9,266 applications last year, according to the city, when governments were allowed to give the funds only to landlords.
The Boner Center and its IT consultant are working to fit that new function into the website. A pilot of about 200 applicants with uncooperative landlords is set to begin soon, Taylor said, with hopes of giving all applicants the option later in July.
To 2025 and beyond
As Indianapolis looks to shift from an emergency-oriented pandemic response to long-term recovery, local tenants might be able to count on a rental assistance program for future help.
The city joined forces with national housing organization Grounded Solutions in June 2019 to tackle high pre-pandemic eviction and displacement rates, alongside a lack of quality affordable housing. The first proposal in a policy agenda issued this April was to make the new program permanent.
"The pandemic blew up all the old models of relief and put us in a position where we now have [had] this community-wide rental assistance program for the better part of the last 12 months. And now we know how to do it," Bennett said. "It becomes a matter of ongoing maintenance of [the] system, identifying ongoing sources of funding to continue to be able to operate at scale and the ability to add additional partners over future years."
In 2020, the program ran with $33.8 million from the CARES Act's Coronavirus Relief Fund, according to the city. This year, IndyRent is using the CARES Act II's Emergency Rental Assistance fund and had about $17 million of the $28.8 million total left to spend as of mid-June. The federal spending deadline is September 2022.
And when Indianapolis' City-County Council enters its budget-crafting season in August, city leaders hope to get another $33.5 million approved from the American Rescue Plan Act's Emergency Rental Assistance Fund. That money wouldn't need to be used until September 2025.
Indy plans to exhaust the CARES II dollars before touching the American Rescue Plan funding, Bennett said, but also hopes to snatch up any reallocated federal money that other cities and states didn't spend.
"It's our understanding that, at some point, there'll be an accounting of cities across the country, and states across the country, that have underspent CARES Act II," Bennett said. "If that money can get reallocated, then we'd like to get our hands on some."
There isn't yet a timeframe or framework for the permanent version of IndyRent since the city is still knee-deep in its pandemic response, according to Office of Public Health and Safety spokeswoman Caroline Ellert.
But the Boner Center's work as the city's fiscal agent might not go beyond the 2025 federal spending deadline, which would mark the official end of the original IndyRent.
"We kind of fell into the role, and our reason for doing that was because of the economic fallout of the pandemic," Taylor said. "If we stay in the role we currently have, I've got an additional question that my board is going to need to decide … because we are a near-eastside organization. We do some services that are countywide, but we have to balance out the needs of our particular community."
Still, the permanent program would be a game-changer, advocates agreed.
"We all have tough times in life," said the Housing Law Center's Beeler. "Because someone has a bad month, they have a health issue or their child becomes sick, it should not be the end of this person's economic liberty to be able to afford a home—or possibly face eviction, get behind on other bills, have a [bad] credit history and swing into the cycle of poverty."
Taylor said housing stability is fundamental to getting out of poverty.
"Practically every other tool in our toolbox is irrelevant," he said, "if a family doesn't have stable housing."•
The print version of this story was written before the federal eviction moratorium was extended to July 31. The web version reflects the extension.
Please enable JavaScript to view this content.