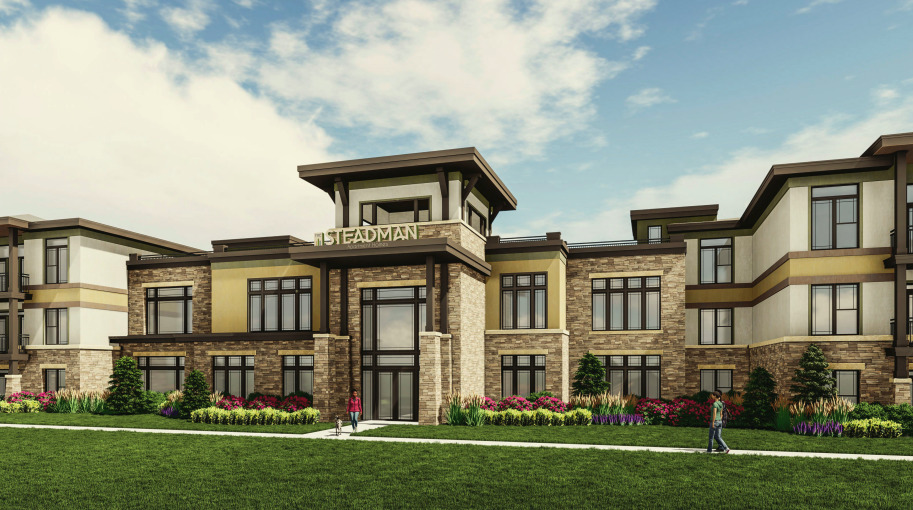 Carmel-based Cityscape Residential announced plans Tuesday to construct a 263-unit apartment community south of the city's Market District.
The developer said The Steadman will be built on 12-1/2 acres of land northeast of Spring Mill Road and East 111th Street. The project will be part of The Bridges, a 65-acre mixed-use real estate development.
The Steadman "will offer residents resort-style urban living and an architectural aesthetic inspired by Frank Lloyd Wright," according to Cityscape.
The company declined to disclose a price tag for the project, which will be owned by Cityscape and its equity partners.
"The Steadman is going to bring much-needed luxury living space to a vibrant and growing part of Carmel," Cityscape Residential co-founder and co-managing partner Jim Thomas said in a written statement. "More than 60,000 people work nearby, and many of them are looking for that live-work-play lifestyle that keeps everything close to home, especially when many residents are electing to literally work from home."
Cityscape expects construction on The Steadman to begin this summer with an opening date in spring 2023.
The Bridges, located on East 116th Street, between Spring Mill Road and Illinois Street, currently includes a Market District grocery store and other retail operations.
A 22-acre portion of the property just south of the grocery store has gone undeveloped since the project was approved in 2011 due to a years-long legal battle that was settled in 2020 between members of the Pittman family, which owned the land.
Steve Pittman, a developer in Hamilton and Boone counties, as well as his brothers, Scott and Chad Pittman, reached a global settlement to resolve several legal cases brought by siblings Mark Pittman and Anne Kelton. The five children of late heart surgeon and real estate developer John N. Pittman had fought over his estate since 2015, but an October 2020 settlement established a framework in which Steve, Scott and Chad Pittman will be able to buy out the other sibling's share of The Farm at Zionsville and The Bridges in Carmel.
Cityscape's most recent project in Hamilton County is Nexus, a $52.8 million mixed-use apartment building that is expected to open this summer at the former Marsh Supermarket location in Noblesville at State Road 32 and River Road.
Nexus will include 287 residential units and 36,000 square feet of commercial space.
The firm developed The Otis at Fort Ben, a complex with 261 apartments that opened last year at Fort Benjamin Harrison in Indianapolis, and the 218-unit Aria of Zionsville, which opened in 2020.
In 2017, Cityscape completed The Ascent in Plainfield, a 309-unit complex near the Shops at Perry Crossing.
Please enable JavaScript to view this content.