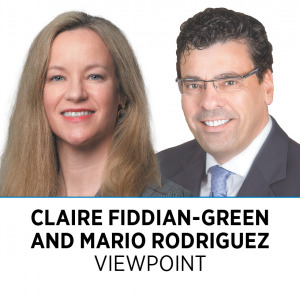 The next five years will change the Indianapolis Airport Authority's talent supply in unprecedented ways. By 2027, we expect 54% of our employees will retire, leaving hundreds of positions open.
And we're not unique. Nearly three out of four employers surveyed by the Indiana Chamber last year said the supply of job applicants did not meet their needs, up from 50% in 2020. Impending retirement waves like the one our airport faces will widen such gaps. Further aggravating the situation is the very low unemployment rate in Indiana, which, at 2.6%, is the 11th lowest in the United States.
Because of these realities, we must approach employee hiring and talent retention differently. That's why it was a no-brainer for the airport to say yes when offered an opportunity to partner with Indianapolis' Modern Apprenticeship program.
MAP offers high school juniors and seniors in Indiana paid work experience. While finishing high school, students complete two- or three-year programs in high-demand fields such as information technology, health care, business and advanced manufacturing. They emerge with industry credentials allowing them immediate entry into full-time positions, college credits to offset the cost of a degree and a professional network to support them.
Employers benefit immediately from these workers, who plug into their organizations in meaningful ways and can become long-term, loyal employees. To ensure the program is not a heavy burden on busy companies, employers receive support from the not-for-profit intermediaries Ascend Indiana and EmployIndy, which make the process turnkey.
Employers traditionally have relied heavily on post-high-school education and training providers—including two- and four-year colleges and universities, as well as programs offering non-degree credentials in specialized fields—as the primary source of workforce-ready talent. Those remain critical sources of talent, but as enrollment rates decline and students become more interested in jumping directly into the workforce, we must also explore other options.
That's why the Richard M. Fairbanks Foundation supported the launch of MAP in Indianapolis with a $3 million grant in 2020 and recently committed an additional $6 million to increase the number of students and employers who can participate in the program.
Youth apprenticeship programs like MAP also help communities address complex social challenges such as workforce diversity and economic mobility. In 2020, just 43% of Black and 44% of Hispanic or Latino high school graduates in Indiana enrolled in college. For some students who may not otherwise consider traditional paths to college, MAP offers a different kind of onramp to post-high school education and the workforce—one that comes with relevant skills and an industry-recognized credential.
MAP has already ignited local students' interest by exposing them to viable careers in their communities while meeting the immediate needs of participating employers who can leverage MAP to build their future workforce. The program currently serves about 70 Marion County students, and it is projected to grow to 400 by 2025 and reach its capacity of 5,000 by 2032. These students can earn an average of $13 per hour in their apprenticeship roles.
Our community plays a role in shaping the talent we need for a prosperous future. Partnerships like MAP are critical to addressing the skills gap and ensuring a thriving workforce for Indianapolis.
Employers looking to fill high-demand jobs, build a diverse workforce and create a pipeline of loyal future workers should consider youth apprenticeships. Visit indymodernapprenticeship.com to learn more and sign up.•
__________
Fiddian-Green is CEO of the Richard M. Fairbanks Foundation. Rodriguez is executive director of the Indianapolis Airport Authority.
Please enable JavaScript to view this content.