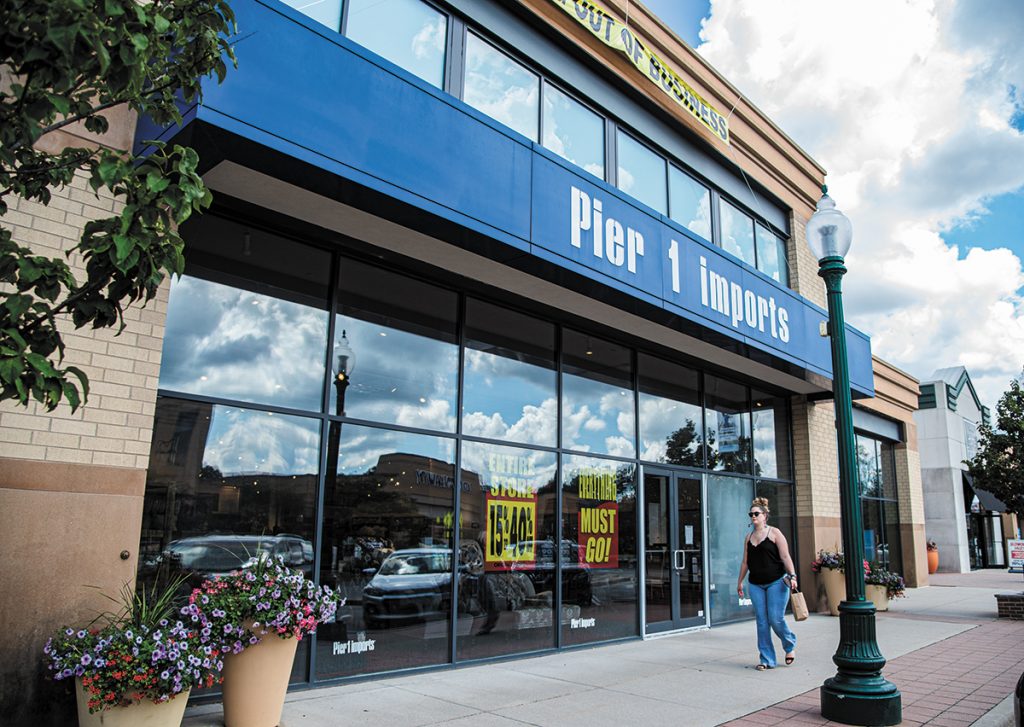 The owner of Clay Terrace has told the city of Carmel it has decided to put the brakes on an ambitious plan to diversify the lifestyle center by adding a 140-room hotel, 290 apartments and 200,000 square feet of office space.
Columbus, Ohio-based Washington Prime Group, which was spun out of Indianapolis-based Simon Property Group in 2014, announced the expansion in February, a month before COVID-19 led to social-distancing recommendations and stay-at-home orders that emptied out shopping centers nationwide.
According to the city, Washington Prime is waiting for the pandemic to wane before proceeding with the project, which also called for 70,000 square feet more retail to the 578,000-square-foot center.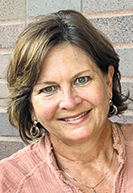 Kim Green, Washington Prime's vice president of investor relations and corporate communications, wouldn't comment in detail. In a written statement, she said Washington Prime will "share additional details regarding future redevelopment efforts at Clay Terrace when things stabilize and return to normal."
Rather than focus on the expansion, Washington Prime needs to zero in on the immediate challenges of rebuilding customer traffic, as well as design changes that use features like drive-thrus to protect public health, said Jacque Haynes, a senior retail associate with Indianapolis-based Midland Atlantic.
"Washington Prime is wise to hit the pause button. They need to reevaluate their site plans and designs," she said. "There's going to have to be cooperation between the tenants, the municipalities and the landlords to create necessary changes at the shopping center level."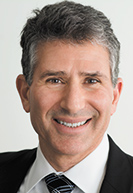 Shopping center owners, including Simon, are increasingly turning to apartments and mixed-use projects to add density to their properties or replace vacant retail space, said George Tikijian, an apartment specialist at the Indianapolis office of Chicago-based Cushman & Wakefield.
"It's not a new phenomenon, but it's accelerating with the demise of a lot of retailers," he said. "The thinking is, it's just harder to do retail development now than it was six months ago because there's a lack of confidence in the retail real estate business."
Although Clay Terrace reported 91.7% occupancy to the Securities and Exchange Commission in December, more than a dozen of the outdoor mall's roughly 60 storefronts now appear empty on the mall map.

Mitchell's Fish Market and Biaggi's Ristorante Italiano, two large-footprint restaurants, recently closed. Nearby Pier 1 Imports also plans to close its location as part of the bankruptcy and wind-down of the entire 540-store chain.
Haynes said the Fishers District in Fishers, Midtown in Carmel and The Shops at Perry Crossing in Plainfield all blend residential uses alongside retail.
Even though groceries and essential retail are seeing increased sales, other kinds of retailers are under significant pressure, Haynes said. Those that are trying to adapt with services like curbside pickup and delivery likely will need to continue those offerings after the pandemic ebbs, she said.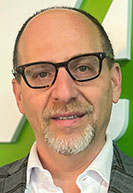 "There's a certain volume of business these retailers need to do to justify the rent they're paying. We already know the amount of space retailers occupy is changing, and many are right-sizing their footprints," Haynes said. "How is the space going to adapt? I don't think we have a crystal ball for that."
Gary Perel, a principal at Indianapolis-based Alo Property Group, said many retailers won't be viable unless or until they are able to attract the crowds they drew before the pandemic.
"The whole point of restaurants and retail, in general, is to get more people in. I don't think you can operate from that perspective when you're redeveloping a portion of that retail project. You just have to assume life is going to return to normal in the future," he said. "The only thing you can do is get creative, and that's going to be either office, entertainment, hospitality or residential."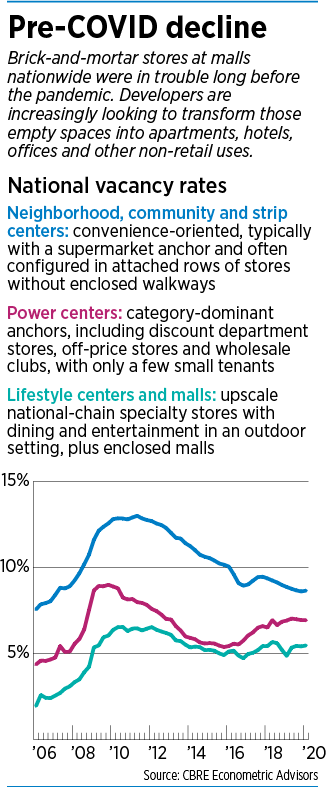 Simon and Indianapolis-based Lauth Property Group co-developed Clay Terrace on 62 acres and opened it in 2004. The center has 498,000 square feet of retail space and 80,000 square feet of office space.
Perel said further expanding non-retail uses makes sense.
"Twenty years ago, this product didn't exist. But as the suburbs began to develop their own central business districts and new urbanism became the hip product du jour, there's been a lot of demand for that," Perel said.
On a Feb. 27 conference call, Washington Prime CEO Louis Conforti said his company plans to partner with other developers on the non-retail uses at Clay Terrace and three other shopping centers where it plans to add mixed-use elements.
"For the non-retail stuff, we are far along in negotiating with several very reputable developers, and we look forward to that as well," Conforti said during the earnings call.
Perel said Washington Prime Group should have more success lining up partners than it would if it were launching a project from scratch.
"The advantages to building something in an existing project like Clay Terrace is, you take a lot of guesswork out of the location itself, like, 'How are people going to get there? What are the surrounding amenities? Am I going to be a pioneer developer?' No, all of those things are already understood," Perel said. "It's an understood market; it's established."
Tikijian said there's plenty of demand to fill the 290 planned apartments in Carmel, and those kinds of apartments will likely help Carmel accomplish its goal of attracting younger residents.
In addition to permitting residential, the rezoning request Washington Prime filed with the city of Carmel would allow a range of other non-retail uses, including coworking space and indoor recreation facilities such as arcades and bowling alleys.•
Please enable JavaScript to view this content.