Columbus, Ohio-based COhatch is off to a quick start on its plan to blanket the Indianapolis area with coworking spaces.
The company, which entered the market in 2020 by opening coworking centers in Broad Ripple and Noblesville, announced formal plans Wednesday to  open four additional Indianapolis-area centers—in Martindale-Brightwood, Carmel, downtown Indianapolis and Zionsville.
When it announced plans in 2019 for its first two local coworking centers, COhatch said its long-term goal was to operate 10 coworking centers in central Indiana. If the four new centers open as planned, COhatch will have six area locations in operation by spring 2022.
The company said there is already a waiting list for space at its 18,000-square-foot center in the former Trinity Church at 6151 Central Ave. in Broad Ripple and at its 7,000-square-foot space in Hamilton Town Center in Noblesville.
The new centers will utilize a 133-year-old dairy stable building, a former antique shop, a vacant restaurant spot and a former church and art gallery.
Martindale-Brightwood
The Martindale-Brightwood center is planned for 1533 Lewis St., on the site once occupied by the Polk Sanitary Milk Co., which operated there from 1910 to the 1950s. The dairy buildings were torn down in 1967 except for a three-story stable that was built in 1888 and will be part of the new development.
COhatch said it  plans to begin construction on its Polk Stables facility this winter. It will include a maker space and some artist studios, where tenants can produce and sell goods in a collaborative environment.
The 21,741-square-foot facility, which will include 38 private offices and more than 100 coworking seats, also will house North High Brewing and include patio space.
Carmel
COhatch Carmel will take over 11,300 square feet in the former Old Town antique store at 38 E. Main St. Construction is set to begin this fall.
The center will include 30 private offices, 75-plus coworking seats and an overlook event space that can host more than 20 people for private meetings or social gatherings.
The event space will be available to the community for personal events after work hours and on weekends. Rental fees will help fund COhatch scholarships to local not-for-profit organizations.
Circle Center
At the downtown mall, COhatch will occupy 8,000 square feet on Circle Center's ground floor formerly used by Granite City Brewing, which operated there from 2013 to August 2019
COhatch previously confirmed to IBJ it would be leasing the space but did not provide details about the buildout. The company said the facility  near the southeast corner of Washington and Illinois streets will feature 21 private offices, an "expansive speakeasy," and "The Crown Jewel" lounge.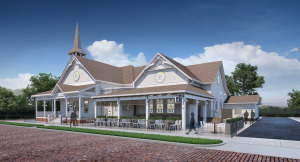 Zionsville
COhatch previously confirmed plans to open an 11,035-square-foot facility with 25 private offices and 100-plus coworking seats at 75 N. Main St. in Zionsville, in the former Nancy Noel studio, is being renovated. The $3 million project to the 167-year-old church building includes a patio restaurant space featuring food from North High Brewing.
Founded five years ago with a single location in Worthington, Ohio, COhatch has centers planned or under development in the Ohio cities of Columbus, Cincinnati, Cleveland, and Springfield and Florida cities of St. Petersburg, West Tampa, and Lakeland.
COhatch said the additional central Indiana centers will bring its total locations open or under development to 31, with total square footage of more than 400,000. The company aims to have 500 locations in 50 communities nationally by 2030.
Please enable JavaScript to view this content.