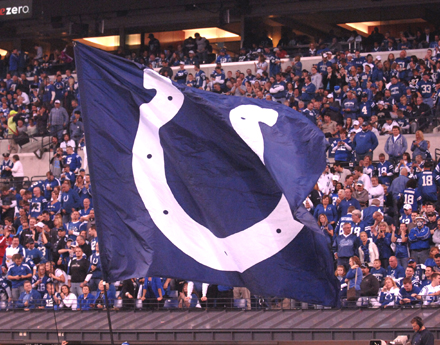 The Indianapolis Colts have inked a 10-year deal with Jacksonville, Florida-based sports merchandiser Fanatics Inc. to operate the team's in-stadium, online, mobile and roving retail shops, the team and company announced Thursday.
Fanatics is taking over for Indianapolis-based Lids Sports Group, which has a five-year contract with the Colts that ends at the end of February. Terms of the new deal were not disclosed.
Fanatics is a merchandising partner for 23 NFL teams, and this year will begin a 10-year exclusive deal with the league itself to design, manufacture and sell all Nike fan gear sold at retail.
The deal with the Colts is expected to bring with it new shopping technologies, along with updated stores and opportunities for new product lines.
Roger VanDerSnick, chief sales and marketing officer for the Colts, said Fanatics is "very adept" at using technology—specifically its Cloud Commerce Platform—to tap into what specific fans might be interested in buying.
"We'll really be able to take advantage of Fanatics' innovation … and all of their digital and social marketing expertise," he said.
Fanatics already had a foot in the door when the Colts began looking for a new retail partner because it has partial ownership of the Colts' current vendor, Lids.
Lids was sold last year for $101 million by holding company Genesco Inc. to Bethesda, Maryland-based Ames Watson Capital LLC—a company that owns and operates licensed-sports apparel retailer Fanzz. Fanatics made a minority investment in the newly formed FanzzLids as part of the deal and took over Lids' online operations early last year.
Since Fanatics took over the Colts' online shop in April, the total number of products available to fans has more than tripled, VanDerSnick said.
The marketing boss said he and other Colts representatives—including members of the Irsay family—considered several possible partners or an extension of its contract with Lids. But none were able to match Fanatics, he said.
"These are big, big partnerships," said VanDerSnick. "Any time you get to the point where it's time to consider whether a renewal or a change is in order … [it's] a fairly intensive process."
VanDerSnick said the parties expect the new partnership to result in an "omnichannel retail experience" that blends together different shopping environments, including web, mobile and brick-and-mortar stores.
Fanatics will also run the Colts' training camp store and other mobile gear outlets.
Gary Gertzog, president of business affairs for Fanatics, said the company is "excited" about the new deal.
"We have a partner here that is like-minded and very thoughtful and focused on this segment of their business," Gertzog said. "They recognize they have a first-class building and they want their retail to be a commensurate with that."
It's likely fans who use the online store won't see much of a difference, since the site already runs on the Fanatics' platform, but the company said it plans to implement larger displays for featured items and create an easier checkout experience.
Some changes are in store for the team's flagship shop at Lucas Oil Stadium, with plans to begin an overhaul in March. Neither the team nor Fanatics would say how much would be spent on the renovation, but pro shop upgrades are typical with new merchandising deals.
The one area Fanatics won't oversee is the Colts Pro Shop at Circle Centre Mall, which is leased and operated by Lids.
An industry insider told IBJ that merchandising deals typically involve the rights-holder—in this case Fanatics—paying a royalty to the team for each item that is sold. The amount paid varies by product, with the company paying a guaranteed minimum each year as part of its contract.
The source said the Colts are usually in the lower half of the league's teams in annual merchandise revenue because of Indianapolis' market size.
Please enable JavaScript to view this content.