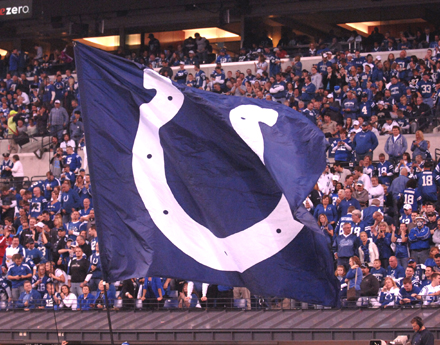 The Indianapolis Colts will be permitted to have up to 7,500 fans at their second home game at Lucas Oil Stadium this season, a team official said Wednesday.
The Marion County Public Health Department has increased the team's maximum capacity from 2,500—in place for their home opener Sunday against the Vikings—after about two weeks of negotiations.
Pete Ward, chief operating officer for the Colts, confirmed the 200% increase for the Sept. 27 game against the New York Jets in a text message to IBJ on Thursday afternoon.
Anticipated capacity limits for the teams games have fluctuated throughout the summer because of the coronavirus pandemic. The team had initially eyed having up to 25% capacity to start the season, but later modified that down to about 15%, or about 10,050 spectators.
The health department on Sept. 4 approved a plan for 2,500 fans for the Colts' first game, and on Wednesday announced a reduction to seating capacity for remaining Indy Eleven home games—also played at the 67,000-seat stadium—to resolve a disparity between crowd limits for both teams.
The department said both teams would have an opportunity to increase capacity this season as COVID-19 data allows.
Please enable JavaScript to view this content.