The combination of a pandemic hiring freeze, an early retirement program, and a nationwide desire for higher wages has left some areas of Indianapolis government struggling for staff.
Over the past two years, the city has experienced some of its highest vacancy rates in decades, said Controller Ken Clark. Exact data is unavailable, but Clark said the last time city employees recall seeing vacancy rates approaching 20% was in the 1990s.
While some progress has been made, the vacancy rate was still almost 19% at the end of June, with 1,667 of the city's 8,972 positions unfilled.
"We've fought through '21, and through most of '22 to fill vacancies," Clark said.
When the pandemic hit in 2020, the city had a hiring freeze in most departments, excluding the public works and public safety departments.
The city saw little attrition most of that year, Clark said. Then, officials rolled out an early-retirement plan in October, which offered 190 employees over the age of 55 a buyout. All 190 accepted the offer, which cost the city $12 million.
"We were looking to shore up the city [financially], and we had no idea we were going to get [more] federal money of any kind to help us," he said.
Some city officials now regret the buyout program, he said, which was offered in preparation for post-pandemic budget shortages the city expected to face this year.
"Do I wish I had some of those employees now? Yeah, I do," Clark said. "I know that there are some department directors that would say the same. That was a tough hit that it's going to take a long time to recover from, just because those people had a lot of experience and they've been here a long time and it's hard to lose them."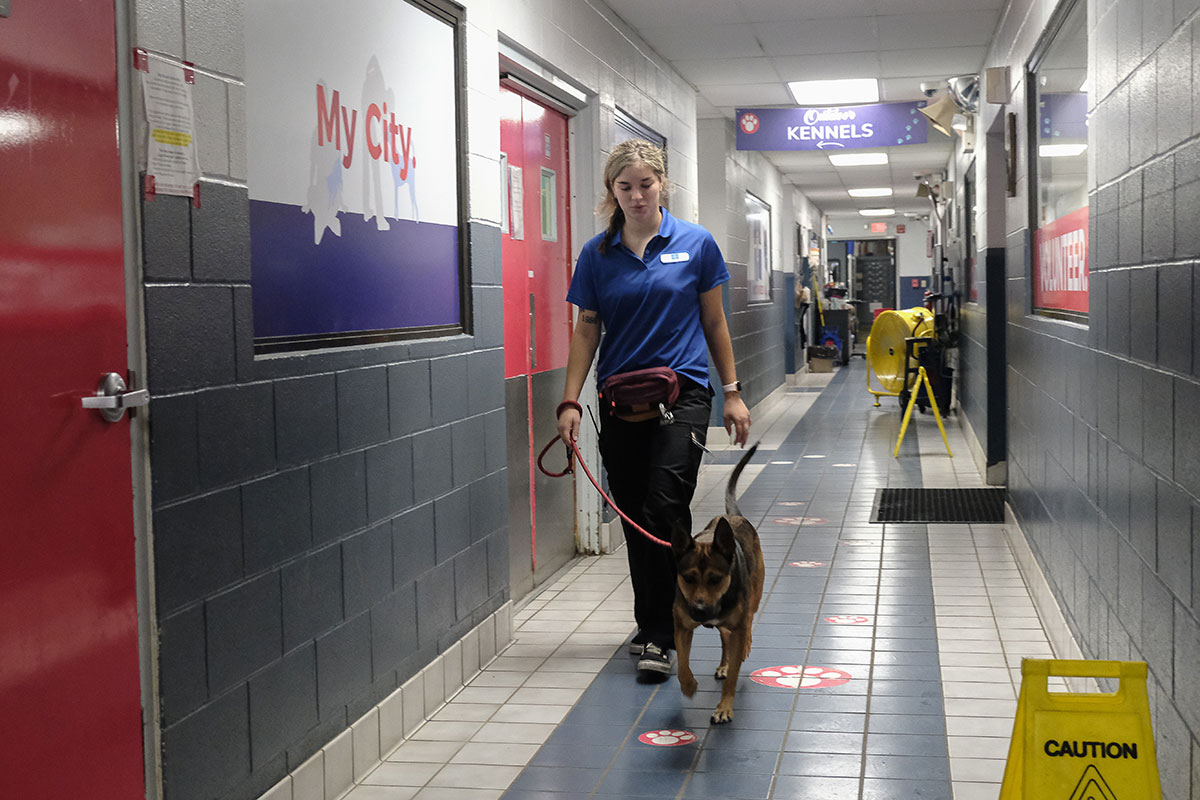 Clark said it was still the right decision for October 2020, since the administration couldn't predict how much federal funding it would ultimately receive or the currently tight job market and the lure of higher-paying jobs.
As the pandemic continued, many employees left government jobs. A decrease in concerns around health and stability led some workers to prioritize higher-paying, private-sector roles over benefit-heavy, lower-paying city jobs.
Rolling out a new pay scale and an updated compensation plan has helped recently, Clark said.
For example, starting pay for call-center employees at the Mayor's Action Center increased to $16 an hour from $13. Vet technicians with Animal Care Services saw a double-digit-percentage increase in pay. Clark said these shifts immediately led to a larger pool of applicants.
"We're seeing improvements in pockets, getting more applicants in some areas," he said. "Other areas I get complaints about, that we're getting no applicants at all."
The city also has added some benefits, including new paid holidays, a floating holiday and parental leave, Clark said.
The city is also in the middle of a compensation study, set to be completed this month, that will help determine where pay is lacking.
Competition among counties
Some areas of city government couldn't wait for results from the pay study. In January, starting salaries for attorneys with the public defender's and prosecutor's offices were increased from $53,000 to $60,000.
"I did that out of the plan because of their desperate need to hire," Clark said.
But Marion County Prosecutor Ryan Mears and Chief Public Defender Bob Hill say the pay increase still isn't enough to compete for qualified workers.
While private-sector attorney jobs will always pay more than county jobs, Mears said, nearby counties are paying starting public defenders and prosecutors $70,000 salaries. Qualified individuals who want to serve the public can go somewhere besides Marion County and maintain a higher quality of living, he said.
Plus, Mears said, prosecutors in Marion County bear more criticism than they might in other counties,due to the spotlight put on crime in Indianapolis.
"You put a lot of time, energy and effort into your job, and people respond with criticism," he said.
Six of Mears' employees left as part of the early-retirement offer in 2020.
During the budget hearing for the Public Defenders Agency, Hill said he's seen quality employees leave because of low pay.
"One of our most reliable and beloved investigative paralegals recently left our employment, and as she's walking out the door she has tears in her eyes. But she's got a family to support," Hill said. "She can go get a job working at Butler University making $20,000 more than I can ever hope to pay her."
Hill's office currently employs 187 attorneys and 123 support staff. He has 11 social worker vacancies.
Street repairs, trash pickup
The Department of Public Works has about 100 vacancies. Spokesman Ben Easley said this has caused some delays in daily operations such as trash pickup. Easley said residents have been patient with the department as it communicates these challenges to neighborhoods through apps like Nextdoor.
About 30 additional DPW jobs were created in July, making up a chunk of the department's current vacancies. New DPW positions are also being created in the 2023 budget for trail and greenway maintenance.
To increase the number of applicants, the department is addressing the gaps that exist between a potential hire's skills and the job requirements.
Many jobs in the operations division of DPW—the largest division, which deals with tasks such as pothole filling and snow plowing—require a commercial driver's license. The proposed 2023 budget includes an initiative to offer CDL training in-house or through a vendor. DPW also requires employees to have a high school diploma or a GED certificate. Easley said the department has considered creating partnerships so the department can help applicants without a high school diploma receive a GED certificate on the job.
Easley said DPW isn't usually fully staffed, but it could be feeling the effects of long-term trends. The department is also implementing sign-on and referral bonuses.
"We are trying to be as attractive as possible to hire folks in," he said.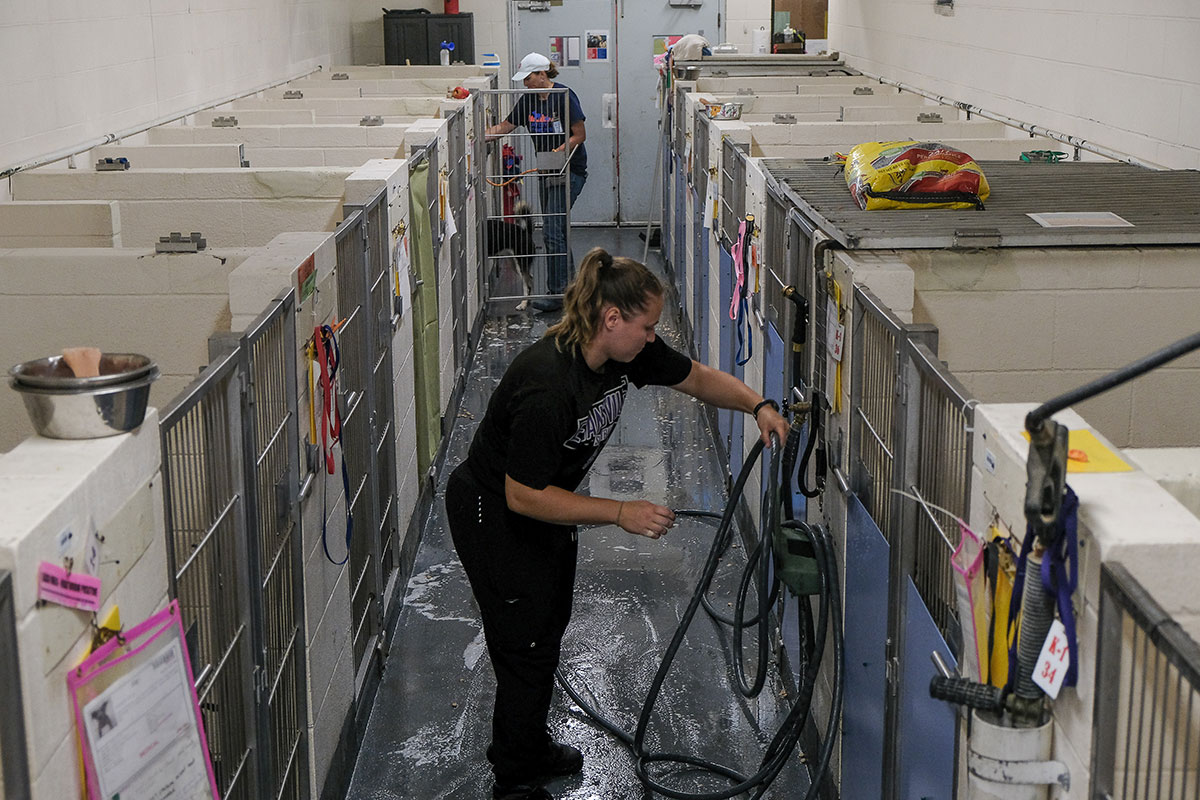 Fighting pandemic turnover
At the start of the pandemic, the Department of Business and Neighborhood Services lost 28% of its building inspection staff, 56% of its zoning and licensing inspection staff and 79% of its permit issuance staff.
Department spokeswoman Brandi Pahl said some vacancy areas aren't improving. The department is still having trouble hiring building and zoning inspectors, with a total of 37 vacancies this summer. Last fall, there were 25 vacancies for those posts.
The department runs Indianapolis Animal Care Services, which Pahl said is always in need of senior animal care technicians, despite the pay increase. The kennel had eight vacancies this summer, up from four last fall.
Pahl said working in the kennel—which is frequently overcrowded with cats and dogs—can be stressful and strenuous.
"It wears on [employees] physically, emotionally," she said. "So we're also dealing with that aspect of things with that position, but we are working on ways to help staff kind of deal with all of that."
To help find employees, the department has used job fairs, college visits and partnerships with local organizations that offer job training programs.
"We're just trying to battle every company out there that's having the same problem as us," Pahl said.•
Please enable JavaScript to view this content.