Conexus Indiana has hired longtime auto industry executive and native Hoosier Fred Cartwright to be the organization's new president and CEO, it announced Monday morning.
Cartwright, 63, is set to start work July 12 at Conexus, an Indianapolis-based organization that works to strengthen the state's manufacturing and logistics industries. He replaces former President and CEO Mark Howell, who retired last month.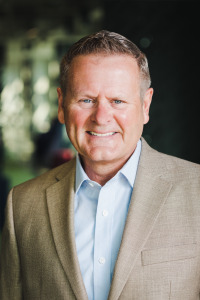 "We are thrilled to welcome Fred to Conexus Indiana to help guide our industry, talent and public-sector initiatives during one of the most significant times in history as technologies redefine how we make and move products," Conexus Chairman Denny Oklak said in a written statement.
Innovation has been an integral part of Cartwright's career, in jobs both in Indiana and elsewhere, and he said he'll bring that experience and outlook to Conexus.
"Indiana really needs to be on the leading edge of technology as it relates to these industries—all industries, really," Cartwright told IBJ. "That's what sustains the industry in the long term and keeps it competitive and attracts other companies to come here."
Most recently, Cartwright served as the president of Columbus-based Pruv Mobility Ecosystem, a start-up company focused on creating connected and autonomous technology testing facilities.
From 2013 to 2018, he was executive director for the Clemson University International Center for Automotive Research in Greenville, S.C. The center, popularly known as ICAR for short, is a 250-acre, $250 million research campus for the automotive industry.
Cartwright, a Terre Haute native, started his career in 1980 at Allison Transmission, which was then a part of General Motors, and led Allison's efforts to develop hybrid powertrains for transit buses. In 2003, Cartwright and his family moved to Detroit so he could take a job with General Motors, and he also worked for GM in Germany. He left GM in 2013 for the job at ICAR.
He'll be working out of Conexus' new location on the 16 Tech campus on the west side of downtown. Conexus had previously operated out of offices on Monument Circle but relocated last year while employees were working from home. Employees are scheduled to report to their new offices this week, Cartwright said.
Please enable JavaScript to view this content.