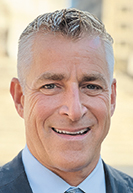 Longtime local executive Mark Howell is stepping down from his role as president and CEO of Indianapolis-based Conexus Indiana in June, the organization announced Wednesday.
Conexus is a not-for-profit organization that works to strengthen the advanced manufacturing and logistics industries throughout Indiana.
Howell, 56, joined Conexus in January 2018, following four years as the chief operating officer at Indianapolis-based Angie's List Inc. Before that, he spent 18 years in upper management at Indianapolis-based BrightPoint Inc.
"I am grateful for the rewarding opportunity to have led Conexus Indiana and serve the advanced manufacturing and logistics industries—two industry sectors that are critically important to Indiana and the state's residents," Howell said in a written statement.
During Howell's tenure, Conexus' main focuses have been building talent pipelines and helping manufacturers and logistics companies prepare for what's commonly known as Industry 4.0: the use of advanced technology, automation and data to enhance competitiveness, productivity and profitability.
"The work that Mark has accomplished in the past three years as president and CEO of Conexus Indiana is nothing short of remarkable," Conexus board chairman Dennis Oklak said in written comments. "Mark came to Conexus and quickly created a strategic plan for the organization, which has served as an effective roadmap for Conexus Indiana's current work and that will sustain the organization's efforts for years to come."
Conexus said it has already begun its search for a new CEO.
After leaving Conexus, Howell plans to devote his time to various volunteer and philanthropic activities. He is chairman of the Indianapolis Host Committee for the 2022 College Football Playoff Championship as well as board chairman and executive committee member of the 2022 Indy College Football Playoff Inc. and board member of the Indy Championships Fund.
Howell, a Carmel resident, also serves on the boards of the Eskenazi Health Foundation, Visit Indy, Ascend Indiana and KAR Global.
Before joining Conexus, Howell served as chief operating officer at Indianapolis-based Angie's List Inc. He served in that role from 2013 to 2017, leaving the company after its merger that year with Colorado-based HomeAdvisor.
Prior to that, Howell spent 18 years in upper management at BrightPoint Inc., a former Indianapolis-based company that provided logistics and distribution services to the mobile technology industry. California-based Ingram Micro Inc. acquired BrightPoint in 2012, and Howell left the company three months later for Angie's List.
Please enable JavaScript to view this content.