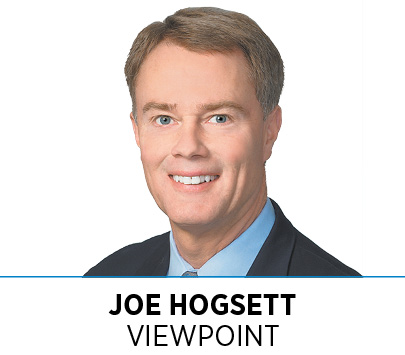 At a time of division in our politics, it seems that Americans can find unanimity on few subjects. And yet, despite such widespread discord, almost all of us can agree that the quality of the built environment of our cities, towns and highways is nowhere near where it ought to be.
Unfortunately, this neglected infrastructure includes some of Indianapolis' oldest roads, bridges and public facilities. Compounding the need is the reality that, while many of these projects are incredibly urgent, they are beyond the economic scope of local government.
That urgency is why this week I joined more than 350 mayors across the United States to voice support for robust, comprehensive, transformative federal infrastructure legislation. On June 24, President Biden and a bipartisan group of 21 senators (including Indiana's own Sen. Todd Young) agreed to a framework that addresses our aging infrastructure over the next eight years.
This $1.2 trillion legislation doesn't just look backwards. The bipartisan infrastructure framework concentrates on both our 20th and our 21st century infrastructure needs. That includes traditional infrastructure like roads, bridges, water treatment, electricity, transit, airports and water ports. But it also includes more modern infrastructure improvements like high-speed internet, electric vehicle networks, the elimination of lead service lines, and above all, improved resiliency against an increase in extreme weather events due to climate change.
Indianapolis and Marion County stand to benefit from the bipartisan infrastructure framework in many ways. First, as Indiana's largest population center, job center and visitor destination, our local streets and bridges are the most heavily traveled in the state. And yet, they are funded by only a minority of their regular users. A perennially cash-strapped public works budget would get a major boost from federal spending.
Second, Indianapolis has become known in recent years for an impressive system of trails, thanks to our administration's considerable investment in greenspaces. An ability to complete Indy's Greenways Master Plan and give cyclists and pedestrians better access to all corners of the city would improve our overall health and quality of life.
The immediate utility of these updates is obvious, but it's the economic benefit to our community that I believe is the most critical.
In the short term, we expect to see a number of construction jobs created; however, the bulk of the impact would transcend initial construction. A healthy infrastructure will make businesses more competitive, neighborhoods safer and more attractive, and our entire city more prosperous.
These effects will be all the more vital as Indianapolis continues to emerge from the pandemic and our ability to attract talent becomes all the more critical when work-from-wherever becomes a more typical option.
Finally, a federal-sized infrastructure assist would allow Indianapolis to take responsibility for some of the unjust transportation projects of our city's history.
From the transformation of neighborhood roads into dangerous one-way thoroughfares in low-income communities to the consistent underinvestment in our public transit, Indianapolis still bears the weight of a system that doesn't serve all who call Indianapolis home.
An infrastructure network guided by equity and boosted by federal support could allow our city to rebuild and reconnect in meaningful ways.
If we can achieve equity while making this historic investment in our nation's future, then we can turn this era of division into a new era of unity and prosperity. It is not only possible—it is imperative that we meet these challenges.
And so, for our city, for our community and for future generations, I urge Congress to listen to the American people and pass the bipartisan infrastructure framework.•
__________
Joe Hogsett, a Democrat, is in his second term as mayor of Indianapolis.
Please enable JavaScript to view this content.