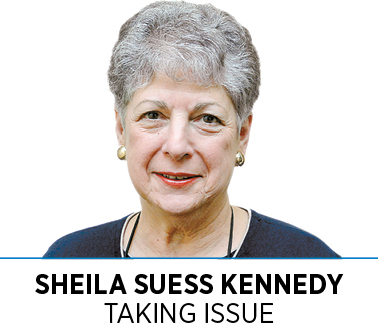 Georgia Gov. Brian Kemp recently announced the reopening of that state's gyms, fitness centers, bowling alleys, tattoo parlors, barbers, nail salons, restaurants, theaters and massage therapists, among other businesses, despite warnings by public health officials that such reopening was far too early.
Kemp said the businesses would be required to screen workers for illness, increase sanitation rules, separate workspaces by at least 6 feet, telework where at all possible, and have staggered shifts. (How you separate massage therapists or barbers from their customers wasn't specified.)
Kemp told reporters his concern was to protect small businesses that are being hurt by the economic shutdown. George Chidi, a Georgia journalist and former staff writer for the Atlanta Journal-Constitution, had a different interpretation. "It's about making sure people can't file unemployment," he wrote. Georgia's unemployment fund has $2.6 billion. That's a lot, but with claims skyrocketing, Chidi calculated that the fund would empty in about 28 weeks.
The problem is, there's no obvious way to replenish it, because Georgia has a version of the tax caps Indiana inserted in our constitution a few years ago. Like ours, Georgia's can be overridden only by constitutional amendment—a years-long process. Georgia can't borrow money to cover the fund, either, because the state can't borrow more than 5% of its previous year's revenue in any year, and any borrowing must be fully repaid before the state can borrow more.
Kemp's order prevents workers from claiming they are involuntarily unemployed, a prerequisite for receiving unemployment benefits. Chidi notes that the order didn't include banks, software firms, factories or schools. It covered only businesses usually staffed by poorer people more likely to file for unemployment.
Here in Indiana, former Gov. Mitch Daniels was the driving force behind the placement of the "tax caps" measure in our state constitution. It was politically brilliant; Daniels successfully curried voter favor by decimating the ability of cities to adequately fund services and hobbling the state's ability to meet unanticipated crises.
The average voter doesn't recognize the different functions of constitutions and statutes or understand why specific tax provisions don't belong in the former. Most Hoosiers thought it was a great idea to place tax caps in the state's charter, making it difficult—if not impossible—to change direction if the need arose. Despite that approach's obvious political appeal, the state of Georgia is demonstrating just how shortsighted and damaging it can be.
Political observers already know Kemp as someone who doesn't let ethical considerations get in his way; as secretary of state, he refused to recuse himself from oversight of the gubernatorial election in which he was a candidate. By throwing out some 50,000-plus registrations from African American voters, he narrowly deprived Stacy Abrams of a victory in that race.
This effort to prevent low-income workers in Georgia from claiming unemployment benefits is equally contemptible, but it's also equally attributable to the restrictive provisions in Georgia's constitution.
Indiana's constitution requires a balanced budget. That requirement need not be debilitating—if the state and its subdivisions have the ability to raise taxes to meet unanticipated challenges.
A pandemic, for example.
When Daniels and the Republicans in the Statehouse told Hoosier voters they were "protecting taxpayers" by putting tax caps in the state's constitution, objections by mayors and warnings by fiscal and tax policy experts were pooh-poohed.
Politics won. Prudent and informed policy lost.
Someone recently reminded me that "Georgia on my Mind" was written by Hoagy Carmichael, a Hoosier.·
Kennedy is a professor of law and public policy at the Paul H. O'Neill School of Public and Environmental Affairs at IUPUI.•
__________
Kennedy is a professor of law and public policy at the Paul H. O'Neill School of Public and Environmental Affairs at IUPUI.
Please enable JavaScript to view this content.