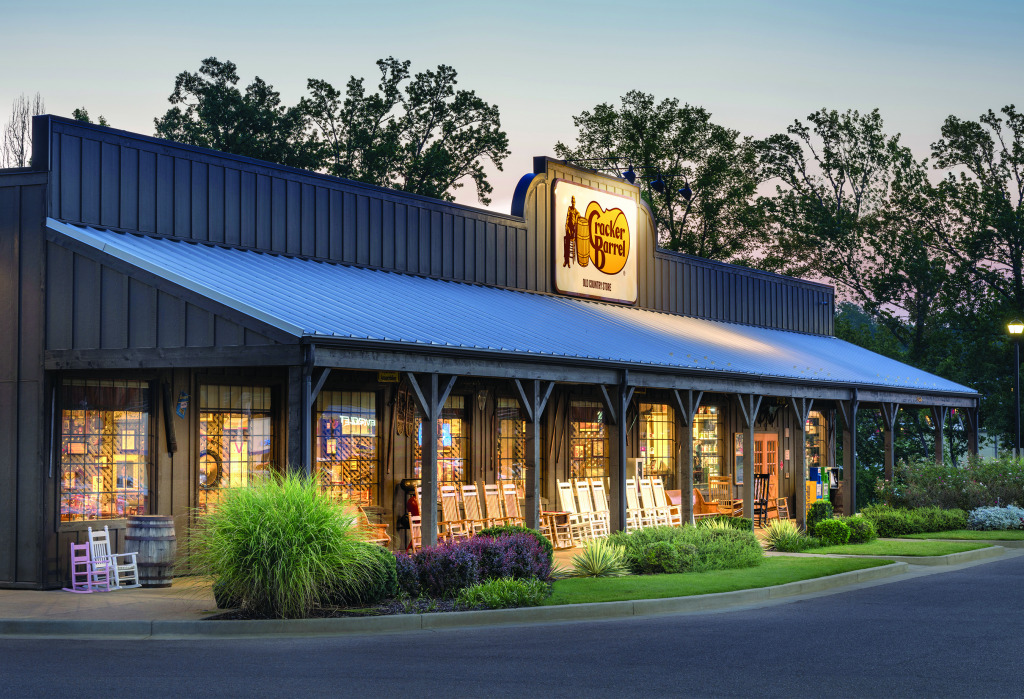 Cracker Barrel Old Country Store Inc. is converting one of its Indianapolis restaurants into a food-preparation-only location as a way for the company to experiment with the emerging "ghost kitchen" trend.
The location, at 9340 Michigan Road, ceased its restaurant, retail store, carryout and delivery operations on Aug. 24. It is expected to begin operating in its new capacity by the end of the month, company spokeswoman Heidi Pearce told IBJ.
At this point, the Michigan Road site is the only one of the Lebanon, Tennessee-based chain's 663 company-owned locations nationwide that is being converted.
Heidi Pearce, a spokeswoman, said the company chose Indianapolis as its test location because of the strength of the local market and the nearby presence of numerous other Cracker Barrel restaurants. There are nine other Cracker Barrels in the Indianapolis area and more than a dozen in central Indiana.
"We're pleased with that area, so we think it's a good area where we can test and see how it all works out," Pearce told IBJ Thursday afternoon.
Within the restaurant industry, a "ghost kitchen" is a location that prepares food for off-site consumption. One reason for their use is that the facilities allow restaurants to fulfill delivery orders without the extra expense of having servers and other "front-of-house" employees on site.
Ghost kitchens, which are also known by various other names including "dark kitchens," "virtual kitchens" and "delivery kitchens," are a growing trend in the industry.
One local example is Indianapolis-based food delivery company ClusterTruck, which operates exclusively out of ghost kitchens. But traditional restaurant chains are also jumping on board.
Tampa, Florida-based Bloomin' Brands, the parent of Outback Steakhouse and several other restaurant brands, operates 11 delivery-and-takeout-only locations, most of them in South Korea.
California-based startup Kitchen United operates ghost kitchens in Pasadena, California; Chicago; Scottsdale, Arizona; and Austin, Texas; with locations coming soon in New York City and Los Angeles. The company's restaurant partners, which vary from market to market, include Smokey Bones BBQ, White Castle, Wendy's and Capriotti's, among others.
And Rosemont, Illinois-based foodservice distributor U.S. Foods Holding Corp. announced last month that it was launching a program to help its restaurant customers open their own ghost kitchens.
Cracker Barrel said it plans to use its Indianapolis ghost kitchen in potentially several different ways.
In its fiscal-year-end earnings call with analysts Sept. 15, President and CEO Sandra Cochran said Cracker Barrel will handle local catering orders, potentially producing new menu items that the chain's other locations might not have the time, equipment or expertise to make.
The Michigan Road facility will also prepare food for individual orders through services like DoorDash, Cochran said. It also might be used to increase other locations' production capacity during busy periods.
"So, we're going to explore how having this asset might allow us to even further expand the seasonal business that we're doing in our stores," Cochran said during the call.
Cracker Barrel has been focused recently on growing what it calls off-premise sales. In its earnings release last week, the company said its off-premise sales during the fourth quarter were up 145% over the same period in 2019 and represented about 35% of total restaurant sales. Dining-room capacity was limited during much of the May-through-July period because of the pandemic.
For the fiscal year ending July 31, Cracker Barrel reported revenue of $2.52 billion, down 18% compared with the previous year. Fourth-quarter revenue was $495.1 million, down 37% compared with the same period a year earlier.
The company posted a $32.5 million loss during the year ended July 31, compared to a profit of $223.4 million the previous year.
Cracker Barrel, which regularly ranks as one of the nation's favorite chain restaurants, was founded in 1969. The company recently announced it would begin selling beer, wine and mimosas at 600 of its restaurants, as well as a take-home mimosa kit.
Please enable JavaScript to view this content.