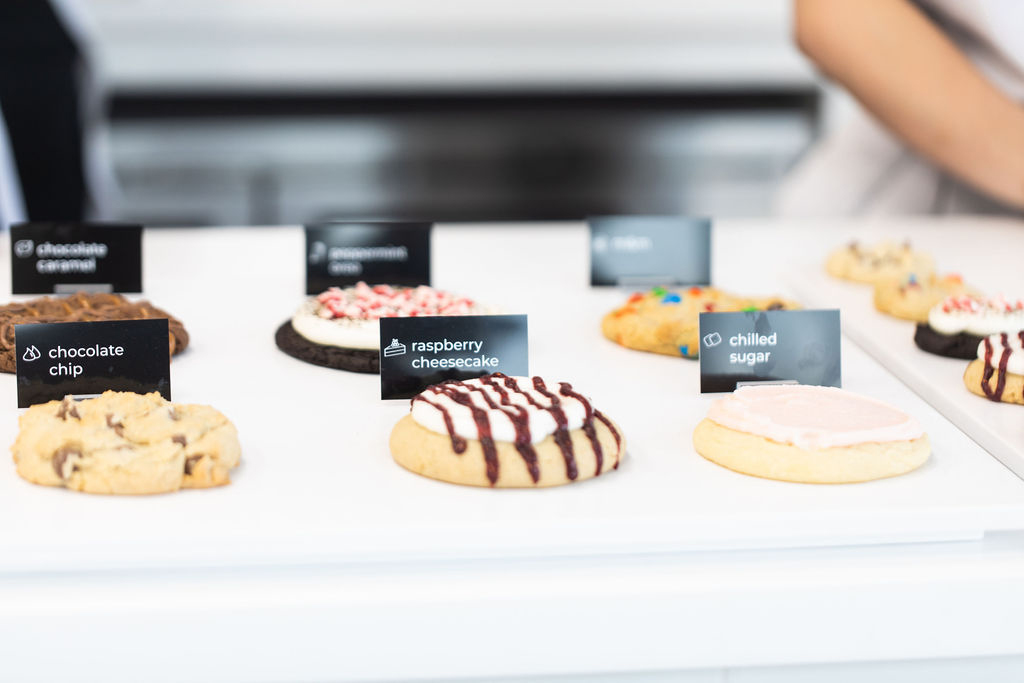 Utah-based Crumbl Cookies, a fast-growing chain of gourmet cookie shops, is set to open its first Indiana location Thursday in Fishers, and plans to open four additional stores in the Indianapolis area by year's end.
The Fishers shop will take over a 1,300-square-foot space at 8395 E. 116th St. in the Fishers Town Center shopping center. It was formerly occupied by Kiss Kiss Bang Bang Salon, which relocated to the Yard at Fishers District early last year.
Crumbl sells freshly-baked cookies, with a rotating menu of 130 flavors. Milk chocolate chip (served warm) and chilled sugar cookies are always available Four other flavors are offered each week. This week's rotating flavors, for instance, are carrot cake, lemon poppy seed, peanut butter chocolate chip and chocolate cake.  The chain also serves its own ice cream in half-pint containers.
The shops offer takeout, curbside pickup and delivery service, but no in-store dining.
Franchisee Tyson Barrett of Fishers is the operating partner and one of several owners of the Fishers store, along with brother Chad Barrett of Salt Lake City.
Tyson Barrett said work is already under way on additional local stores. Interior demolition has started at 3329 E. 86th St., in Keystone Shoppes in a space formerly occupied by GNC Nutrition. The Keystone shop is expected to open in mid-March.
Next up will be a Greenwood store at 1675 W. Smith Valley Road in the Centre at Smith Valley shopping center at the southeast corner of Smith Valley Road and State Road 135. Barrett said he's signed a lease at this location and is in the middle of securing permits.
Barrett said he also plans to open stores in Carmel and Zionsville and is scouting locations. According to the terms of his franchise agreement, he is expected to have five Indianapolis-area Crumbl stores open by the end of the year.
Barrett, who is originally from Salt Lake City, started working at one of Crumbl's stores in that city about a year ago. He was promoted to area manager within months, and shortly after that he and his brother, Chad, decided to open a location in Columbus, Ohio. The brothers opened their first Columbus store in August, with three more planned in that market.
Tyson Barrett moved to Fishers to open the stores here.
"The last six months have been kind of crazy," Barrett said.
Crumbl was founded by cousins Sawyer Hemsley and Jason McGowan, who opened their first store in Logan, Utah, in 2017. The chain now has 146 stores in 28 states. It also has a shipping office in Boise, Idaho, from which it ships cookie orders nationwide.
Please enable JavaScript to view this content.