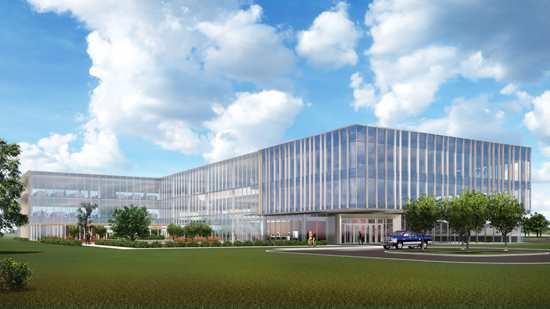 Cummins Inc. is still planning to move ahead with a development project in Greenwood that was first announced last year, although the project likely will differ from the manufacturer's original plan to build a $35 million office building on the 31-acre site.
Cummins and the city of Greenwood have finalized a deal in which Cummins will pay $4.5 million to purchase the site, located at the southeast corner of Interstate 65 and County Line Road. This represents a major change from the previous agreement, in which Cummins would have purchased the property for $10 as an incentive to build office space.
The new arrangement will give Columbus-based Cummins more time and flexibility to decide on the best way to use the property, the city of Greenwood said in a statement released Thursday morning.
In May 2019, Cummins announced that it planned to build a 100,000-square-foot office building on the Greenwood site that would serve as the hub for 500 digital and information technology employees, most of them transfers from the company's Indianapolis and Columbus offices.
But the COVID-19 pandemic has shifted people toward remote work and away from shared office space, causing Cummins to rethink its plans.
"This is a significant accomplishment given the circumstances created by this unprecedented pandemic," Greenwood Mayor Mark Myers said in that statement. "Cummins has been a great partner throughout this process, and we appreciate the productive collaboration.
"This agreement provides a structure for Cummins to retain the potential to develop while allowing the city to recoup expenses and move forward with redevelopment of the surrounding property."
The Cummins site is part of a larger development plan that Greenwood has for that area, which is one of the few parts of the city with significant remaining undeveloped acreage. Including the Cummins site, the Greenwood Redevelopment Commission has purchased more than 95 acres. City officials are currently receiving and vetting redevelopment proposals for projects that include professional buildings, retail, hospitality and other commercial uses.
"Cummins shares the city of Greenwood's vision for this area, and we are continuing to evaluate uses that will ultimately contribute to development that is beneficial to the city and surrounding areas for the long term," Cummins Director of State Government Relations Lawrence McCormack said in a prepared statement.
Please enable JavaScript to view this content.