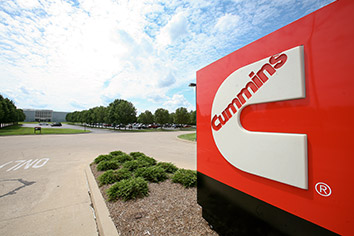 Indiana-based Cummins Inc. is investing $24 million into VoltStorage, a Munich, Germany-based startup focused on environmentally-friendly energy storage systems.
Founded in 2016, VoltStorage develops and produces energy storage systems for commercial and agricultural use. Its products are based on redox flow technology, which the company describes as a more environmentally friendly alternative to lithium-ion batteries.
VoltStorage is also working to develop a low-cost iron salt battery that could be used to store energy generated by wind and solar farms.
"By investing in VoltStorage, we are taking steps to advance solutions focused on the grid and energy storage," Cummins CEO Jennifer Rumsey said in a written statement issued Friday afternoon. "Addressing climate change will take a comprehensive approach and all stakeholders working together to execute it."
VoltStorage said it plans to use Cummins' investment to develop larger-scale redox flow storage systems for commercial, agricultural and residential use. The investment will also help VoltStorage move its iron salt battery closer to commercialization.
Cummins' investment represents a Series C funding round for VoltStorage—its third major round of fundraising. VoltStorage's other investors include Belgium-based Korys Investments and Germany-based Bayern Kapital GmbH, among others.
The VoltStorage investment is the latest of numerous investments and partnerships that Cummins has undertaken in recent years as the company continues to diversify beyond its roots as a diesel-engines pioneer.
Among those efforts:
In January, Cummins entered into a joint venture with New Braunfels, Texas-based Rush Enterprises Inc. that focuses on the manufacturing of Cummins-branded near-zero-emissions natural gas fuel-delivery systems for commercial vehicles.
In February, Cummins announced its plans to acquire Michigan-based Meritor for $3.7 billion. Meritor makes electric axle and brake technology, and Cummins sees the deal as a way to accelerate its electric and hybrid business.
Please enable JavaScript to view this content.