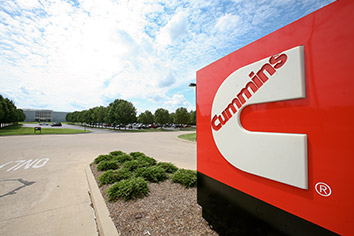 Columbus-based Cummins Inc. plans to acquire Troy, Michigan-based Meritor Inc. in a $3.7 billion deal that Cummins says will boost its ability to offer electric and hybrid products to customers.
The companies announced Tuesday that they have entered into a purchase agreement in which Cummins will pay $36.50 in cash per share of Meritor. The deal is expected to close by year's end. Cummins plans to finance the deal with a combination of cash and debt.
Meritor, an industry leader in electric axle and brake technology, has 9,600 employees in 19 countries. Cummins has 59,900 global employees who produce diesel, natural gas, electric and hybrid powertrains and components, including batteries and hydrogen generation and fuel cell products.
Cummins, which started out as a maker of diesel truck engines, has in recent years broadened its portfolio to include electric- and hydrogen-powered products. The company has also set ambitious environmental goals that include working to reach net-zero carbon emissions by 2050.
"Climate change is the existential crisis of our time, and this acquisition accelerates our ability to address it," Cummins Chairman and CEO Tom Linebarger said during a Tuesday morning call with analysts.
Linebarger said electric axles are a crucial part of an electric- or hydrogen-powered vehicle because they serve as an integration point for the various other components—similar to how the engine block is a connection point in traditional engines.
In acquiring Meritor, Linebarger said, "we think we can be at the table now for pretty much every negotiation about who's going to supply what in the commercial/industrial sector. And that's a big deal. This is a fast-moving sector. There are a lot of players in it."
Shares of Meritor soared to $35.90 Tuesday morning, up 46% from Friday's closing price. (Financial markets were closed Monday for Presidents' Day.)
Shares of Cummins were trading at $216.43 Tuesday morning, down less than 1% from Friday's close.
Meritor already is a recognizable name in Columbus, but probably not a popular one. In 2000, predecessor company Meritor Automotive Inc. merged with longtime manufacturer Arvin Industries—then the second-largest employer in Columbus behind Cummins—to form ArvinMeritor.  Over the next decade, ArvinMeritor ended most of its operations and hundreds of jobs in Columbus. It officially dropped Arvin from its name in 2011.
Meritor opened a manufacturing plant in Plainfield in 1999 that employs about 250 people. The plant remanufactures and manufactures brake components for the commercial truck market. The plant has turned out more than 100 million brake shoes since its opening.
Please enable JavaScript to view this content.