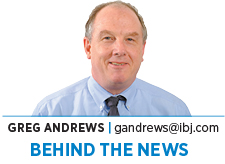 The last time Indianapolis-based Simon Property Group Inc. negotiated an employment contract with CEO David Simon, it was an ordeal. The parties went back and forth for 18 months before signing an eight-year deal in July 2011 that included quite a sweetener—a $120 million stock bonus that would begin vesting after six years.
At the time, board members were nervous they might lose Simon, who had racked up total shareholder returns of 860% since taking the helm in 1995.
Explaining the new pact, the compensation committee wrote months later, "Given David Simon's vast experience, track record as a chief executive and relatively young age, he has had (and prior to the new arrangement, could have pursued) employment opportunities outside our company and in different industries.
"The committee considered the need for new and creative retention and compensation arrangements that could reflect David Simon's contributions and secure a long-term commitment from him to remain with us."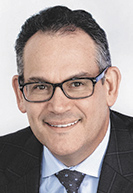 Do the math, and you'll recognize that the eight-year deal is history—it expired July 5. So what's next for David Simon, who's now 58, with wealth perhaps approaching $2 billion?
Simon, who owns a Carmel home but spends much of his time in New York City—where the company has an office and where he bought a Park Avenue residence for $25 million in 2011—has the financial freedom to walk away, of course. He doesn't have to spend his days haggling with mall chains over lease rates.
The company's Securities and Exchange Commission filings don't shed light on his or the board's intentions. The company's March proxy statement noted the upcoming contract expiration but didn't say whether directors were trying to hammer out a new one.
Company officials and board members contacted for this article did not respond to emails or phone messages.
It's possible, of course, that board members are heavy into negotiations on a new contract.
It's also possible that Simon is intending to stay at the helm but without signing a new deal.
Many company boards are backing away from employment contracts because they can make it difficult to oust an underperforming CEO and don't really lock down the CEO, anyway, said Charles Elson, a corporate governance expert at the University of Delaware. He said executives under contract who leave typically forgo only future payouts.
"The view today is that a contract is not a good idea, but it was quite common and is common for CEOs to have contracts," Elson said.
A public-relations reality is that rich pay packages negotiated into contracts are likely to garner more negative headlines than generous pay doled out by boards in the normal course of annual evaluations.
Simon Property can attest to that firsthand. In a nonbinding vote in 2012, more than 70% of shareholders opposed the pay package that included David Simon's $120 million retention bonus.
That summer, a Baton Rouge pension fund sued Simon Property, objecting that the payout had no performance benchmarks beyond the requirement that David Simon remain employed. The fund also argued that the board exceeded its authority by modifying the company's stock plan without shareholder approval.
To put that suit to rest, the company in 2014 eliminated the $120 million award in favor of a performance-based bonus. Simon ended up receiving compensation totaling $29.4 million over the last three years.
Despite the controversy, few Simon Property investors would want to see David Simon bolt. Under his leadership, the company has performed phenomenally long term, with its market capitalization swelling from $2 billion to $45 billion and the stock producing a total return of 2,121%.
David Simon achieved those results despite rising investor angst over the popularity of online shopping, which has caused the company's shares to languish over the past five years.
For the most part, the malaise is not a reflection of operating results, which have remained strong.
Some investors say that reality creates a compelling buying opportunity—in part because the company's annual dividend yield (its annual payout divided by the stock price) has risen to 5.7%.
"Today, Simon Property, whose average rolling returns have smashed the market's over every time frame, is sporting the strongest fundamentals in its history," Brad Thomas, editor of Forbes Real Estate Investor, wrote online this month.
"Yet the market's pessimism over the overblown 'retail apocalypse' has caused the stock to fall to such low levels that it's trading at the highest yield and lowest price to cash flow in a decade."
Perhaps David Simon would prefer to leave on a high note—when the stock is surging rather than slumping.
Another potential sign he'll stick around: One of his and his wife Jacqueline's five children just joined the corporate fold.
Simon Property in May issued a press release announcing the hiring of Eli Simon, 31, as senior vice president of corporate investments.
The release—which, oddly, did not note the familial tie to the CEO—said Eli would be responsible for such areas as new-business sourcing and corporate investments.
The company declined to make Eli or David available for an interview.
Eli Simon's career path is similar to that of his father, who was a Wall Street investment banker before returning to Indianapolis in 1990 at age 28 to help run the family real estate empire.
Eli Simon, who has a bachelor's in economics and an MBA from the Wharton School at the University of Pennsylvania, formerly was principal and head of North American lodging at New York-based Och-Ziff Real Estate, where he oversaw lodging-related investments.
In 2015, he and Och-Ziff colleague Adam Berns launched New York-based EA Capital, a real estate firm targeting up-and-coming urban areas.
Is the chance to work with a son enough to tilt David Simon toward staying? Investors who've made a bundle on the stock over the last quarter-century surely hope so.•
Please enable JavaScript to view this content.