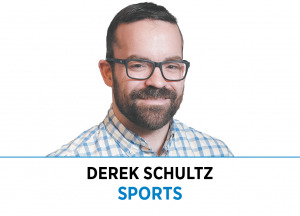 Have you checked your email lately?
How about your spam folder? (Make sure you have "Irsay, Jim" and "Ballard, Chris" on your trusted senders list.)
In the last week, there's probably a decent chance you've been invited to interview for the Indianapolis Colts head coaching position.
The Colts' expansive search, a list that has included 14 names over the course of the past month, has given a whole new meaning to the word expansive. From offensive wunderkinds (Shane Steichen) to defensive gurus (Ejiro Evero), from young (Mike Kafka) to old (Rich Bisaccia), and from two-plus decades of coaching experience (Don Martindale) to 2-1/2 months (Jeff Saturday), their targets have spanned the entire spectrum. It's difficult to even guess what the Colts are looking for in their next hire because of the amount of variety in their candidate pool.
They've left everyone guessing. And that's a good thing!
For as much as folks (including yours truly) have criticized owner Jim Irsay and General Manager Chris Ballard over the last few months, it appears the Colts have handled this process astutely. There was concern over whether Irsay would stubbornly dig his feet in on hiring Saturday, who is technically still a candidate, even after a 1-7 interim stint. But this search hasn't seemed to indicate that.
Fans were also worried that the owner wouldn't give Ballard, if he were even retained in the first place, the autonomy to conduct the search, but that doesn't seem to be the case, either. In fact, reports from earlier this week stated that Irsay wasn't even part of the initial interviews with any of the candidates.
Regardless of who deserves credit for it, the Colts have put together a long list of mostly qualified and impressive head coach options. That fact is critically important for a franchise that has been stuck in Nowheresville for the eight seasons since they were run off the field in the AFC Championship Game by the Patriots in January 2015. The Colts need their next head coach to not only stabilize a seemingly fractured locker room but also to groom and develop their presumed quarterback draftee into someone who can lead the franchise back to their 2000s-level excellence.
Here's a look at the remaining candidates:
◗ Raheem Morris, defensive coordinator, Los Angeles Rams
As I mentioned above, it's hard to pinpoint exactly the type of coach the Colts are looking for in this wide-ranging search, but if you're looking for the candidate who checks the most boxes, Morris is likely it. While not a direct branch from the Tony Dungy Coaching Tree, he started as a young assistant for Dungy protegee Mike Tomlin in Tampa Bay, rapidly rising to the head coach's office as a 32-year-old in 2009.
He was too green during a three-year, 17-31 stretch, but Morris has gained another decade of experience as a defensive coach in Washington, Atlanta and Los Angeles, spending the last three seasons as a coordinator. He's well liked by his players and is overdue for another shot with the headset.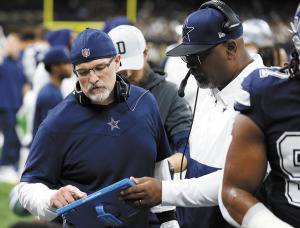 ◗ Dan Quinn, defensive coordinator, Dallas Cowboys
Much like the Colts' latest quarterback washout, Quinn's legacy was forever changed by Atlanta's infamous Super Bowl LI collapse. He never quite recovered from that loss in his second season, as the Falcons went 24-29 afterward, causing Quinn's Frank Reich-like dismissal in the middle of the 2020 season.
He has two decades of NFL coaching experience, though, and his fiery demeanor is the anthesis of Reich's calm nature. Quinn has had a good two-year stint in Dallas, turning around a defense that gave up a franchise-record 473 points in the season before his arrival.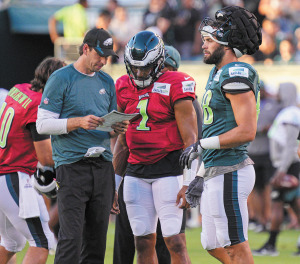 ◗ Shane Steichen, offensive coordinator, Philadelphia Eagles
Once Detroit's Ben Johnson publicly declared he was staying with the Lions, Steichen instantly became the hot commodity candidate to circle on the Colts' list. Just 37 years old, Steichen oversaw Justin Herbert's Rookie of the Year campaign with the Chargers and has been at the controls of Jalen Hurts' impressive ascent in Philadelphia.
Known for adjusting his scheme to his quarterback's preferences and maximizing his playmakers, Steichen's Eagles offense led the NFC in both points (28.1 per game) and yards (389.1) this season, ranking third overall in the NFL in both categories.
◗ Brian Callahan, offensive coordinator, Cincinnati Bengals
We know how much Irsay loves bringing up the past: How about choosing a candidate who coached the Colts' greatest player and worked with the last head coach to take the franchise to the Super Bowl? After early stints in Denver as an offensive assistant with Peyton Manning and as a quarterbacks coach on Jim Caldwell's staff in Detroit, Callahan has blossomed while running the offense in Cincinnati.
Obviously, it helps having guys like Joe Burrow, Ja'Marr Chase and Tee Higgins, but there's a reason Callahan has been pursued by multiple teams in this latest head coaching cycle.
◗ Jeff Saturday, interim head coach, Indianapolis Colts
Saturday inherited a bad situation, as most interim coaches do, but even with a makeshift coaching staff and busted quarterback carousel, it's hard to fully excuse the Colts' descent to worst team in the NFL by season's end. The Colts were outscored by 87 points in his eight games and were barely competitive in the season's final month, which was capped by a humiliating home loss to a Texans team with nothing to play for.
Saturday is an extremely likable personality and great representative of The Horseshoe, as Irsay calls it, but given his lack of experience and the poor results with the little experience he does have, you can't argue that he belongs anywhere near the top of this list.
◗ Mike Kafka, offensive coordinator, New York Giants
After seemingly turning around Daniel Jones' career, could the Chicago native and Big Ten alumnus return to his Midwestern roots? Just looking at the stats doesn't do Kafka's work justice, as he helped Brian Daboll transform the putrid Giants into a competent team and playoff game winner.
Given his age (35) and quarterback pedigree, Kafka is certainly one of the most intriguing names on the Colts' list.
◗ Ejiro Evero, defensive coordinator, Denver Broncos
You'd never know it from his age (42 years old), but Evero has already racked up 15 seasons of NFL coaching experience. In that time, he's worked under respected defensive minds like Monte Kiffin, Wade Phillips and current Colts defensive coordinator Gus Bradley.
Much like other members of this list, he's a popular target and has already completed interviews with several teams.
In a hiring cycle with just four other teams, most of whom are facing similar quarterback conundrums, the Colts can be patient in picking their guy. However, unlike their hiring cycles in 2002, 2012 and 2018, they can't pitch a surefire franchise quarterback to their candidates.
What Indianapolis can do is lean on its tradition of franchise stability and its place in what's historically been the NFL's most-winnable division. The Colts have mostly been competitive and competent over the last quarter-century, despite the turmoil they've put themselves through in recent years, and NFL turnarounds can happen quickly (see: Jaguars, Giants, Lions, etc).
As the franchise slides into also-ran status, it is absolutely critical that the Colts pick the right leader to drag them out of mediocrity. Facing the first major decision in the team's most critical offseason in years, they know they have to get this fixed—and get it fixed now.
Irsay's reputation and Ballard's job likely depend on it.•
__________
From Peyton Manning's peak with the Colts to the Pacers' most recent roster makeover, Schultz has talked about it all as a sports personality in Indianapolis for more than 15 years. Besides his written work with IBJ, he's active in podcasting and show hosting. You can follow him on Twitter, @Schultz975.
Please enable JavaScript to view this content.