Carmel philanthropist Deborah Simon wants Democrats to win back the White House—as well as keep control of the U.S. House and win a majority in the U.S. Senate—and she's willing to do whatever it takes to make that happen.
Simon—of the nation's top Democratic donors in the 2018 election—told IBJ, "I'm going to do anything I can to defeat him. That's my goal."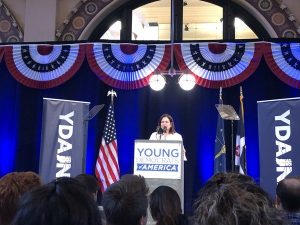 To Simon, it starts with young voters, and that's why she recently made a significant—if not record-breaking, for the group—donation to Indiana Young Democrats, which helped bring the Young Democrats of America National Convention to Indianapolis for the first time ever this week.
The $100,000 donation from Simon was enough to nab her the rights to title sponsor at the convention, which started Wednesday in downtown Indianapolis and runs through Saturday.
"She believed in us," said Elise Shrock, spokesperson for the Indiana Young Democrats. "She saw and acknowledged the hard work that we are doing… . We are playing on the national stage. And we're just getting started."
Simon, who has never previously donated to the organization, told IBJ she didn't realize until recently that Indiana even had a group for young Democrats.
She said she only knew about the Indiana Democratic Party, "which has done an OK job, but we need to be more aggressive in fundraising, and I think these guys are probably more aggressive than they could ever be because they have the energy."
But Simon quickly said she likes the Indiana Democratic Party. She just wants "everybody to do better."
"This election is probably the most important election I have seen in all my years," Simon said.
She said she thinks the 2020 election is more important than 2016 because Democrats have already lost control over some things, like foreign policy, education and immigration, and if they lose in 2020, that would only continue to get worse.
In 2018, Simon, who is the daughter of the late Simon Property Group Inc. co-founder Melvin Simon, was one of the top individual donors nationwide to federal races, donating a total of $9.7 million to Democratic candidates.
She ranked as the 14th highest donor that year—a huge jump from 2016 when she didn't even make the Top 100, according to data compiled by the Center for Responsive Politics.
Simon, who rarely grants interviews, told IBJ a major reason why she started donating was because of Republican President Donald Trump.
"The bottom line is we gotta get this guy out of office," Simon said.
Simon said it "remains to be seen" how much she'll donate during this election cycle and whether it will exceed the amount from 2018.
She said she hasn't donated directly to any presidential candidate yet, but she likes most of them and specifically mentioned South Bend Mayor Pete Buttigieg, former Vice President Joe Biden and California Sen. Kamala Harris.
"I have to keep my options open," Simon said. "When the time is right, I'll know who to give the money to."
Please enable JavaScript to view this content.