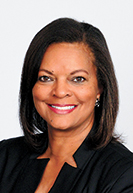 Age: 60
Hometown: South Fulton, Tennessee
Residence: Carmel
Family: husband, Don; three adult children; three grandchildren
Education: bachelor's in marketing and computer science from the University of Louisville, master's in business from Indiana Wesleyan University
Political experience: unsuccessfully ran for the 5th District in 2018
Career: 30 years with Xerox, former business leader coach for Avon Products Inc.
Why she's running: I had thought about running for office prior to 2018, but not for Congress. Someone suggested I run, and I didn't have any family or career barriers anymore.
Top priority: health care
What she's streaming: "All American" on Netflix
Q&A
What do you think needs to be done to improve access to and the affordability of health care?
I think the Medicare system works pretty well. I just think we have some gaps to fill, and we need to look at how we can fill them. I believe everyone in the U.S. should have adequate health care. No one should go bankrupt over medical costs. I support early access to Medicare—people who have paid into the system for decades. I think we made major progress with the Affordable Care Act. It bothers me when people don't know that the [Healthy Indiana Plan] 2.0 is an expansion of the Affordable Care Act. That's like smoke [and] mirrors. Without the Affordable Care Act, HIP 2.0 would not exist.
What should be done to address the massive amount of student debt in this country and make college more affordable?
I'm a strong advocate of public education. I believe an educated population is critical. In my spare time, I speak to high school students about the skills they need when they graduate. And I tell them to think about two-year colleges and to look at those jobs that we know will be in high demand. Four-year colleges and universities are not the solution for everyone.
On the federal level, many of the grant and loan programs are being cut. We must protect those. We need to look for ways to reduce the cost of education. I don't think it's as easy to say, let's give out free college. I'm not for free college. But state-funded colleges have a responsibility to offer affordable education to the students because they are funded by taxpayer dollars.
What is your position on trade and tariffs?
The new trade agreement got bipartisan support, and I think that's good. It has some things in it that needed to occur. Any type of agreement at the national level needs to be negotiated from time to time, but right now, all our farmers are being hurt.
Ultimately, the people who pay the most for bad trade policies are the consumers. Who pays for higher prices in the stores? We need to make sure the agreements are fair and equitable and not hurting any industry. I think our trade agreements should be a win-win.
What should be done to address climate change?
The federal government has a huge role in regulating the environment. Leadership is key. We need to have leaders in roles that believe the science and will let their actions be led by facts. We don't want to see ourselves in the same position in fighting climate change as we see ourselves in fighting the pandemic. We need to rejoin the Paris climate accord. The irony of this pandemic is that we know carbon emissions are down. When we change our behaviors, it can have positive effects. We have to take those things and build on them. But it starts with leadership.
After years in corporate world, Thornton ready for political office
From a young age, Dee Thornton watched her parents be civically and politically engaged in western Tennessee.
They also emphasized the importance of a good education.
"That was the key thing," Thornton said. "If you got a good education, it would lead to a great job and a better life."
Thornton was an early beneficiary of the federal Higher Education Act's Title IX, which prohibited gender discrimination in education. She received a scholarship to play basketball and study marketing and computer science at the University of Louisville.
"I loved basketball," Thornton said. "Fortunately for me, it provided an opportunity."
Computer science was a new subject for Thornton—her high school didn't have any classes like that—but she said she knew she needed to understand technology to be competitive in the ever-changing marketplace.
After graduating from the University of Louisville in 1982, she started working as a sales representative for Xerox and slowly moved into higher positions with the company over the years.
"I was blessed that my corporation saw my talent," Thornton said.
Nearly 30 years ago, while she was eight months pregnant with her third child, she and her husband, Don, toured houses in Carmel. Thornton was taking on a new role at Xerox, and the soon-to-be family of five was moving to Indiana from Louisville.
She had the baby in November, started the new job in January, and her family has lived in Carmel ever since.
"We've loved the community," Thornton said. "I don't know at what point you get to be called a Hoosier."
Thornton worked for Xerox until late 2012, ending her 30-year career with the company as a managing principal. During her time with the company, she worked in marketing, customer service, operations and sales.
She also obtained her MBA from Indiana Wesleyan University while working full time.
After leaving Xerox, she worked as a consultant and then as a business leader coach for Avon Products Inc. for about five years until committing to run for the 5th District in 2018.
Thornton said people in the district approached her about the idea of running, and party leaders stressed that, to be an effective candidate, she needed to campaign full time. So, she left Avon Products in July 2018.
"The nest is empty and I still have some runway left," Thornton said. "I've always wanted to run for office, but it's not possible when you're in a corporate environment."
Thornton lost in November 2018 to Republican incumbent Susan Brooks, but she said her campaign that year "surprised a lot of people" because she earned 43% of the vote.
"The eyes of the nation are on Indiana 5, and that's a good thing," Thornton said.•
Please enable JavaScript to view this content.