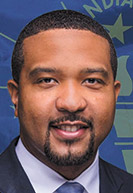 First-term Sen. Eddie Melton of Gary is dropping out of the Indiana gubernatorial race, he announced Monday.
Melton, 38, announced his candidacy in October, becoming the third Democrat to seek the party's nomination to challenge Republican Gov. Eric Holcomb. He spent several months exploring a run before making a formal announcement.
In a statement, Melton hinted that fundraising struggles might have led to his decision.
"Unfortunately politics today require way too much of a candidate's time being spent on the phone chasing dollars," he said. "Fixing our systems of elections will take the work of all of us. As I look to address this issue and the many other challenges we as a state face, I know that my time and energy will be best spent fully engaged in the upcoming 2020 legislative session.
"So, with renewed commitment, I have chosen to devote my full time and energy to our fight in the Capitol and announce my withdrawal from the gubernatorial campaign."
Still running for the Democratic nomination are Dr. Woody Myers, the state's health commissioner from 1985 to 1990, and Josh Owens, CEO of digital retail consultant SupplyKick.
Melton represents Indiana's 3rd District in the General Assembly. He is the ranking minority member on the Senate Education and Career Development Committee. In 2017, he was appointed deputy chairman of the Indiana Democratic Party.
"Sen. Melton is a talented public servant who has served the citizens of his district and the state of Indiana with distinction in the Indiana Senate," Myers said in a written statement. "Even though he is no longer running for governor, I know he has a long and bright future focused on making Indiana better for Hoosiers. I thank him for his continued service in the Indiana Senate and look forward to his counsel and advice as my campaign continues."
Indiana Republican Party Chairman Kyle Hupfer, manager for Holcomb's re-election campaign, didn't comment directly on Melton's decision, but touted the governor's record.
"As I have said before, when these potential candidates travel the state, they will hear the same thing from Hoosiers in communities large and small: They like the direction of the state and look forward to four more years of leadership from Gov. Holcomb," he said.
Melton, who is serving as state senator in the seat previously held by longtime state Sen. Earline Rogers, works as the manager of corporate citizen and community relations for Northern Indiana Public Service Co. He has worked for NIPSCO since August 2010. Prior to that, Melton worked for the Legacy Foundation, which is Lake County's community foundation.
"I have a great deal of respect for Sen. Melton and really enjoyed getting to know him as we traveled the state these last few months," Owens said in a written statement. "I know he will continue to be a tireless advocate for public school teachers and all Hoosiers in this legislative session."
Please enable JavaScript to view this content.