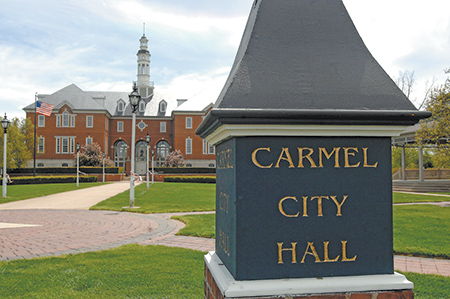 The only Democrat to ever win a seat on the Carmel City Council is gearing up for a run for mayor.
Miles Nelson made the announcement Sunday on his campaign Facebook page "Miles for Mayor." He will host a campaign kickoff event Thursday at Danny Boy Beer Works in Carmel.
"I've always been passionate about the city and I'm extraordinarily passionate about the people who live here," Nelson told IBJ. "Carmel is a great city to raise a family. I've raised two kids here. We've got amazing schools, top 1% in the state, top 1% in the country."
Nelson, a 19-year Carmel resident, is the first Democrat to enter the race to succeed seven-term Republican Mayor Jim Brainard. Brainard announced in September that he would not seek reelection.
Republican City Council members Kevin "Woody" Rider and Sue Finkam previously announced they will run for mayor. They will oppose each other in the primary on May 3, 2023.
Rider, who is in his fourth term on the Carmel City Council, serves as the council's president. Finkam is a three-term councilor and served as president from 2017 to 2021.
Carmel has grown and changed tremendously during Brainard's seven terms as mayor.
The city's population increased from about 30,000 residents in 1996 to more than 100,000 people, while Brainard oversaw the redevelopment of some of Carmel's most prominent areas, including the Arts & Design District, City Center and Midtown.
"I think Mayor Brainard has done an amazing job," Nelson said. "He's created a city that is seen as a leader in the region, and my No. 1 goal is to help Carmel move forward and continue to move forward."
Nelson was elected in 2019 to represent the city's West District. He is in his first term on the Carmel City Council.
Nelson said he believes there is an opportunity for a Democrat to become mayor, especially after President Joe Biden in 2020 and Indiana Secretary of State candidate Destiny Wells in 2022 received more votes in Carmel than their Republican opponents.
"I think Carmel is purple, which is an amazing opportunity for residents to focus on what makes a candidate somebody who will be a good leader, and it has nothing to do with party at all," Nelson said. "It has to do with the vision, character and plans for policies."
Nelson will be the first Democrat to run for Carmel mayor in a general election since Henry Winckler in 2007. Brainard defeated Winkler and independent Marnin Spigelman that year with 66% of the vote.
Nelson is president of Zionsville-based executive search firm AOI Today.
Please enable JavaScript to view this content.