Democratic gubernatorial candidate Woody Myers said the state could be doing more to help small businesses struggling from the impact of the coronavirus pandemic.
Myers, a former state health commissioner and Anthem Inc. executive, on Wednesday released a plan for supporting small businesses that included establishing a state-funded stimulus program for small businesses, creating a small business recovery task force and launching a "Buy Indiana First" campaign.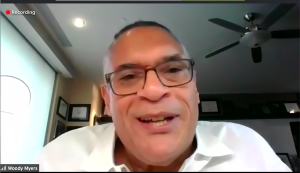 During a virtual press conference, Myers said he couldn't put a dollar amount on the stimulus program, but suggested the state could use the federal money it is receiving to help fund it. State officials have said they believe Indiana could receive $2.4 billion from the federal government in pandemic funding help but have not outlined how all of it will be spent.
Myers said the state needs to get involved and offer financial support because the U.S. Small Business Administration's Paycheck Protection Program so far has not done enough to keep small businesses afloat. Many small businesses were shut out of the first round of funding for the federal program as the money dispersed quickly, and the available funding in the second round is also expected to dry up fast.
He described small businesses as "the life blood of our economy."
"Indiana needs to step up and do its part," Myers said.
But Myers stressed that he still doesn't believe Republican Gov. Eric Holcomb should be lifting the stay-at-home order just yet. He said he thinks the state needs to be testing 10,000 individuals per day and see hospitalization rates and the number of deaths steadily decrease before reopening the economy.
Myers also said he thinks it's soon to reopen shopping malls. Indianapolis-based Simon Property Group plans to reopen its 10 malls and outlet centers in Indiana on Saturday, with restrictions.
"The result will be we'll have an increased number of cases," Myers said.
The current stay-at-home order runs through Friday, and Holcomb has not said which businesses—if any—will be allowed to resume operations. He said those decisions have not been made yet, and he will share those details on Friday afternoon.
"We're going to use all of our time," Holcomb said during a press conference on Tuesday. "We're going to use the latest information."
Please enable JavaScript to view this content.