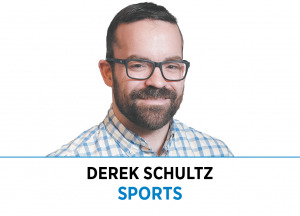 Operating outside the spotlight is something Andrew Nembhard has done his entire basketball career.
A five-star prospect at basketball factory Montverde Academy near Orlando, Florida, Nembhard was overshadowed by No. 1 recruit R.J. Barrett, settling for second-tier status while everyone gushed over the future Duke and Knicks star.
And despite starting every game his first two seasons at the University of Florida, the only major statistical category Nembhard came close to leading on the team was assists—helping others get buckets. Transferring to Gonzaga for his final two collegiate seasons, he played alongside future top-five picks Jalen Suggs and Chet Holmgren, as well as All-Americans Corey Kispert and Drew Timme. With Suggs' electrifying heroics (you might remember his buzzer-beating half-courter to beat UCLA in the Final Four at Lucas Oil Stadium), Holmgren's unicorn ability as a 7-footer, Kispert's shooting touch and Timme's facial hair, it was hard to notice the unspectacular engine that made the Zags offense go.
It's been no different for Nembhard his rookie season with the Pacers, as fellow 2022 NBA Draft classmate and countryman Bennedict Mathurin has gotten far more of the attention and praise. But the humble Canadian doesn't seek accolades and attention, which has made Indianapolis a perfect landing spot.
"I've always had experience in that type of a role," Nembhard said with a smile. "I don't need to be the best guy on the team. I can handle my ego being just a part of the team and impacting the game however I can."
Nembhard's mature demeanor, unselfish nature and strong leadership qualities certainly won over Pacers President Kevin Pritchard and General Manager Chad Buchanan, who were ecstatic to nab him with the 31st overall pick last spring. The Pacers' brass then showed its enthusiasm by ponying up $6.4 million in guaranteed money—the largest chunk of change given to a collegiate second round pick in NBA history.
But while Indiana's front-office officials couldn't contain their excitement, no one else outside of the St. Vincent Center seemed to really care about Andrew Nembhard. After all, the scouting reports on the unheralded second-rounder all said the same thing: "future backup," "a good second option at point guard," "lacking athleticism"—not exactly the type of praise you'd expect for a rookie worthy of a record-setting deal. However, if his play on the court during this debut season is any indication, Nembhard's ceiling is much higher than almost all the draftniks projected.
"'Backup guy' has always been the knock on me," Nembhard said. "But I don't look at any of that stuff. I just come into the game, and I hoop. I don't really care about narratives. If you can make plays, shoot the ball and have versatility on the defensive side of the ball, I think you can play with anybody."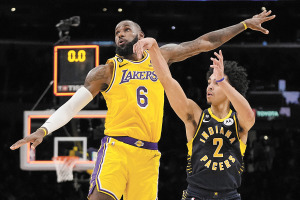 Play with anyone, he has. Just 15 games into his NBA tenure, Nembhard secured what would be considered a career moment for even a 15-year veteran: a thrilling, game-winning shot over the outstretched arms of all-time-great LeBron James to stun the Lakers in Los Angeles. Four games later, he dropped a career-high 31 points on Finals MVP Steph Curry and the home court of the reigning NBA champion Warriors. That performance was capped by Nembhard's draining a 3-point dagger in Curry's eye in the final two minutes, leaving him shaking his head in a John Starks-like, "Did this dude just do this?" moment. It was not only starter-level flashes that Nembhard showed during that Western trip, but star-level ones.
In between those flashes, Nembhard has solidified his role in the blue and gold starting lineup. Since going for 15 points on 6-for-11 shooting in his first career start on Nov. 7, the rookie guard has yet to relinquish his spot in the Pacers' top unit. Since that date, Nembhard is averaging a rock-solid 10 points on 50% shooting from the field (41% from 3-point range) and is dishing out 4.1 assists per game, all while being one of the team's most trusted defenders. He's undoubtedly been an important cog in this young Pacers engine, even if he doesn't stuff the stat sheet.
Add everything up, and Nembhard has been a perfect addition to a Pacers core who have all felt overlooked at times in their careers individually, playing for a team that was overlooked entering the season, and in a market that is constantly overlooked (are you sensing a theme here?). Nembhard lets his game do his talking for him, and it's no surprise that Pacers fans have eaten it up.
"For me, I've always been a guy who has been slept on and carried that chip and competitiveness around with me," Nembhard said. "That's why I feel so comfortable here, because there are a lot of guys who feel the same. It's how we've operated as a team and overachieved to other people's standards."
Those standards might be changing quicker than anyone expected, as the standout play of Nembhard, Mathurin and others, notably budding star Tyrese Haliburton, have seemed to smash the fast-forward button on Indiana's rebuilding timeline. The youngsters already seemed poised for prime time, and even if the Pacers as a team aren't there yet, they will be soon if their individual pieces can stay on this current trajectory.
Regardless, Nembhard isn't rushing the process, nor is he concerned about getting his flowers, and he's more than willing to keep thriving in the background. "Honestly, I don't worry about any of the other stuff. I just let it come to me," he said. "I don't want to put things in my head about being 'the guy' and then sulking if I'm not getting shots. I just want to play. All the other stuff will come. I'm just a rookie right now."
In the present, he'll remain just a rookie, but with the shot over LeBron, the career night against Steph, and the consistent, impressive play in between, most around the NBA are reevaluating their preconceived notions of what Andrew Nembhard can be in the future.•
__________
From Peyton Manning's peak with the Colts to the Pacers' most recent roster makeover, Derek Schultz has talked about it all as a sports personality in Indianapolis for more than 15 years. Besides his written work with IBJ, he's active in podcasting and show hosting. You can follow him on Twitter @Schultz975.
Please enable JavaScript to view this content.