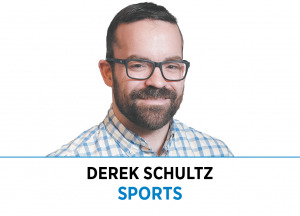 With a disastrous 2022 season finally in the rearview after seven straight defeats, the losses thankfully won't continue to pile up for the Indianapolis Colts.
Major changes will, and for a team that canned its head coach in the middle of the season and benched three different quarterbacks four different times, many have been asking what fate awaits General Manager Chris Ballard.
If you take Jim Irsay's word for it, a difficult thing to do these days when it comes to the increasingly erratic Colts owner, it appears Ballard won't need to pack up his office anytime soon. Just this week, Irsay claimed that his general manager would march on to lead the team's head coaching search. The news that Ballard likely will be retained comes on the heels of the Colts' concluding one of their worst seasons this century. The combination of an over-the-hill Matt Ryan (Ballard's latest failed quarterback solution in the post-Andrew Luck era), an underperforming offensive line, and a coaching staff in constant flux produced a helpless 4-12-1 football team, saddled with the worst offense in recent league history.
The latest disappointment was the fourth time in six seasons that Ballard's Colts failed to make the playoffs. Indianapolis has yet to win its division, which has consistently been one of the league's worst, despite every other AFC South team winning it multiple times since Ballard took over.
Besides the division titles, each of the Colts' AFC South foes can also boast multiple postseason wins during Ballard's tenure, with Jacksonville potentially adding to its total this weekend. Indianapolis counters with just one playoff victory in that six-year span: a Wild Card Weekend triumph over Houston four years ago. The cumulative record isn't pretty, either, as Ballard's teams have gone just 45-52-1.
Given the Andrew Luck circumstances early in Ballard's tenure, it might be unfair to hang that mark entirely around the general manager's neck, but even if you excuse his first and third seasons because of Luck's injury (2017) and surprise retirement (2019), the Colts are just 34-31-1, hardly enough to impress a fan base that remembers the peak Peyton Manning years.
Through it all, Irsay has remained patient with Ballard as even proven general managers can be victimized by bad luck and occasional down seasons. Eagles executive Howie Roseman went through it in Philly the past few years, before his team's resurgence to the top seed in the NFC this season. But Roseman had a Super Bowl ring, plus a pocket full of division titles and playoff wins, earning both patience and a longer leash. If you turn out Ballard's pockets, you'll find only lint and some salary cap savings; he just doesn't have any tangible results to fall back on.
Even without those results, if the Colts were still floating around in the purgatory of the NFL's middle, it would certainly be easier to preach patience. Instead, the franchise has never felt further from true championship contention. The Colts' trajectory has pointed straight to the floor the last three seasons, going from a high-water mark of 11 wins in 2020, to nine in 2021, to the floor caving in with this season's four-win campaign.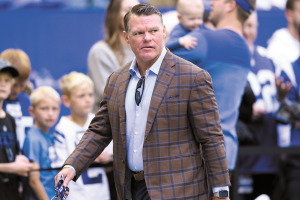 Most of the team's individual core pieces have mirrored the team's regression, as former stalwarts Ryan Kelly, Braden Smith and Kenny Moore (to name a few) seem to have taken a step backward. There are lingering questions about All-Pro Shaquille Leonard's health and future, while Jonathan Taylor, who muddled through an injury-plagued 11 games, and Quenton Nelson are coming off 2022 seasons they'd like to forget. As for the rest of the roster, even with some improvement and promise at impact positions like left tackle, edge and wide receiver, those spots still remain largely unsolved in year six of Ballard's tenure.
Speaking of unsolved, perhaps none of the above matters without figuring out the Colts' most glaring question: the quarterback. Indy's first single-digit selection of the post-Luck era likely means the retread QB carousel Ballard has chosen to ride the last several seasons will come to a screeching halt, but will he even be allowed to make that quarterback selection?
Re-enter Irsay.
In fact, facing one of the most consequential offseasons of the Colts' modern history, Irsay has many questions to ask himself before proceeding with his general manager:
After six seasons with zero division titles, one playoff win and a losing overall record, does your general manager deserve a second chance at picking a head coach? Has Ballard also earned another shot at selecting a quarterback, especially after the last two crashed and burned? Or are you enough of a believer in Ballard's process, and in those who showered him with praise just 13 months ago, that you can trust him to turn this thing around?
There's a chance the Colts owner might answer each of these questions with a firm, "No."
Every major team decision since last January, from jettisoning Carson Wentz, to benching Ryan, to the disastrous selection of Jeff Saturday as interim coach, has Irsay's fingerprints on it. Meddling owners usually breed dysfunction—everyone saw that this season when a not-so-great situation got demonstrably worse after the quarterback benching and coach firings began, eventually turning into a full-blown catastrophe under the watchful eye of Irsay's hand-picked interim coach.
Moving forward, if Irsay no longer trusts Ballard, there's no reason to retain him. If Irsay does trust him, he needs to get back to delegating these responsibilities for his team to move forward. That's something he smartly allowed with Bill Polian and Tony Dungy, and it resulted in the most successful era in franchise history. Obviously, any major move for any NFL team requires the owner's stamp of approval, but will Irsay go back to listening to the others in the room? Ultimately, that's his call.
Maybe Irsay doesn't want to relinquish control of this franchise. Maybe emotional decisions, like benching your quarterback seven games into the season and insisting on hiring friends for jobs they're not qualified for, are the new normal. Maybe Ballard remains general manager in title only, while the main decision-maker does whatever he wants, whenever he wants. Come to think of it, that actually sounds strangely similar to the actions of the previous Colts owner, who also had the last name Irsay.
If we've truly reached that point, the only question for Colts fans is, can this get even worse?•
__________
From Peyton Manning's peak with the Colts to the Pacers' most recent roster makeover, Schultz has talked about it all as a sports personality in Indianapolis for more than 15 years. Besides his written work with IBJ, he's active in podcasting and show hosting. You can follow him on Twitter, @Schultz975.
Please enable JavaScript to view this content.