Officials at 16 Tech on Wednesday unveiled the design for a "centerpiece" bridge planned for the innovation district that they say is both pedestrian-friendly and architecturally unique.
Plans call for the bridge to span Fall Creek from 10th Street and Riley Hospital Drive into 16 Tech, a 50-acre development on the northwest edge of downtown. The bridge is expected to be completed in late 2023 or early 2024.
The overall project, which includes the bridge and related road work, has an estimated $20 million-plus price tag.
A design team led by Germany-based engineering firm Schlaich Bergermann Partner, or SBP; and New York City-based Practice for Architecture and Urbanism, or PAU, created the design in partnership with six other firms, including four from Indianapolis. Designers received input from local residents and civic leaders. The design team was announced late last year.
"The design team combined engineering, design thinking and thoughtful community engagement to create a truly iconic and inclusive centerpiece for Indianapolis," said project lead Emily Krueger. Krueger is also chief operating officer at 16 Tech Community Corp., the not-for-profit organization that is guiding the development of the 16 Tech campus.
The structure is designed with three separated lanes: one for cars, one for bicyclists and one for pedestrians. The bike and pedestrian lanes will be protected. In total, 56% of the bridge's square footage will be devoted to bicyclists and pedestrians, with the remaining 44% reserved for motor vehicle use.
"Positioned at the nexus of Indianapolis' trail network, the 16 Tech bridge will be the first in Marion County intentionally designed with a majority of its surface area dedicated to multimodal users," Indianapolis Department of Public Works Director Dan Parker said in a written statement issued by the 16 Tech Community Corp.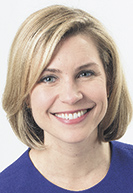 In the statement, 16 Tech Community Corp. describes the bridge design as a "reinterpretation of a classic suspension bridge to create an entirely new form" that the group says will be the first of its kind in the country. The bridge's innovation comes in the wave-like form of the bridge's structure, which is meant to mimic the features of Fall Creek and the trees that line its banks.
Design details will be refined in coming months, with continuing input from local residents. People can learn more about the project at 16 Tech's next quarterly community update, which takes place online at 9 a.m. Friday. Interested participants can register here.
Design and construction of the bridge are being funded by the city of Indianapolis and from a portion of a $38 million grant that Lilly Endowment Inc. awarded 16 Tech in 2018.
In addition to SBP and PAU, the other firms on the design team include:
Moniteurs Communication Design of Berlin, Germany;
Martha Schwartz Partners of New York City;
Shrewsberry and Associates of Indianapolis;
CTL Engineering of Indianapolis;
Circle Design Group of Indianapolis; and
People for Urban Progress, or PUP, of Indianapolis.
Please enable JavaScript to view this content.