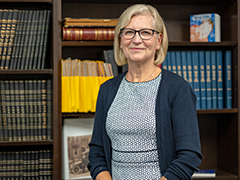 Congressional deadlock over anti-COVID-19 funding could eventually jeopardize access to testing, treatment and vaccines, but Indiana's own COVID-19 coffers remain flush. The state has 43% of its $1 billion-plus in grants left to spend, according to Indiana State Department of Health data obtained by the Capital Chronicle.
"Occasionally, we're borrowing from one area to pay another area, but we really haven't needed to ask for more money or anything," State Health Commissioner Dr. Kris Box said. "We've been pretty self sufficient."
The Indiana State Department of Health took in about $1.36 billion dollars in federal aid during the pandemic, and has until mid-2024 to spend the remaining $580 million.
The money came in across 23 different grants and agreements with entities such as the Centers for Disease Control and Prevention and the U.S. Department of Homeland Security.
It's gone to community testing and vaccinations; distribution of personal protective equipment, testing and vaccine supplies like sub-zero storage refrigerators and 10 van clinics; an online portal for testing and vaccine registration, scheduling, reporting and billing; contact tracing; a COVID-19-only 211 line; and more, Box said. She said state support helped the agency start working on its programs even before federal dollars rolled in.
A wave of earlier grants ended in 2021. But others last through mid-2024.
Box's agency is still working on a contract with the Indiana Housing and Community Development Authority and help for long-term care training, for example, according to the data.
Each funding source comes with its own strings.
"Our finance department not only signed all the contracts and does all the grants and everything, but they also keep track of all the money," Box said. "When you've got 10 different funding streams coming in and every grant has a lot of specifics about what that grant can be used for, they have to make sure that the usage that they're approving is actually acceptable to the particular grant that it's getting charged to."
Supply-chain woes early on hampered the state's response. "Even when you had a lot of money, you couldn't buy what you needed," Box said, "but that's "mostly resolved."
The staffing shortages, already problematic pre-pandemic, aren't over.
Some remaining funding will go toward personnel and contract staff.
Box said her agency lost about 330 of its 760 full-time clinical employees during the crisis—nearly 43% of its workforce. The CDC hired some of her staff away, as did hospitals and long-term care facilities.
"We were coming in and working seven days a week, and even when we went home at 7 or 8 at night, we would be eating quickly and then popping back onto meetings until 11 or 12, and coming in the next day again at 7 in the morning," Box said.
"It was pretty brutal and emotionally very difficult. It was exhausting," she added. "And quite honestly, public health wages—the governor [Eric Holcomb] is working on changing this right now—but wages for a lot of these positions were really low."
Asked if she thought Indiana will be able to handle COVID-19-related costs alone by then, if Congress doesn't authorize more help, Box was hopeful.
"God willing," she said.
She said she believed the virus would become endemic, with cases rising in the fall and winter and falling in the spring and summer, and with vaccine manufacturers readying seasonal doses against the strains they anticipate being most prevalent that year—unless a "worse strain" springs up.
"COVID unveiled the the extent to which we struggle … with having the infrastructure and support that we need across our state in public health," Box said.
She hoped the recent results and recommendations from a Holcomb task force would help prepare the state for future public heath emergencies. Already, Indiana's used its mobile clinics to vaccinate Hoosiers against monkeypox.
The goal, Box said, is to not "rely as heavily on our National Guard and our hospital systems and some of my actual employees—who were working by day to do their jobs and then spending their nights and weekends out at the [Indianapolis Motor Speedway mass-vaccination center] or on the mobile van doing testing and vaccines."
Please enable JavaScript to view this content.