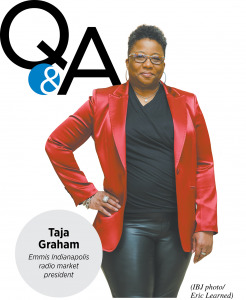 The timing of her promotion isn't lost on Taja Graham.
Two weeks before the start of Black History Month, Graham, 49, was named Emmis Communications Corp.'s Indianapolis radio market president. She's the second woman and the first minority in the company's 41-year history to hold that post. Graham will replace longtime radio executive Bob Richards, effective March 1.
Graham has spent 22 years with Emmis in a variety of radio sales and promotions leadership roles, most recently as vice president of sales. She is a graduate of the Radio Advertising Bureau's Mentoring and Inspiring Women in Radio Rising Through the Ranks program and was an MIW Mildred Carter Mentoring Program finalist.
For the 1994 Butler University graduate, the promotion is not only a chance to lead Emmis' four local radio stations; it's an opportunity to be a role model for women and minorities. She takes both of those jobs seriously.
For Graham, a voracious reader who lives with her 6-pound Yorkie—named after one of her favorite snacks, Teddy Graham—the promotion brings a big increase in responsibility. The number of employees under her management will grow from 15 to about 100.
Is leading a radio cluster something you've wanted to do?
I was always grateful to work with [Emmis Chairman and CEO] Jeff Smulyan. That's the kind of leadership I wanted to be under. But I wouldn't have said I wanted to be president originally. In fact, I ran from it. But as time went on, I realized I really did enjoy coaching, mentoring and nurturing talent.
Why did you run from the idea of being in management?
I was a successful seller and in that you have a lot of flexibility. I thought going into management would slow me down.
What will the biggest change in your new job be?
Understanding the decisions made in that office will impact a lot more people than my current position.
Do you expect operational changes?
I'm not necessarily coming in to make changes immediately. I will come in and make an assessment … and tweak as we need to in an ever-changing environment. I've always been methodical in nature.
What's the significance of being a woman of color in this role?
Publishing this [profile] in the month of February—Black History Month—is so poignant to me. This is bigger than me. It's about the community I represent. This is about people seeing me in this seat and realizing that they, too, can achieve this level. I'm hoping that, while in this seat, I can continue to be a champion for diversity at every level and that goes all the way to the boardroom. Emmis isn't hiding from this issue. We're talking about these issues and hearing each other out and that's from Jeff [Smulyan] on down.
Will this be your last job?
I hope so. I do hear from recruiters, but I'm fortunate to be able to say, 'No, I'm not interested.' I've talked to all the competition in all the big markets and have had more money thrown at me. But it's difficult to replicate the culture here.•
Please enable JavaScript to view this content.