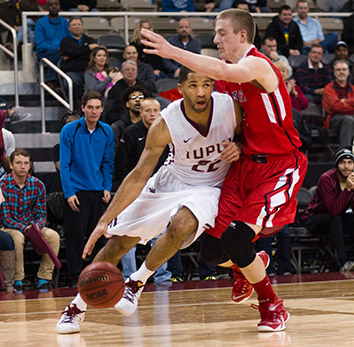 Leaders of IUPUI have not yet finalized a plan for the school's intercollegiate athletic program as part of the campus' realignment in 2024 except to affirm its sports teams will be overseen by Indiana University.
Questions about athletic department were raised Friday when Indiana and Purdue universities announced they have struck a new agreement for IUPUI that will essentially split the schools' operations and rebrand the larger school as Indiana University Indianapolis.
But the shift could have significant ramifications for some athletes—particularly any enrolled in a Purdue program—due to NCAA bylaws that prohibit individuals not enrolled at a school from playing on its athletic teams.
That's not to say Indiana University officials aren't trying to navigate the situation. In coordination with Purdue, at least nine task forces have been formed to tackle various issues—one of which is athletics.
"It would be premature of me to to act like I have answers on" how intercollegiate athletics will be handled, IU President Pam Whitten told IBJ. "We certainly will continue with the robust, competitive teams that play at IUPUI—soon to be IU Indianapolis—and we'll remain in the Horizon League, at least that's the plan. Our hope is that it will we'll find a way for everyone to be included, but we've got to figure all that out."
The result for student-athletes could be similar to what occurred when the schools split Indiana-Purdue Fort Wayne in 2018, making it a Purdue campus. When joint operation of that school ended, IU-enrolled students were not permitted to participate in Division I athletics on the campus without changing their majors to one offered by Purdue.
Because of that, it's likely student-athletes enrolled in Purdue programs at IUPUI will not be permitted on Division I rosters, starting with the 2024-2025 academic year.
Julie Roe Lach, commissioner of the Horizon League, said the conference is committed to retaining IUPUI's successor in its ranks, adding she is excited by the opportunity the move presents to both the school and the league as a whole.
"I see this as a really terrific opportunity for both IU and Purdue moving forward," she said. "With the Purdue University-Fort Wayne rebrand, and reorganization, it a real positive for that university's athletics department. I think we're going to see the same outcome here with IU Indianapolis."
As part of the reorganization, IU will retain ownership and management of all its buildings, including athletics facilities like Michael A. Carroll Stadium, the Natatorium and IUPUI Softball Complex.
IUPUI's athletics department supports 18 teams—all of which participate at the NCAA Division I level. There are men's and women's basketball, cross country, golf, soccer, swimming and diving, tennis, and track and field teams, as well as women's softball and volleyball and a co-ed cheer team.
The school began competing in Division I during the 1997-1998 academic year. IUPUI was in the National Association of Intercollegiate Athletics from 1978 to 1993, when the program moved up to NCAA Division II.
IUPUI has offered intercollegiate athletics since 1972, starting with men's basketball. In 1975, it began women's basketball, softball and volleyball programs. Until it became a Division I school, its mascot was the Metros, at which time it adopted the Jaguars branding.
Witten said it's too soon to know if the moniker will be retained, but stressed IU is exploring its options for how to best to roll out the campus' new identity.
"In terms of moving ahead with IU Indianapolis, we're all in and we're going to dream big, because we want to create one of the world's best urban universities," she said. "At this point we're really charged with inventing the opportunities and programs for our students, and for the city and state, so that's really our focus right now."
Please enable JavaScript to view this content.