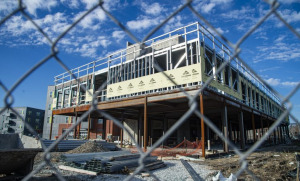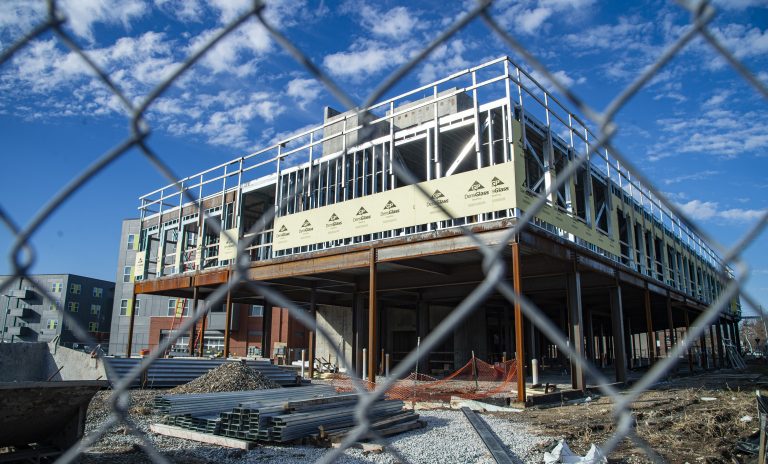 Work on the long-stalled Wilshaw hotel in Speedway could resume early next year, now that the project's Indianapolis-based developer has reached a new partnership agreement.
Loftus Robinson LLC partnered with Indianapolis hotelier MHG Hotels LLC late last week to shore up financing for the project at the southeast corner of 16th and Main streets. Construction has been stalled since July 2019, after Loftus Robinson encountered funding issues for the proposed 126-room hotel.
It is not immediately clear how much of a stake each firm has in the partnership. MHG is expected to manage the hotel once it opens.
Speedway Economic Development Director Tim Gropp told IBJ on Monday night that the firms signed the project deal Friday and will spend the next few months working through financing.
Work is slated to resume in the spring "to avoid winter conditions."
"So, with having a new partner we're confident will help them get this project completed, they'll move now to working on financing and re-engineering and quality control," he said. "There's a lot of due diligence to do—cleanup of the site, as well—so we anticipate that we'll get an updated timeline here in the next couple of months."
Speedway already has a relationship with MHG after opening a Courtyard by Marriott hotel along Crawfordsville Road last year. It's also planning a Hampton Inn and connected conference center in Speedway's Founders Square mixed-use development near Interstate 465.
"They're heavily invested in our community and they've done nice work," Gropp said of MHG. "They've delivered thus far and they continue to invest, so we're confident that they can get this project done properly."
The partnership is likely to make some small changes to the interior of the Wilshaw, but most of the existing plans are expected to be retained.
"We're excited to have MHG join our project team and look forward to progressing as quickly as the environment allows," Drew Loftus, principal at Loftus Robinson, said Tuesday afternoon in a written statement. "This portion of our mixed-use development has had its challenges but we remain fully committed to seeing our vision through to fruition. MHG Hotels, along with the Town of Speedway, share in that commitment."
MHG Hotels manages and owns more than 30 hotels throughout the United States.
"MHG Hotels is thrilled to partner with Loftus Robinson and the Town of Speedway on the Wilshaw hotel," said Neal Patel, vice president of MHG Hotels, in written remarks. "MHG remains greatly invested in Speedway with our existing Courtyard Marriott and the new Hampton Inn and Suites …. Wilshaw being ideally situated downtown Speedway at the entrance of the track will complement both of these hotels perfectly."
For more than a year, the partially-built Wilshaw has frustrated Speedway officials. The first phase of the overall $36 million development, an apartment structure along Main Street, was completed by Scannell Properties in late 2018. Scannell and Loftus Robinson have been master co-developers of the project since its inception.
When it was announced, the Wilshaw was expected to open in 2020, but the start of construction was delayed by nine months in 2018 as the firm tried to secure financing.
Most work on the development stalled last summer after Loftus Robinson encountered problems securing money from a $21.1 million loan account—a stoppage of nearly 450 days. Loftus Robinson's project agreement with the town does not permit construction delays of more than 180 consecutive days.
Loftus Robinson had racked up about $6 million in unpaid bills on the project before shutting down the site—including about $4.5 million to its general contractor, Indianapolis-based F.H. Wilhelm. The status of those accounts was not immediately available.
An industry source said the stoppage was caused by Loftus Robinson's failure to provide additional equity or find a partner for the project. The firm previously said it was not looking for a partner for the project.
Since construction stopped, the developer has said it is committed to working with the city to try and find a solution to the financing problem and get the project back on track.
However, it has not been forthcoming with details about how it planned to do so—at least not publicly. It also missed town-imposed deadlines, including providing information about its efforts to nail down an updated timeline for the project.
Loftus Robinson earlier this year said pandemic is partly to blame for delays to the project.
The lack of information has complicated matters for the town, which as recently as May indicated it had not ruled out remedying the situation through legal channels. But Gropp has repeatedly said Speedway would prefer the developer stay involved in the project.
"We obviously are keeping all our options open—one of those being the legal path," Gropp said in May. "There are better paths forward. But we all understand that the clock's ticking on this."
On Monday night, during the Speedway Redevelopment Commission meeting, he was more upbeat.
"I'm happy to announce that there is a path forward," he said. "There's going to be a lot of work to do … but it's nice to have a partner that will communicate and jump on things. We're excited that got done."
Please enable JavaScript to view this content.