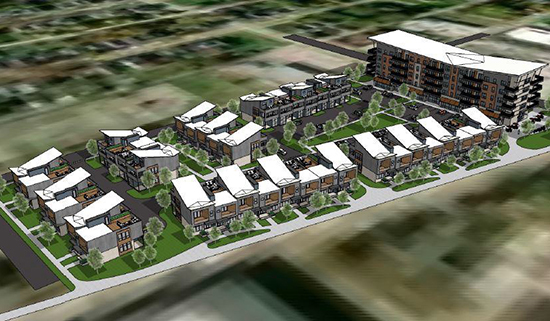 A group of local developers plans to spend at least $25 million to construct apartments, commercial space and townhouses on a remediated brownfield site along the the Monon Trail.
The 1.4-acre parcel at 1123 E. 25th St., between Winthrop Avenue and the trail, is expected to have a four- to five-story apartment building with 50 "affordable" units and commercial space, as well as several dozen townhouses.
According to city documents, ADF Construction is spearheading the project through a partnership with Affordable Housing of Indy LLC, Monon 25 JS LLC, Architects Forum, and Equicor—all of which are Indianapolis-based companies.
The group is buying the property from the city for $401,800, but the purchase is contingent on approval from the Metropolitan Development Commission, which will take the matter up for a vote in the next few months.
The city has spent the past several years remediating the former railyard site and marketing it for potential development. The plot, currently zoned for industrial uses, would have to be rezoned to a residential or mixed-use designation for the project to move forward.
Craig Finke, of ADF Construction, said the investment group plans to spend about $25 million on the development, though that figure could change as it continues conversations with the city.
The project is expected to include a mixed-use building on its northern edge with 50 one-and two-bedroom affordable apartment units and about 12,800 square feet of commercial space on the first floor, which Finke said would likely focus on neighborhood services.
He said the development team views the site as "an opportunity to provide an affordable housing product in the near downtown vicinity," though he did not provide a price range for the units.
An early site plan shows about 38 two- and three-story townhouses would also be part of the development, but there could be as many as 50 single-family units. About 48 surface parking spots are also shown on the schematic, but the townhouses would have their own garages.
An early rendering shows a plaza on the northeast corner of the development.
The apartment units and homes are expected to range from 1,000 to 2,000 square feet, Finke said.
Architects Forum and Indianapolis-based Rottman Collier Architects are collaborating on the development's design.
The Brotherhood site is directly across Winthrop Avenue from another brownfield that recently received $345,000 for remediation from the Indiana Finance Authority. The former Colonial Baking Co. site at 2408-2444 Winthrop Ave will be remediated and marketed by the city.
Please enable JavaScript to view this content.