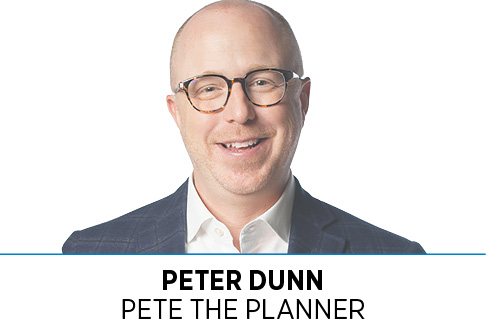 Nope.
Yes, a one-word answer is an abrupt way to end an otherwise lovely conversation among friends. It also reinforces my reputation as a weekend curmudgeon.
But the mere mention of moving out of my home and theoretically buying a more expensive home—all the while leaving my 2.5%, 10-year mortgage behind—made me sick to my stomach and was enough to make me gruff.
Clearly, the housing market has pulled back due to the Fed's tinkering with interest rates. In other words, as far as the housing market is concerned, the Fed's intervention has worked. It has effectively cooled a hot market. Its goal was to make certain financed purchases unattractive. It has.
Yet somehow, some people are inexplicably undeterred. Honestly, I'm at a loss. I'm having a hard time getting my head around the logic in buying a new home (with the use of a mortgage) for those people who currently have mortgage rates in the 2% to 3% range.
Sometimes we forget the importance of paying as little interest as possible when making a purchase.
If you borrow $300,000 at 3% for 30 years, you will pay just over $150,000 in interest over that 30-year period. Not too long ago, this very deal was on the table. Now compare that with what's currently available. At 7.25% for a 30-year, $300,000 mortgage, you would pay $436,750.80 in interest. That's nearly three times our other example. You might think the $800 increase in monthly payment was the worst part of current interest rates. You would be wrong. The total amount of interest paid far exceeds the cost of the home itself. That's problematic.
The issue goes to the heart of why someone chooses to buy a different home. Don't get me wrong, there are compelling reasons to move to a new home, but we've somehow ignored the disadvantages.
Will a lending institution allow you to give up a low-rate mortgage for the high one they're selling? Absolutely. And if the change in payment doesn't stretch you too thin, the change in mortgage might feel justified. However, the myopia of ignoring the overall cost of borrowing is a giant mistake.
(Yes, people occasionally downsize, but even in those instances, the new home price might exceed the old home price. The industry calls this rightsizing.)
Here's my theory: We've convinced ourselves that everything makes financial sense if another party allows the act to happen. There are a few reasons we've reached this point, but I'm not sure they really matter in relation to the importance of arming yourself against this ugly trend.
A low-interest loan is an asset, despite the fact that it's a liability. Especially compared with a higher-interest loan. Let's say you and I are next-door neighbors and both have a $300,000 mortgage. Your interest rate is 7%, and mine is 2.5%. My mortgage is the economic advantage.
You shouldn't feel discouraged by this news.
I have zero interest (yes, a mortgage joke) in moving away from my 2.5% mortgage. If I choose to move at some point in the future when my mortgage is paid off and subject myself to whatever market rates are, then so be it.
The economy almost always presents unique opportunities to people who are paying attention. In fact, the best time to have made a stretch home purchase was when rates were in the 2s. And in many cases, you would have been better off financing a home purchase at 2.5% than making the purchase with cash!
This is not the case now. Despite what my real estate agent friends might suggest, respectfully, I have a hard time believing there's a compelling reason to voluntarily subject yourself to these rates in the 7s if you don't really have to.
You're going to giggle at my conclusion—primarily because it's almost always my conclusion. This is why you need a good financial adviser. A good financial adviser will stop just short of shaming you out of trading in a low-rate mortgage for a high one. She will show you how the decision severely cripples your financial future and specifically how a low-rate loan is an asset, not just a liability.•
__________
Dunn is CEO of Your Money Line powered by Pete the Planner, an employee-benefit organization focused on solving employees' financial challenges. Email your financial questions to askpete@petetheplanner.com.
Please enable JavaScript to view this content.