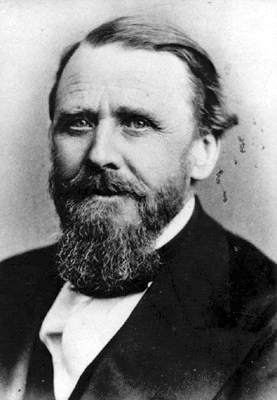 What 19th-century Indianapolis resident published a medical article establishing that cholera is communicable, created Indiana's first mental hospital, founded both Northwestern University and the University of Denver, received an appointment as governor of the Colorado territory from his friend Abraham Lincoln, and served as the namesake of three U.S. cities and a mountain?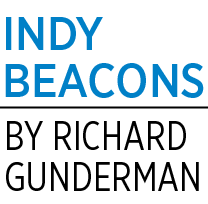 His name was Dr. John Evans. Born in 1814 in Ohio, Evans received a medical degree from Cincinnati College in 1838. After setting up practice in Attica, he determined the state needed a mental hospital. He drew up plans for what became known as Central State Hospital on Indianapolis' West Washington Street and in 1845 received an appointment as its first superintendent.
That same year, Evans began lecturing at Rush Medical College in Chicago, which eventually offered him a faculty position. In 1848, he moved to the growing inland commercial center, where he soon played a pivotal role in founding the Illinois Medical Society. In 1849, he published his groundbreaking article arguing that cholera is a communicable disease.
In 1851, Evans selected a site for a new Methodist university, wrote a bill for its founding, and donated land for its first buildings. Located in a town later named Evanston in his honor, Northwestern University became one of the premier institutions of higher education in the Midwest. Evans was elected the first president of its board, a title he held until two years before his death in 1897.
Evans promoted education as "the only sure ground for the improvement of our social and political condition" and "the only guarantee of the perpetuity of our free institutions. Everything that is calculated to improve our schools, and to render them efficient instruments in bringing about that high state of public intelligence and virtue … must be of the highest interest to every good citizen."
Evans was also active in politics. He served as a Chicago alderman, helped to found the Illinois Republican Party, and campaigned extensively for Lincoln's election. A strong opponent of slavery, Evans advocated for both emancipation of the slaves and their conscription in the military. As president, Lincoln offered Evans the governorship of the Washington territory, but Evans declined.
In 1862, Evans accepted an appointment as the second governor of the Colorado territory. There, he and a colleague founded what would become the University of Denver. To create an endowment, he offered to match donations dollar for dollar. From 1864 to 1879, he served as president of its board, and his son, grandson and great-grandson all succeeded him as board members.
Evans was also an astute businessman. Early in his career, he owned a trading center in Attica, acquired valuable real estate in Chicago, and served as a director of the Fort Wayne Chicago Railroad. Once he moved to Denver, his promotion of rail transportation helped make Denver the most important commercial center of the Rockies, and Mount Evans there is named in his honor.
While Evans was Colorado governor, the darkest chapter of his life unfolded. Denver, a city of just thousands at the time, feared it might be attacked by members of the Cheyenne and Arapahoe tribes. An order by Evans, approved by Lincoln, authorized that they be shot on sight. In 1864, an attack on their encampment at Sand Creek led to the deaths of more than 150. Evans soon left public office.
Evans' Indiana legacy was well summarized by the great American advocate for the mentally ill, Dorothea Dix, who wrote, "The citizens of Indiana owe him a debt of gratitude that few can estimate." Before Central State Hospital closed in 1994, its 160-acre campus had served as many as 3,000 patients at a time, achieving Evans' vision of humane care for countless Hoosier families.•
__________
Indy Beacons celebrates the history of Indianapolis in the year leading up to its 2021 bicentennial by telling the stories of famous city residents. It appears the second and fourth issues of every month. Gunderman is chancellor's professor at Indiana University.
Please enable JavaScript to view this content.