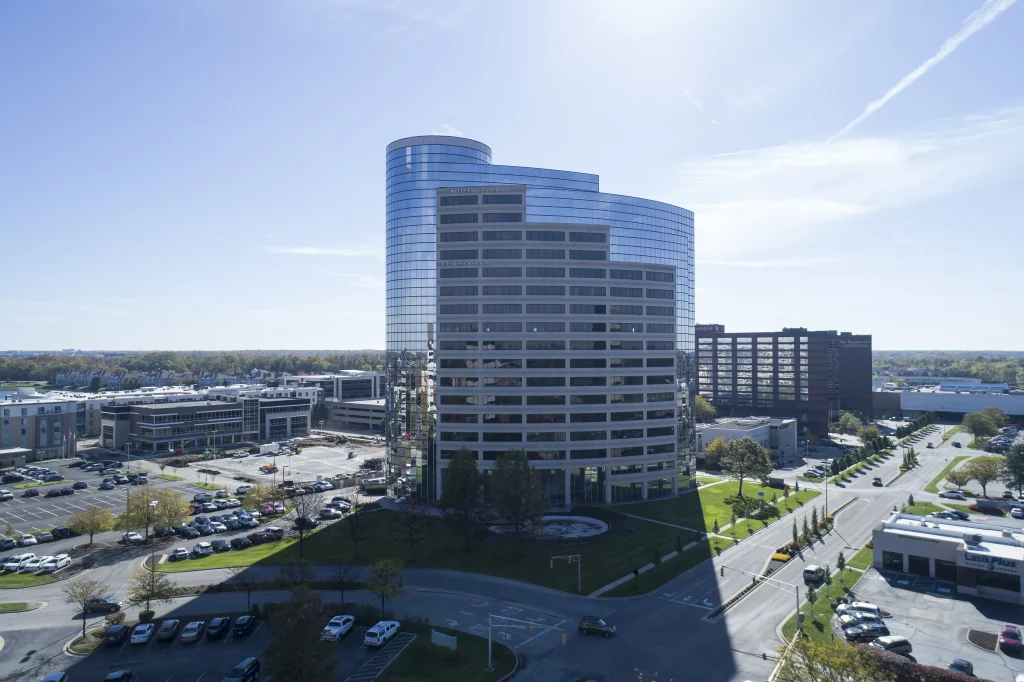 Duke Realty Corp., which on Monday announced it was being acquired by San Francisco-based Prologis Inc. in a deal valued at about $26 billion, has been an overwhelming force on the commercial real estate scene in the Indianapolis area for the past 50 years.
Duke and its predecessor companies were behind or involved in many of the biggest office, retail and industrial projects in the city's history and left a mammoth stamp on the city's form and workplace function.
Here's a brief look at just some of Duke's local work over the years:
Park 100
Duke launched its business in 1972 with the development of Building One in Park 100 on the northwest side of Indianapolis after buying 324 acres from businessman Howard Sams. With Duke as its dominant developer, Park 100 grew into the largest industrial park in the area, with nearly 20 million square feet of rentable space over 1,500 acres.
Keystone at the Crossing and The Fashion Mall
Duke developed one of the largest Class A office parks in Indianapolis near Interstate 465, 86th Street and Keystone Avenue between 1975 and 1988, with a half-dozen buildings providing more than a million square feet of leasable space. Most of the building were at least nine stories tall, with the landmark 8888 building topping out at 18 stories.
 In 1978, Duke acquired the adjacent 60,000-square-foot Fashion Mall and the Bazaar shopping center and expanded the Fashion Mall to 600,000 square feet before selling it in 1987.
Downtown office buildings
Duke developed the 12-story, 162,000-square-foot One North Capitol Building in 1981 and 1982 and the 28-story, 673,000-square-foot First Indiana Plaza (now BMO Plaza) from 1986 to 1988.
Parkwood Crossing
Developed by Duke from 1989 to 2005, the company sold the eight-building, 1.2 million-square-foot office park at Interstate 465 and North Meridian Street to Philadelphia-based Rubenstein Partners and Strategic Capital Partners of Indianapolis in 2016 for $162.9 million.
Hamilton Crossing
Duke developed the 591,387 square foot office park on 44 acres along U.S. 31 in Carmel between Carmel Drive and Main Street from 1989 to 2004. An affiliate of New York City-based real estate investment firm Group RMC Corp. bought five of the six buildings in the park from Duke in 2017 for an estimated $70 million.
Woodland Corporate Park
Duke began developing the six-building, 600,000-square-foot Woodland Corporate Park in 1997 near West 71st Street and Interstate 465, capping it with a 112,500-square-foot building for Interactive Intelligence Inc. in 2014.
Lebanon Business Park and AllPoints Midwest
Besides Park 100, Duke has been the dominant force behind two other Top 5 industrial parks in central Indiana. It started Lebanon Business Park in 1994 and grew it into the third largest industrial park in the area, with nearly 10 million square feet of space. It has partnered with Browning Investments to make AllPoints Midwest in Plainfield, founded in 2007, the area's fourth-largest industrial park, with 9.8 million square feet.
Please enable JavaScript to view this content.